As America's #1 positioning ad agency, Innis Maggiore's Magento programmers reinforce the strong web expertise we offer our clients. Beginning with clients' most meaningful differentiating ideas, we dramatize these positions throughout all offline and online communication channels.
Understanding your position allows Innis Maggiore to effectively develop your e-commerce presence to become an extension of your sales force or as a stand-alone offering as an online-only retailer.
E-commerce is no longer a niche offering - most companies make an effort to sell their products and services online - so Innis Maggiore has made a significant investment in providing an industry-leading e-commerce solution to its clients. Programmers who are Magento Certified Developers are part of this important investment.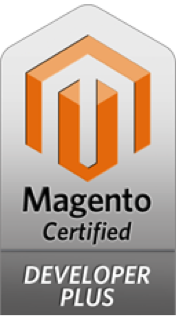 Magento Certified Developer Plus
We've implemented e-commerce platforms selling tangible products - like tires in Latin America - and intangible products, such as real estate listings for sale by owner.
Magento is a widely adopted e-commerce platform used by well over 150,000 online retailers around the world. Owned by eBay, Magento is part of its X.Commerce initiative.
Magento, Inc. adjudicates the certification.
For more information on selling your products online, contact us online or call 330-492-5500.