Oct 22, 2019
Innis Maggiore Celebrates 40 Years of Brand Positioning Work for Custom Auto Body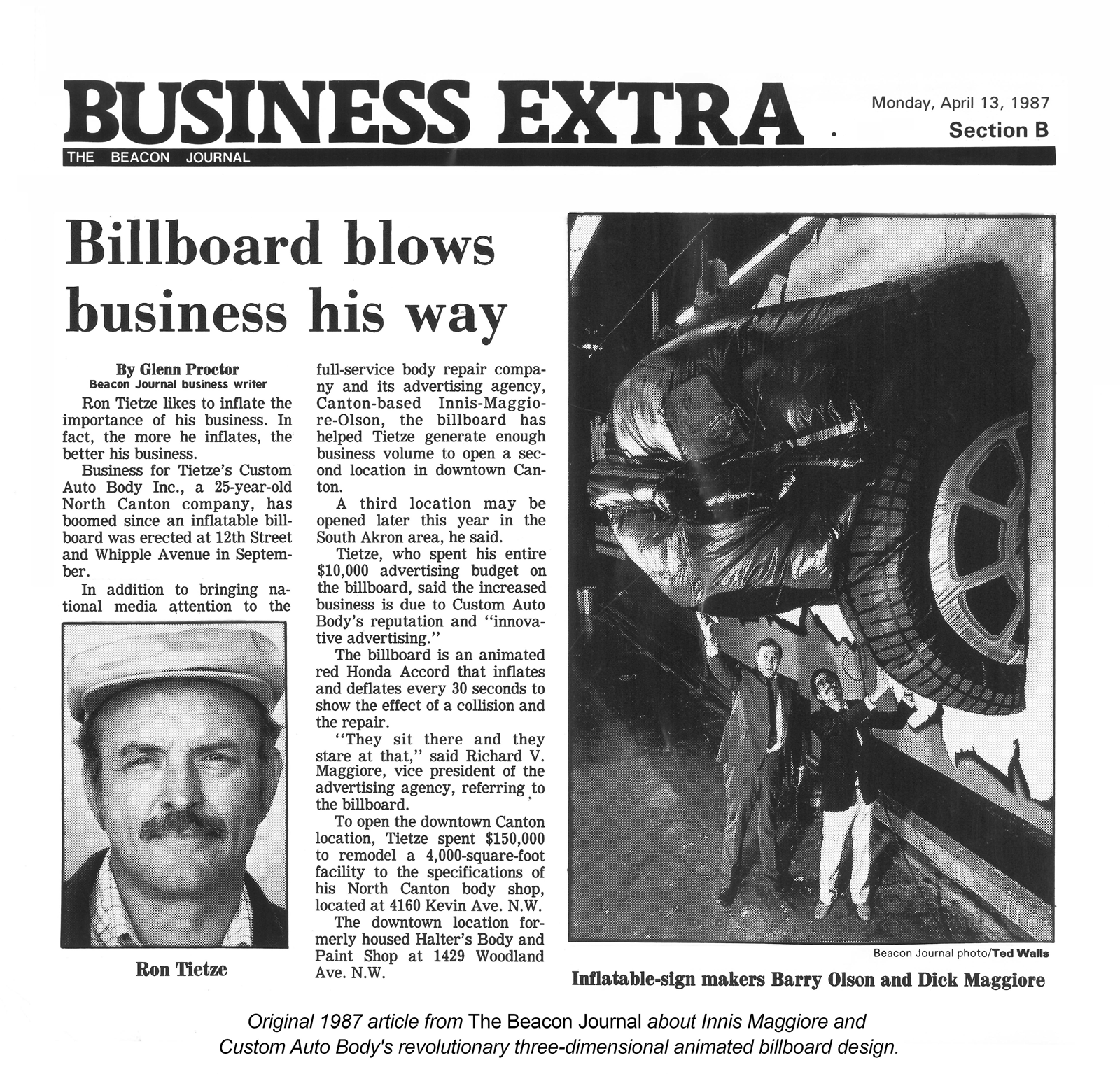 CANTON, Ohio (Oct. 22, 2019) — Innis Maggiore, the nation's leading positioning ad agency, today announced it is celebrating its 40th anniversary as the advertising agency of record for Custom Auto Body. The agency handles brand positioning work for the No. 1 independently-owned-and-operated auto body repair shop in Stark County.
"Innis Maggiore has helped us grow our business for 40 years, and we look forward to many more years of success together," said Randy Tietze, president of Custom Auto Body. "Shared values and a desire to lead have allowed our partnership to flourish."
Custom Auto Body has become a staple in Stark County because of its quality collision repair and has won many local and regional awards for its quality auto body repair work.
"We're proud to do brand positioning work for local leaders like Custom Auto Body," said Dick Maggiore, president and CEO. "The average agency-client relationship lasts less than three years. But over the course of our partnership, we've become an extension of Custom Auto Body's business. This has enabled our relationship to thrive much longer than the industry average."
Innis Maggiore became the advertising agency of record for Custom Auto Body in 1979 and has been representing the collision repair shop with award-winning brand positioning work since. From traditional to digital media, Custom Auto Body's message continues to be delivered to customers and prospects.
Innis Maggiore has won numerous ADDY awards for its work for Custom Auto Body. The agency and Custom Auto Body broke mainstream news in 1987 with a revolutionary three-dimensional animated billboard, one of the first ever designed. The board featured an inflatable Honda Accord that demonstrated the transition between wrecked and fixed in seconds. The work was featured as an example of three-dimensional billboard advertising in the college textbook Contemporary Advertising, which was seen by virtually every student majoring in advertising across the country.
About Custom Auto Body
Since 1961, Custom Auto Body has been serving the auto body repair and painting needs of Stark County. The shop is equipped with state-of-the-art auto collision repair equipment and is staffed by experienced, certified technicians assuring the standards of quality that have come to be associated with the Custom Auto Body brand. The shop is independently owned and operated and staff takes pride in providing quality repair and service.
About Innis Maggiore
Innis Maggiore Group is recognized as America's No. 1 positioning ad agency, building strong brand positions for companies in competitive markets. The full-service integrated agency had 2018 capitalized billings of $24 million. Key clients include: Aultman Hospital, AultCare, Baird Brothers Fine Hardwoods, BellStores, Dutchman Hospitality, Encino Energy, FSBO.com, Extreme Trailers, GOJO Industries (Purell), The Goodyear Tire & Rubber Company, GuideStone Financial Resources, InvestorKeep.com, KFC/Kendall House, Kobre & Kim, MID'S Sicilian Pasta Sauce, Midwest Industrial, Second Harvest Food Bank, SmithFoods, Stark Community Foundation and Young Trucks.