Jun 14, 2022
Positioning Ad Agency Innis Maggiore Expands Geographic Reach with North Carolina Presence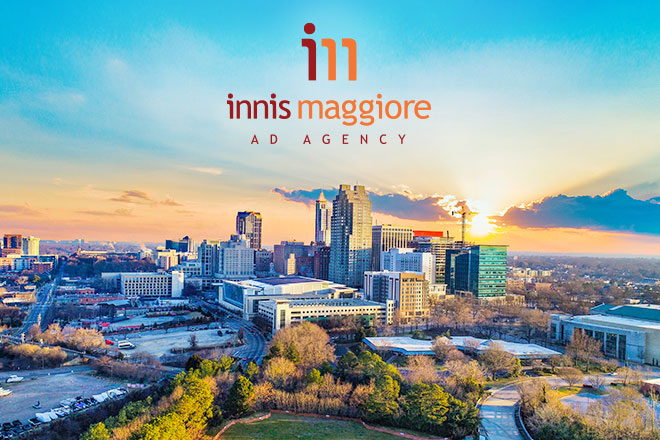 Innis Maggiore is expanding its geographic reach with a new presence in Raleigh, N.C.
CANTON, Ohio (June 14, 2022) — Innis Maggiore, the nation's leading positioning ad agency, is expanding its geographic reach with a new presence in Raleigh, N.C. Jim Cyphert, APR, the agency's director of public relations, is leading business development and overseeing agency initiatives there.
Founded nearly 50 years ago, Innis Maggiore remains independently owned and ranks in the top 10 percent of the nation's agencies. The full-service positioning ad agency, which employs more than 30 associates, will bring positioning strategy, advertising, creative, digital marketing, media planning and placement, public relations, research, sales promotion, and web development services to businesses in and around Raleigh.
Raleigh consistently ranks as one of the fastest-growing cities in the United States and it's often recognized as one of the best places to live and work. Named for Sir Walter Raleigh and founded in 1792, Raleigh is North Carolina's capital city.
Raleigh also is co-anchor of the Research Triangle, along with Durham and Chapel Hill. This region is home to three major research universities — North Carolina State University, Duke University, and the University of North Carolina at Chapel Hill — and numerous technology and life sciences companies.
According to Innis Maggiore President & CEO Dick Maggiore, there's good reason many major companies already have developed — or are working toward developing — a presence in this growing region.
"Raleigh is an economic engine," said Maggiore. "The Research Triangle is a business-friendly environment with an established higher education system that attracts top talent. The region is rich with art, culture, history, and tradition. From Apple to Amazon to Google to IBM to, most recently, Meta, smart businesses are flocking to this region as they ramp up their growth strategies."
Cyphert oversees all public relations initiatives for the agency and its clients. He looks forward to introducing Innis Maggiore's strategic brand positioning approach to Raleigh as he continues to expand relationships he's already begun to develop in the region.
"With significant growth and expansion here in Raleigh, positioning strategy is needed," Cyphert said. "Native businesses, newcomers, and start-ups must differentiate themselves in this competitive environment. We're not the same as ordinary agencies because we always focus on what makes companies different from the competition. This delivers stronger branding that's more effective and efficient. One message with 100 percent focus outperforms random messages with no focus every day."
Cyphert has more than 25 years of public relations experience, including nearly 20 years at Innis Maggiore. He holds a bachelor's degree from Youngstown State University and became accredited by the Public Relations Society of America in 2014. He and his wife, Tonya, reside in Fuquay Varina, N.C.
Innis Maggiore Group is recognized as America's leading positioning ad agency, building strong brand positions for companies in competitive markets. The full-service integrated agency had 2021 capitalized billings of more than $25 million. Some of its key clients include: Aultman Hospital, AultCare, Babcock & Wilcox, Baird Brothers Fine Hardwoods, BellStores, The Center for Health Affairs, Encino Energy, FSBO.com, GOJO Industries (Purell), KFC/Kendall House, Kobre & Kim, MID'S True Sicilian Pasta Sauce, Midwest Industrial Supply, Stark Area Regional Transit Authority (SARTA), SmithFoods, and Young Trucks.