Positioning Strategy
Positioning is the process by which a brand (a product or service) is marketed with the goal of owning a meaningful and differentiated idea in the mind of the customer. Seems simple enough.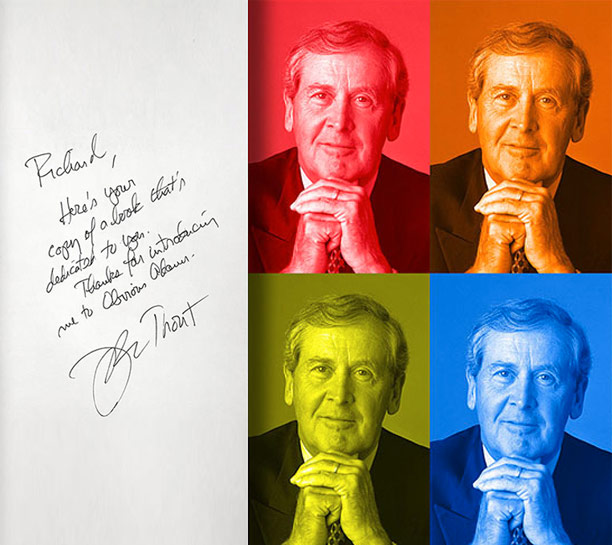 Jack Trout dedicated the last book he wrote to Dick Maggiore and the agency who turned his principles of positioning into a practice.
In practice, very few marketers are able to apply the principles of positioning in order to achieve this goal. Even the fathers of positioning, Jack Trout and Al Ries, do not provide readers of their books the obvious means or steps toward developing an effective positioning strategy. The principles are there, but perhaps not as obvious is how to practice and execute an effective positioning strategy.

Enter Innis Maggiore. With almost 50 years' experience applying and executing the principles of positioning, our agency has earned the reputation as America's #1 Positioning Ad Agency. Our associates are positioning strategists, trained in the principles of positioning in order to effectively execute upon our clients' positioning strategies.

Jack Trout, a mentor, friend and long-time associate of the agency, said: "Innis Maggiore, like no other agency, has successfully turned the principles laid out in our positioning books and created a disciplined practice. These guys really do get it."
Innis Maggiore has turned the process of determining your positioning strategy into a discipline. Many times, we start a new client relationship with an Appreciative Discovery® so we can appreciate your organization's native knowledge and together, discover or re-discover your most competitive difference. If you already know your position, as a full-service advertising agency, we can pick up and begin dramatizing it in the marketplace.
Getting the right idea: developing the positioning strategy
Most clients and agencies start with the "things." "Build me a website." or "Design me a brochure."
Innis Maggiore starts with the business challenge or goal. No one really wants a new logo. Everyone wants more customers. The business goal can come in many forms: "We want to successfully..."
Start a new company
Launch a new product or service
Develop more leads
Increase market share
These are all wildly different business challenges. But they all require a positioning strategy to achieve the goal.

Innis Maggiore applies the principles of positioning in a disciplined fashion in order to get the right idea — the concept that will direct all the marketing required to achieve the business goal. The marketing "stuff" is then prescribed by the positioning strategy.


Executing the positioning strategy: Getting the idea right
When you start "making the things" that will communicate your position, they must all tether to the positioning strategy or they will be much less effective. Branding is additive. If every element of your marketing campaign is not doing its very best to build that focused meaningful and differentiated idea in the mind of your target customer, then you are not dramatizing your position in the most effective way possible.

The great thing about positioning is that it can be dramatized in a host of different creative executions. Think of Geico: Cavemen, the gecko, pop stars, and more ... all different creatives, but all of them communicate one thing: low price car insurance. The dramatization of their position is always "15 minutes will save you 15 percent or more on car insurance." They even have one commercial where they question whether or not to say this! They GET positioning strategy.

The important concept here is that the creative expression can differ as long as it ties to the positioning strategy and effectively dramatizes the position.
Developing the right positioning strategy is only the first step and probably only 1 percent of the work. But it's the most critical 1 percent as it makes 99 percent of the difference. The 99 percent work is known as the dramatization of the positioning strategy.
Finding your right idea ... then getting it right
As disciplined practitioners of positioning, Innis Maggiore can help you discover, develop and then execute your position. It's what we do. When you find your position and develop your positioning strategy, marketing is so much more fun — and wildly more successful!
Position Your Brand With the Nation's Leading Positioning Strategy Agency
Contact us today to discover — then dramatize — your organization's positioning strategy!
Contact Us