Jun 24, 2021
Innis Maggiore promotes Joe Chenevey to director of technology, hires Sara Haidet as media coordinator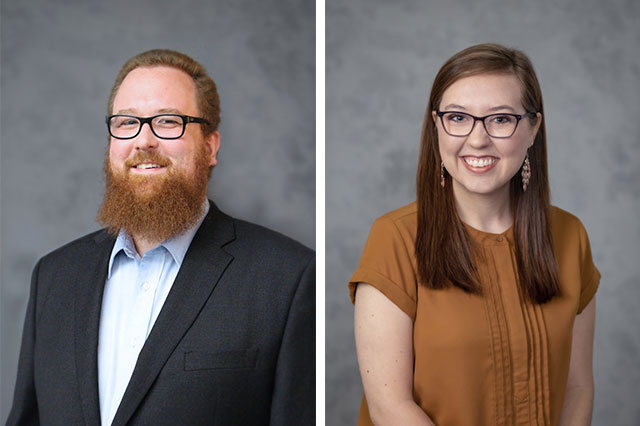 CANTON, Ohio (June 24, 2021) — Innis Maggiore, the nation's leading positioning ad agency, today announced the promotion of an associate and the hiring of another. Joe Chenevey, formerly a senior web developer at the agency, has been promoted to director of technology. Joe joined the agency in 2015, where he has built marketing websites and other digital assets for clients. His passion is architecting web-based solutions that improve efficiency and user experience while saving time and hassle. He has both an associate of computer science and a bachelor of technology degree from Kent State University. "Joe is the guy I call when something is too technical for me," says Devon Miller, director of web development.
Sara Haidet has joined the agency as media coordinator. Her responsibilities will include researching and organizing media plans as well as managing media budgets. Sara is a recent project management intern with Innis Maggiore, where her attention to detail played a key role in keeping client projects on task. Sara's move from intern to full-time associate with the agency is a perfect example of Innis' skill for finding, developing and keeping quality talent. In fact, she is also a two-time winner of the Innis Maggiore Endowed Scholarship for Communications. She is a recent graduate from Kent State University at Stark, where she majored in communication studies. "Our media department, and the digital work we're doing for clients, is growing. Sara's arrival will play a critical role in our ability to continue meeting demand for our digital services," said Rose Browning, director of media services.
Innis Maggiore Group is recognized as America's leading positioning ad agency, building strong brand positions for companies in competitive markets. The full-service integrated agency had 2020 capitalized billings of $24 million. Some of its key clients include: Aultman Hospital, AultCare, Baird Brothers Fine Hardwoods, BellStores, Center for Health Affairs, Encino Energy, Extreme Trailers, FSBO.com, GOJO Industries (Purell), The Goodyear Tire & Rubber Company, KFC/Kendall House, Kobre & Kim, MID'S True Sicilian Pasta Sauce, Midwest Industrial Supply, Stark Area Regional Transit Authority (SARTA), SmithFoods and Young Trucks.