Oct 5, 2022
Innis Maggiore Hires Laubacher, Promotes Smith and Ippolito, Adds Wittmer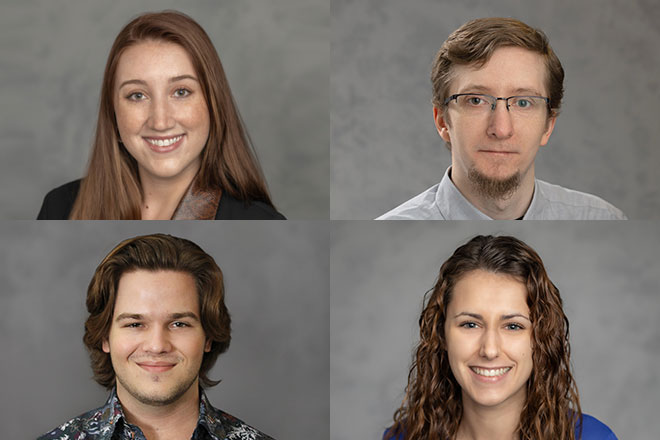 Top (l to r): Alyssa Laubacher and Jeremy Smith; bottom (l to r): Denver Wittmer and Cassie Ippolito.
CANTON, Ohio (Oct. 5, 2022) — Innis Maggiore, the nation's leading positioning ad agency, today announced several personnel moves. Jeremy Smith was promoted to web director, Cassie Ippolito was promoted to digital marketing manager, Alyssa Laubacher was hired as digital marketing specialist, and Denver Wittmer was brought on as the agency's fall copywriting intern.

Smith joined Innis Maggiore in 2019 and has served as lead developer on a variety of critical web initiatives. He will now determine appropriate web technologies for implementation and work with project managers to estimate, assign, and traffic all web work and route all requests regarding IT and web platform technologies. Smith has a background as a senior-level software engineer, having held that position at Cyberlancers in Bradenton, Fla. prior to joining Innis Maggiore. He started his career as a software engineer at Denver's Akavit.

Ippolito joined Innis Maggiore in January as digital marketing specialist. She reports to newly appointed media director Janice Becker and is responsible for digital implementation, reporting, and marketing strategy for the agency and its clients. Ippolito is also Google search and analytics certified and has continued to demonstrate her expertise in strategically developing and translating campaigns across video, apps, display, and shopping ads.

Hired to fill Ippolito's former position, Laubacher will be working on online marketing campaigns, assisting with media plans, research, and analytics reporting. Prior to joining Innis Maggiore, she managed social media accounts and designed graphics for both DC Graphics and the Animal Welfare League of Trumbull County. Laubacher is a resident of Alliance and graduated from Youngstown State University with a bachelor of science in business administration, with a focus in both advertising and public relations.

Wittmer will develop copy for client projects, including web, social, video, and content marketing. A resident of North Canton, he's a student at Malone University, where he studies marketing, business, writing, and digital media production. Wittmer won the Excellence in Screenwriting Award and the Audience Award in Malone's 2022 Open Frame Film Festival.

"Web development, digital media, and content marketing are foundational to our client work," said Innis Maggiore Chief Operating Officer Mark Vandegrift. "As the nation's leading positioning ad agency, effectively dramatizing our clients' positions through digital content is the second step after the initial positioning strategy is developed. Then, distributing that message online and through the appropriate media, traditional and digital, is imperative to creating successful campaigns for our clients."

About Innis Maggiore
Innis Maggiore Group is recognized as America's leading positioning ad agency, building strong brand positions for companies in competitive markets. The full-service integrated agency had 2021 capitalized billings of more than $25 million. Some of its key clients include Advanced Power, Aultman Health System, AultCare Health Plans, Babcock & Wilcox, Baird Brothers Fine Hardwoods, BellStores, Center for Health Affairs, Encino Energy, FSBO.com, GOJO Industries (Purell), KFC/Kendall House, Kobre & Kim, MID'S True Sicilian Pasta Sauce, Midwest Industrial Supply, Stark Area Regional Transit Authority (SARTA), SmithFoods, and Young Trucks.