Jun 7, 2022
Innis Maggiore Welcomes Two Summer Interns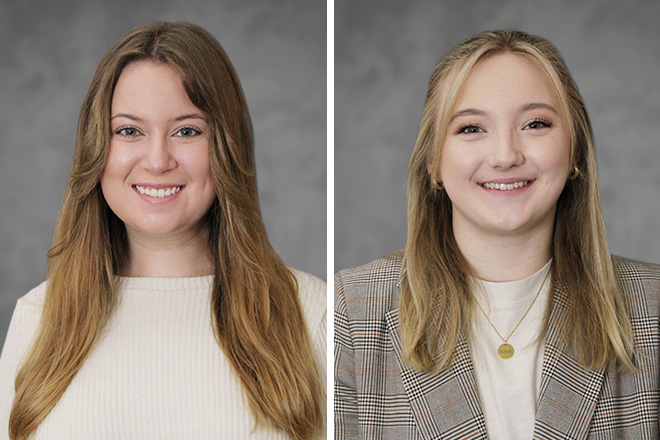 (Left) Klaire Vandegrift and (right) Mercedes Bryan are Innis Maggiore's summer interns.
CANTON, Ohio (June 7, 2022) — Innis Maggiore, the nation's leading positioning ad agency, today announced the addition of two summer interns, Mercedes Bryan and Klaire Vandegrift.
Bryan, in her position as a copywriting intern, is contributing to the agency's PositionistView® blog and is creating and editing client marketing materials. Originally from Massillon, Ohio, she is a rising senior at Hillsdale College, where she is studying English and economics.
Vandegrift is working with the Creative and Web departments as a graphic design intern, focusing on projects like front-end web design for clients. A resident of North Canton, she is a rising senior at Miami University, studying communication design and emerging technology in business and design.
Innis Maggiore's internship program is a wonderful opportunity for young people to encounter multiple aspects of marketing and advertising, according to Mark Vandegrift, Innis Maggiore's chief operating officer.
"As a full-service agency, Innis Maggiore provides interns with different avenues, ranging from website technologies to direct marketing, to explore the world of communications," he said. "We offer real-world experience to young people in Stark County who are seeking careers in communication. By providing mentorship and hands-on experience, we've taken a leadership role in strengthening our community."
Innis Maggiore Group is recognized as America's leading positioning ad agency, building strong brand positions for companies in competitive markets. The full-service integrated agency had 2021 capitalized billings of more than $25 million. Some of its key clients include: Aultman Hospital, AultCare, Babcock & Wilcox, Baird Brothers Fine Hardwoods, BellStores, The Center for Health Affairs, Encino Energy, FSBO.com, GOJO Industries (Purell), KFC/Kendall House, Kobre & Kim, MID'S True Sicilian Pasta Sauce, Midwest Industrial Supply, Stark Area Regional Transit Authority (SARTA), SmithFoods, and Young Trucks.