Jun 22, 2022
Innis Maggiore's Johnson Earns Twenty Under 40! Award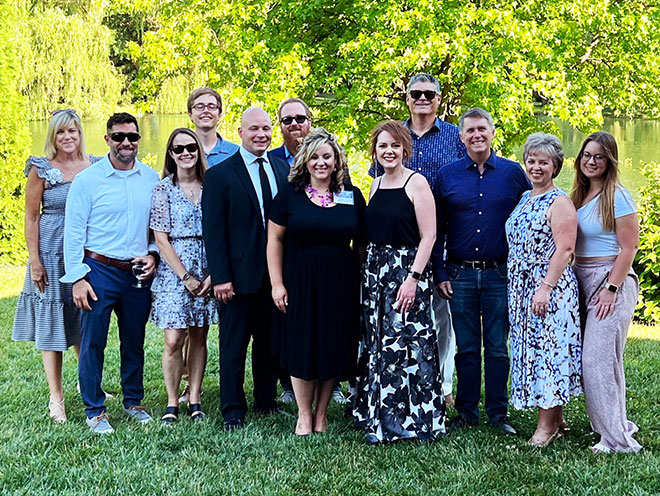 Innis Maggiore Senior Project Manager Ashley Johnson (center, in black dress) is a 2022 Twenty Under 40! Award winner.
CANTON, Ohio (June 22, 2022) — Innis Maggiore, the nation's leading positioning ad agency, today announced that Ashley Johnson, senior project manager, is the recipient of a 2022 Twenty Under 40! Award. ystark, the young professionals branch of the Canton Regional Chamber of Commerce, honored the award winners last night at Gervasi Vineyard.

Celebrating its 15th anniversary, Twenty Under 40! acknowledges individuals under the age of 40 who exemplify strong leadership and demonstrate civic responsibility in Stark County.

These young leaders are recognized for the determination, hard work, and passion they bring to their professional careers. Recipients also show the same dedication in their commitments to social action. In essence, Twenty Under 40! Award winners embody what it means to invest and actively participate in their careers and community.

"Ashley is the glue that holds this agency together," said Dick Maggiore, president and CEO of Innis Maggiore. "Without her incredible skill in managing the minute details of our client work, we'd be rudderless. Ashley heads our central control unit and she demonstrates command at every stage of the process as we competitively position our clients. She brings the same passion to the work she does in our community."

Johnson graduated cum laude from Kent State University with a bachelor's degree in communication studies and a minor in hospitality management. A Plain Township native, her family lives in Massillon. She serves on the board of the Domestic Violence Project and was recently named board secretary.

"Everyone loves Ashley," said Cheryl Henderson, creative director, a former Twenty Under 40! Award winner. "She unifies our team. She's in a position where she needs to keep us on budget and on schedule, and no one else could do it quite as diplomatically and enthusiastically as she does. We're so proud of her."

In addition to Johnson and Henderson's Twenty Under 40! Awards, Innis Maggiore Director of PR Jim Cyphert previously earned a Mahoning Valley Young Professionals 40 Under 40 Award.

Innis Maggiore Group is recognized as America's leading positioning ad agency, building strong brand positions for companies in competitive markets. The full-service integrated agency had 2021 capitalized billings of more than $25 million. Some of its key clients include: Aultman Hospital, AultCare, Babcock & Wilcox, Baird Brothers Fine Hardwoods, BellStores, Center for Health Affairs, Encino Energy, FSBO.com, GOJO Industries (Purell), KFC/Kendall House, Kobre & Kim, MID'S True Sicilian Pasta Sauce, Midwest Industrial Supply, Stark Area Regional Transit Authority (SARTA), SmithFoods, and Young Trucks.