May 13, 2022
Northeast Ohio Advertising Agency Innis Maggiore Promotes Four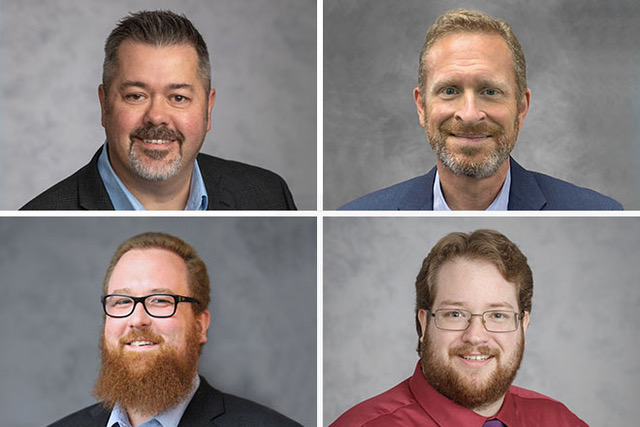 Clockwise from top left: Tony Bell, Devon Miller, Kevin Hine, and Joe Chenevey were recently promoted by Innis Maggiore.
CANTON, Ohio (May 13, 2022) — Innis Maggiore, the nation's leading positioning ad agency, today announced the promotions of four associates. Tony Bell was promoted to executive director of client services, Devon Miller was named business development director, Joe Chenevey is now new director of web, and Kevin Hine is a senior web developer for the Northeast Ohio advertising agency.

Bell, previously director of client services, is responsible for leading the client services team in driving teamwork and collaboration as the agency works to differentiate its clients. He came to Innis Maggiore in 2020 after more than 20 years at Geometry Global in Cleveland, where he was senior vice president, group account director. Bell earned a bachelor's degree from The University of Akron, where he also was a master's candidate as a research and teaching assistant. He served in the U.S. Army and was part of Operation Desert Storm, earning multiple awards and honors during his time in the military.

Miller, who joined Innis Maggiore in 2016, will oversee new business development opportunities for the agency. Formerly director of web and an account supervisor at Innis Maggiore, Miller previously worked for Terry's Tire Town for 16 years as managing director of ecommerce/business unit lead. Miller is a graduate of The College of Wooster, where he earned a bachelor's degree in business economics.

Chenevey was hired by Innis Maggiore in 2015, most recently serving as director of technology. He will manage the day-to-day implementation of all web initiatives for the Northeast Ohio advertising agency and its clients. Chenevey previously worked for Informediate, Inc. He earned both an associate degree in computer science and a bachelor's degree in technology from Kent State University.

Hine, hired by Innis Maggiore as a web developer three years ago, will be lead developer on several key agency web initiatives. Prior to joining Innis Maggiore, he specialized as a web and application lead developer at Presteligence. Hine holds an associate degree in applied business from Lakeland Community College.

"As we continue to build strong brands for our clients by differentiating them in their competitive markets, we understand how important it is to have the right people in the right positions," said Mark Vandegrift, Innis Maggiore's chief operating officer. "Since joining the agency, Tony, Devon, Joe, and Kevin have proven their abilities to move our clients' businesses forward, and as importantly, lead other associates in doing so as well. Each of these promotions is very well deserved."

Innis Maggiore Group is recognized as America's leading positioning ad agency, building strong brand positions for companies in competitive markets. The full-service integrated agency had 2021 capitalized billings of more than $25 million. Some of its key clients include: Aultman Hospital, AultCare, Babcock & Wilcox, Baird Brothers Fine Hardwoods, BellStores, The Center for Health Affairs, Encino Energy, FSBO.com, GOJO Industries (Purell), The Goodyear Tire & Rubber Company, KFC/Kendall House, Kobre & Kim, MID'S True Sicilian Pasta Sauce, Midwest Industrial Supply, Stark Area Regional Transit Authority (SARTA), SmithFoods, and Young Trucks.