App Development
Is app development worth the cost to your company?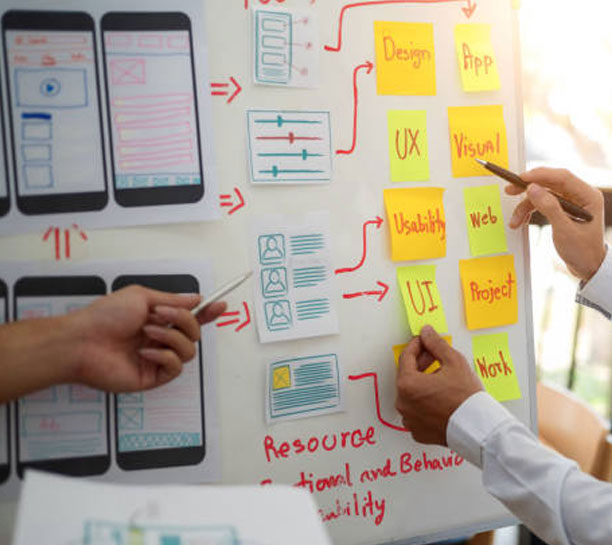 App development is on the rise. Hiring the right team to execute your vision is critical.
Developing an app is a time-consuming, expensive prospect. Surveys suggest that most mobile app developers expect to spend between $100,000 and $500,000 on development costs; some budget as high as over $1 million. It can also be risky: in 2018, only 0.5% of apps generated revenue and turned a profit. Innis Maggiore understands that apps aren't a build-it-and-they-will-come value proposition. As a leading app development company, we're able to provide insights on how an app might impact your operations, how to market the app to a B2B or B2C audience and what you can expect as an ROI.
Building an app can be rewarding and bring tremendous value to your company and customers. The same study that found only 0.5% of apps would be profitable also discovered that 88% of businesses say their app has paid off and has brought in a positive ROI. This statistic suggests that most businesses analyze app profits through sales leads and customer engagement and not through in-app revenue.
Mobile apps can be a particularly powerful driver of revenue, especially if your company is a B2C brand. When it comes to the 4 hours a day users spend online on their phones, a whopping 88% of that time is spent in apps. In-store, shoppers use their mobile devices to research products; having an app at hand makes doing that research even easier, as they can check inventory levels, prices and more.
Metrics from the e-commerce industry shed light on the true potency of mobile apps: 78% of users say they would rather access a store via a mobile app than through a mobile browser. Mobile app users are twice as likely to return to your store within 30 days as are those who accessed your store via a mobile browser. Conversion rates within apps are 3x that of mobile browsers and 1.5x that of desktop websites. The average order value in apps is 140% and 130% higher than mobile and desktop sites, respectively. And finally, mobile apps see a cart abandonment rate of only 20%, compared to 97% for mobile sites and 68% for desktop sites.
Needless to say, that's a lot of engagement.
---
The reason for such engagement is the significant number of advantages that mobile apps offer over websites:
Reduced response time
Improved user experience (eliminating confusion and distraction)
One-click ordering and simplified navigation (simplifying the user's path to the desired action)
Advanced support
The capability for an easily managed rewards system
Exclusive content and increased personalization
Push notifications (providing direct communications access to each user)
---
That engagement is only going to get harder to tap into, however. The competition is fierce, and the demand isn't as strong as it used to be. Every month, 100,000 new Android apps and 30,000 new iOS apps are released. In the US, download rates are plateauing: in 2019, 67% of smartphone owners say they didn't install any apps.
Beating out the competition to stand out in a crowded marketplace requires a focus on marketing and strategy from the very beginning, something that not a lot of dev shops can help you with. It also requires a significant investment in marketing: 56% of companies dedicate between 30-70% of their total app development budget to marketing.
Fortunately, helping companies stand out from the competition is Innis Maggiore's specialty.
The right app development company begins with your goals
As America's #1 Positioning Ad Agency, Innis Maggiore helps companies establish their brand positions in the marketplace.
Your brand position is the single idea that your brand stands for in the mind of your target customer. When you stand for something in the marketplace, you stand out. This differentiation puts you at the top of your prospect's list of possible solutions to their problem—meaning more brand value and sales for you.
While talking about branding strategy at the same time as app development sounds off-topic, the two go hand-in-hand. To get the ROI you need to justify the cost of app development, you need to begin with your overall business goals in mind. Those goals should encompass understanding the purpose for the app, how it will contribute to your company's bottom line and how you will position it in the market to stand out and increase downloads, usage and, ultimately, conversions and profits.
At Innis Maggiore, we always begin with your goals in mind. This means understanding who you are creating this app for, what value it will contribute to them, what a positive ROI looks like to you and more. Knowing exactly what you hope to accomplish with this app will shape the decision-making about what features to include or leave out, how our dev team will approach development, what platforms you host the app on and how you market the app.
App development expertise meets marketing prowess
As you've picked up by now, marketing is a crucial step in the success of your app.
Beginning the process with marketing in mind gives you a far better chance of being successful, of standing out from the competition and of generating a positive ROI. Most B2B companies don't view an app as an asset, but with the right app in the right space, a business can become more efficient with an app or delight its customers in unexpected ways. Not all apps have to be monetized. Goodwill goes a long way in business these days!
Given that, Innis Maggiore offers you the rare combination of app development expertise mixed with nearly 50 years of marketing experience. We are a full-service advertising agency, which means we have in-house teams that can handle every part of your app development and marketing, from the largest dev shop in northeast Ohio to professional project managers and account leads to teams of designers, copywriters and media specialists.
Our dev department has consistently been a leader in tackling new technologies and best practices ahead of the curve: we have over 25 years of web development experience, we're one of Sitecore's (an enterprise CMS platform) first partners, we started doing responsive design years before Google began prioritizing it and more. This history of leadership means our team has the technology know-how to tackle any design or development challenge.
Meanwhile, we back up those technical capabilities with the marketing prowess to get your app in front of the right people and to make it stand out in a crowded marketplace. Working with Innis Maggiore means your chances of success go way up.
Choose an app development company that can take you from start to finish
There's no denying it: developing an app for your business gives you access to your audience in ways little else does. But developing an app that stands out, gets downloaded and positively impacts your bottom line is tough. Innis Maggiore can deliver, with a track record of successful app development and decades of marketing experience to help position you for success. To learn how we can help you with your project, contact us today.
Contact Us