Customer Satisfaction Surveys
Find Out What You Do Best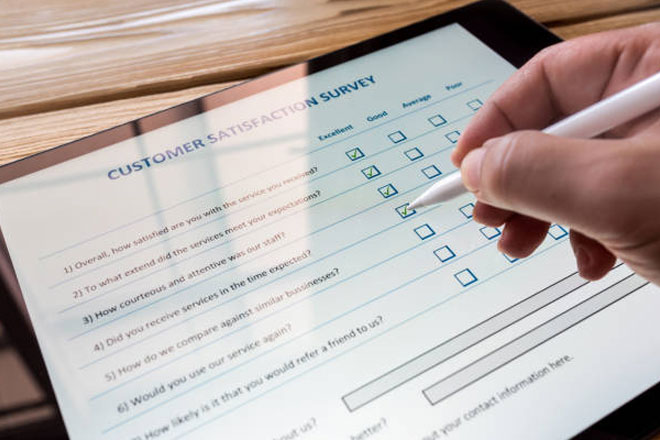 Innis Maggiore conducts quantitative and qualitative customer satisfaction surveys to get a sense of what your customers perceive about your organization.
Word-of-mouth can have a major impact on your company – for better or worse. If a customer has a bad experience with your company, they are much more likely to tell their friends and family about it than if they had a good experience. Nobody wants to tell – or hear – the story of how friendly customer service was. Because of this, if customers do have good experiences with your company, it's unlikely that you would ever know. While there is value in criticism, it can cast a dark cloud over your company's head, and when people are always ready to point out your flaws, it can be hard to see what it is your company is doing right. This is the moment when you might want to find a company to conduct customer satisfaction surveys.
At Innis Maggiore, the nation's leading positioning ad agency, we understand this sentiment and we want to help you bring in constructive feedback – not just negativity and criticism. You need to know what makes your company stand out from the pack, which is what positioning is all about. In order to help our clients find that sticking point, we can conduct quantitative and qualitative customer satisfaction surveys to get a sense of what your customers perceive about your organization.
Customer Satisfaction Surveys vs. Other Feedback Methods
While you can receive both positive and negative feedback through customer satisfaction surveys, the whole point is customer satisfaction.
What is it about our organization that satisfies the needs of your customers and therefore focuses on improving your company and perhaps, more tightly focusing in on your position? These surveys allow customers to directly provide feedback based on their experiences interacting with your company, and that first-hand feedback is always one of the most valuable resources. Insight from customers can give you a good idea of how your company is perceived from the outside – what does and doesn't work between your products or services – and how to overall improve the customer experience.
Customer satisfaction surveys also help establish accountability to your customers. If your customers have a bad experience, customer satisfaction surveys give them a direct line to tell you about it, providing an incentive to do a good job which will in turn build trust with them. Utilizing feedback from customers allows your company to take productive actions to rectify any bad experiences and implement changes or provide a better understanding to customers to ensure that a similar situation doesn't unfold. The challenge in conducting these surveys is in asking the right questions, the right way. Research can be tricky because with the wrong questions, the takeaways can lead to a cascading list of incorrect decisions.
Equipping Your Company to Conduct Customer Satisfaction Surveys
Like any other feedback channel, customer satisfaction surveys need the proper setup as well as a purpose.
While its malleable nature allows it to be less structured than a focus group or an in-depth interview, you still need some specific goals in mind when you create your survey.
For example, is there currently an area of your business that's struggling and you can't seem to put a finger on why? Or perhaps there's a segment of your business where you are seeing churn at a much higher rate than is typical for your organization. These questions may be answered with the right structure and format of a customer satisfaction survey.
Picking a Format That is Convenient for the Customer
It can be difficult to persuade customers to take a survey for your company, especially depending on your customer base.
They may not have the time to spare to offer feedback, or they just might not want to deal with the hassle, which is why making the survey as convenient as possible for the customer goes a long way in maximizing the amount of feedback that you get.
We work side-by-side with our clients to get to know their companies and customers better so we can help them conduct customer satisfaction surveys in a manner that fits each customer base. Once a survey is developed, we test it with small sample groups to ensure that the survey elicits feedback on the focus areas around which the survey was created.
Here are a few types of customer satisfaction surveys. Each provides input from a different time in a customer's buying or transaction cycle:
Transactional Survey: this is conducted at purchase while the interaction is immediately fresh in the customer's mind. This gives feedback on your company's first impression, which also connects back to your position and how it's dramatized in the market.


Post-Service Survey: this takes place after a service is provided. It gives time for the customer to react to and reflect on their interaction with your company but is shortly after the product or service was received.


Relationship Survey: this type of survey is periodically sent to customers. The benefit of doing this over time is that it tracks how their experiences and perception of your company have changed over time. It also is a good brand touch and continues to build a relationship with your customers.


Product- or Service-Specific Survey: like a focus group, this format allows you to ask for feedback on a certain product or service directly from a customer who has purchased the product or service. This can give insight into what specific areas need improvement.


Net Promoter Score (NPS) Survey: this survey uses a range, typically from 1-10, that asks customers how likely they are to refer your company and its products or services. This is designed to give a blanket overlay on whether or not your customers are satisfied with your company, but not necessarily with what they are or aren't satisfied.


Website Survey: this is a common survey format. It is conducted on a company's website and seeks to gather feedback on the quality of the website experience, such as navigational ease, interactivity, design, and content. In some cases, it can be broadened to include questions about the products, services, or brand perception, but in this case, the website is simply the delivery mechanism for one of the other survey types listed above.
Each survey seeks to gather a different type of information and feedback in a different method tailored to the customer. Having quick and convenient customer satisfaction surveys available makes you much more likely to receive valuable feedback on your company and what it does best, which can help you establish or refine your position and help you stand out from the crowd.
Interpreting Customer Feedback into Cold, Hard Data
Once you have your survey responses, it can be overwhelming to narrow it all down to a list of improvements you can make.
Not to worry – we don't help our clients create and conduct customer satisfaction surveys just to leave them up the creek without research results and interpretation. We work with clients to analyze the data, identify trends in the feedback, and turn that into an action plan to enact change and improve the customer experience and perception of the brand.
Contact Us
Ready to improve your company through the words of your customers? Then hire Innis Maggiore as your company to conduct customer satisfaction surveys.
Contact Us