Leverage the reach of a digital agency
Pinpoint your position and build a strong brand through broadcast and digital media.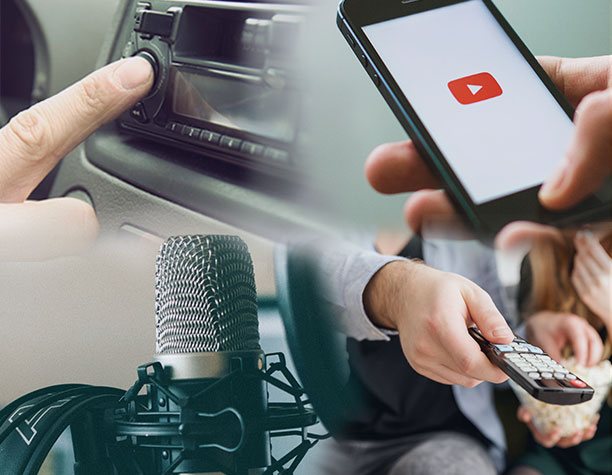 When you consider utilizing a digital ad campaign, there's an array of options to choose from, each with their own specific benefits.
Broadcast and digital commercials surround us everyday in a variety of platforms and styles. With the help of a digital agency, you can develop ad campaigns that increase your audience reach and deliver success.
Many broadcast and production agencies can create sleek advertisements that span from a crisp voice riding on radio waves through emotional and relatable commercials meant to catch viewers' attention. But advertisements that are aesthetically attractive can only carry your brand so far. In the span of a few seconds, you need to do more than woo a potential customer with visuals. You must go deeper with your advertisement, communicating your competitive difference to convince your target audience to choose your product over a competitor's.
Choose a digital agency that understands positioning
Innis Maggiore doesn't just deliver emotion – we deliver focus.
Among all other broadcast and digital agencies, Innis Maggiore knows how to make these client conversions, and the answer lies in our dedication to brand positioning strategy.
Positioning emphasizes the value of your brand by pointing out what makes you unique in the marketplace, not what makes you the same as your competition. When you can pinpoint your position, you can then build a strong brand through advertising media like broadcast and digital distribution.
As America's #1 positioning ad agency, Innis Maggiore will not only deliver an emotionally strong ad campaign, but one that focuses 100% on your position. Say goodbye to meaningless messaging, and hello to campaigns with a complete focus on what makes you stand apart from your competition.
The styles and benefits are endless
With the help of a digital agency, you can find the perfect match.
When you consider utilizing a digital ad campaign, there's an array of options to choose from, each with their own specific benefits.
One of the most potent ways to secure lasting impressions is with a TV spot. TV commercials are still known to garner a significant amount of trust with viewers, and are proven to have a large audience reach, because they are a long-form format. Today, TV comes in a variety of forms, from the traditional linear TV setup to modern connected TV streaming, giving your business limitless opportunities in approaching potential customers.
Another format for broadcast productions, radio spots, possess a high degree of trust with listeners, especially when your campaign targets certain time slots paired with regular hosts. They can also harness the personality of your brand at a cost-effective rate.
In the realm of digital productions, there are a host of approaches from video advertisements to podcasts. Video advertisements can include content like what you see before YouTube videos or can be produced as specialty videos for company websites. Video advertisements can communicate a lot about your corporate identity, giving you the opportunity to make emotional connections with viewers, especially when they feature your products, employees, or facilities.
Podcasts hold some of the same effects as broadcast mediums. Listeners who tune into podcasts have the added benefit of even higher listener engagement than typical radio spots simply due to numerous more precisely defined genres, the nature of on-demand audio streaming, and the individual trackability of individual listeners. All of these characteristics translate into even more effective advertising strategies.
Navigating all of these options can be rather overwhelming, and oftentimes, marketing budgets are not large enough to waste money on numerous trials before finally landing on a successful campaign. When you utilize a digital agency like Innis Maggiore, who has the nation's leading brand positioning chops, your TV, radio, video, audio, and other channels will be well positioned for success.
Innis Maggiore is a digital agency with a history of award-winning success
Throughout our history, Innis Maggiore has produced a multitude of digital content with high caliber quality and messaging concentrated on clients' positions — and we have the awards to prove it. We have received more than 300 advertising awards for our work in producing audio and video marketing content for clients, including the ADDY® Judges Award and Best of Show, alongside a plethora of gold, silver, and bronze Telly Awards.
To check out some of our award winning content, visit our portfolio.
Make every second of your broadcast or digital production count
Contact Innis Maggiore today to start an ad campaign that increases your reach and delivers success.
Contact Us