Optimize your results with a direct mail company
Innis Maggiore has been serving clients as a direct mail agency since 1974.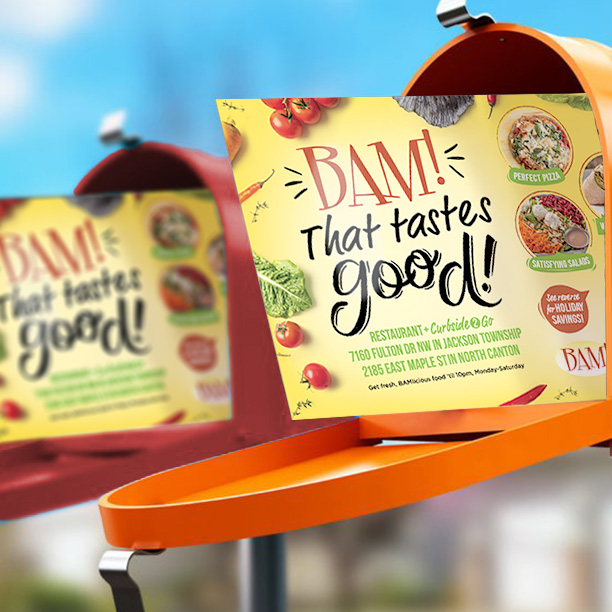 A direct mail company can introduce you to the infinite ways to greet your prospects. It can be as simple as creating an informational postcard!
In a digital world, companies are constantly racing to engage audiences instantaneously. These digital methods vary from display ads to streaming platforms, all in the hopes that you hit viewers at the moment they are considering a purchase.
With that emphasis, more traditional forms of marketing like direct mail are often dismissed as outdated. But in a landscape of digital marketing saturation, techniques like direct mail may give you the edge that differentiates you from the pack, in a much less congested location: the mailbox.
Decades of Success
Innis Maggiore is an effective direct mail company because of our unique position as a full-service agency. Most direct mail companies are single-minded. And that means whatever problem you have, their solution will be direct mail. With a full-service, integrated agency, we might find that your direct mail efforts would be lifted with an email marketing campaign, a broad-based brand campaign, a paid search effort, or any number of other tactics.
When you work with a full-service agency, you get the benefit of a team that starts and works from the same understanding about your brand and its personality. Throughout the entire process, the team works using one central message.
Direct mail requires attention to every detail
Direct mail isn't as simple as finding a mailing list.
These days, many agencies claim they can facilitate direct mail marketing efforts, but Innis Maggiore has been serving clients as a direct mail agency since 1974. With experience like that, we've witnessed the evolution of direct mail into an even more powerful marketing tool – if executed properly.
Direct mail isn't as simple as finding a mailing list and blasting local neighborhoods. You need an agency that doesn't just know the basics of direct mail, but the art behind it. With Innis Maggiore as your direct mail company, you can trust us to perfect your strategy down to every last detail.
---
Trackability

One detail many agencies neglect is the trackability of direct mail. Innis Maggiore tracks direct mail by merging it with advanced digital analytics, combining their individual strengths for greater results. When we intertwine these areas, we construct a metric that can measure the results of a campaign. It can be as easy as generating a QR code or as detailed as tracking web traffic using different coupon codes. Just because you're using direct mail doesn't mean you miss out on the added benefits of the digital world.
---
Real-Time Results
Equipped with trackable data, a good direct mail company will analyze your marketing efforts in real time, and look for areas that need adjustment now so you can meet your campaign goals. With data in the hands of trained experts, Innis Maggiore can analyze the effectiveness of any mailer and determine ways to tweak your campaign. The name of the game is test-and-optimize, then test-and-optimize some more. With real-time analytics, this process should move quickly instead of the historically slow analytics that we had to endure prior to the internet of things.
---
Timing
Expertise as a direct mail agency also comes down to timing. Similar to digital fatigue, you must be aware of times where people experience high volumes of mail such as the holidays, elections, or back to school. Running an effective campaign counts on when you launch into someone's mailbox. If your product experiences seasonality, understanding the buying cycle and trigger points are critical to success.
---
The List
That brings us to the all-important crafting the mail list. Finding the right prospects is not as easy as selecting a general area code. If you want results, you have to trust a direct mail company like Innis Maggiore who cares about the fine details and will pour over finding the right demographics and households to achieve your desired goals.
Get great DM with the nation's leading positioning ad agency.
We believe that positioning is the single-most-powerful concept in marketing.
While being full-service is most definitely one of our advantages as a marketing agency, our greatest strength comes from our belief in positioning strategy. The term "positioning" was coined by Jack Trout in his 1981 book entitled "Positioning: The Battle for Your Mind." And its principles today ring ever more true because marketing clutter has exploded. Positioning focuses your advertising — including direct mail — on the one idea about your product, service, or company that establishes its fundamental difference from the competition, and maximizes your fit with a target audience.
At Innis Maggiore, we believe that positioning is the single-most-powerful concept in marketing and we apply it to everything we do. When you work with us as your direct mail company, we root every aspect of your campaign in your brand positioning. This foundation transforms your direct mail campaign from another postcard received in the mail to a forceful encounter with what your brand represents.
The new dynamics of direct mail
With the majority of the world moving online, direct mail marketing offers a unique opportunity to meet potential customers without battling digital fatigue.
Direct mail is easily accessible. Unlike digital marketing platforms, which require navigating ad space availability, carefully strategizing SEO, and sometimes selecting from overwhelming audience targeting options, direct mail offers a very straightforward approach to marketing.


The customization is endless. A direct mail company can introduce you to the infinite ways to greet your prospects. It can be as simple as creating an informational postcard, listing out products through a detailed catalog, or even as elaborate as sending samples. With Innis Maggiore's innovative creative, the options truly are endless.


Targeting is possible. When you think about digital marketing, your mind may immediately arrive at the efficiency of targeting through these platforms. But, don't be mistaken. Direct mail has powerful targeting capabilities that can be as specific as a digital marketing campaign, going as far down as pinpointing interests and age groups. This manner of targeting is something your direct mail company doesn't just understand, but knows how to wield.


The road less traveled. Perhaps one of the greatest advantages to direct mail is the lower ad frequency. Online, individuals are flooded with advertisements in all shapes and sizes, which has caused digital fatigue, meaning some ads aren't even registered by viewers. Mailboxes have become less cluttered, which means you might be one of a few who make it through to the mind. This includes business mailboxes. One recent B2B client of ours had a 10x return on investment on their very first DM campaign.


The inclusivity of digital. If you want to cover all your marketing bases, combining a direct mail campaign with digital advertising through QR codes or exclusive online deals can increase your brand's awareness and even its accessibility across platforms. And when you make this journey with a direct mail company, you won't need to worry about handling the logistics of a mixed campaign. Innis Maggiore handles it all.
Work with with a long-standing leader in direct mail advertising.
We invite you to test one of the region's leading direct mail companies to optimize your sales. Contact Innis Maggiore today.
Contact Us