E-commerce Development
E-commerce is changing rapidly—are you prepared?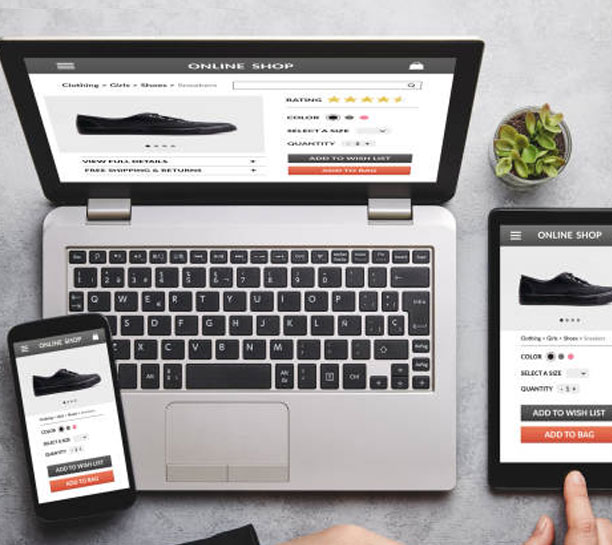 Unlock your companies full potential with quality e-commerce development.
E-commerce has been steadily growing as a percentage of all retail for years, but the global pandemic triggered an explosion in growth like never before. In the U.S., the share of e-commerce in total retail only increased from 9.6% to 11.8% between the first quarter of 2018 and the first quarter of 2020. But between the first and second quarters of 2020, that number jumped up to 16.1%. With over 25 years of web, including as an e-commerce development company, Innis Maggiore keeps up with and responds to trends before they become common to the rest of the industry, putting us in good stead to help you get ahead of this growth.
Many experts predict this new prevalence of e-commerce is a permanent change. Those businesses who failed to pivot to utilizing e-commerce suffered the most; going forward, making this transition is paramount to survival.
But it's not as simple as building an e-commerce platform and waiting for the traffic to come. The increase in demand for convenient online shopping is rivaled by stiff competition from digital sellers. Major e-commerce players like Amazon, Walmart and Target dominate the landscape, while a plethora of smaller sites scramble for a place in the market. Successfully competing in the e-commerce space requires standing out from the competition — something that Innis Maggiore specializes in.
As America's #1 Positioning Ad Agency, Innis Maggiore is a full-service ad agency that specializes in positioning. Positioning is the activity of identifying and communicating your brand's difference in the marketplace. Your brand position is the one idea you stand for in the minds of your ideal prospects. Everyone who engages with your business in some way will come away with a perception of your brand anyway, so why not be deliberate about determining what that perception should be?
Establishing your brand position gives your prospects a reason to choose you over your competition. Once they become aware of you, your difference in the market and the solution you offer (the "awareness" phase of the customer journey), your brand moves to the top of a short list of options in their minds. When they enter the "problem-solution" phases of the journey, where they are actively looking for a solution to their challenge, you are first in their mind.
All of this sounds great, but how is it relevant to an e-commerce platform for your business?
The link between positioning and e-commerce: customer loyalty
Going back to our point about the importance of your e-commerce development company helping you stand out from the competition, there's one area that your business MUST do exceptionally well in order to see a positive ROI: keep customers coming back,
Returning customers allow you to boost sales at a much lower price point then your initial cost of acquisition for a new customer. Returning customers are also more likely to return in the future, creating a cycle of loyalty that improves your average customer lifetime value (CLV; a measurement of how much the average customer spends with you over the lifetime of the relationship). They are also more likely to recommend your brand to others, leave positive reviews and more, providing you with invaluable word-of-mouth traction. All this equals greatly improved profit margins, all with little to no extra cost or effort on your part.
The customer experience that determines whether shoppers return or not begins with positioning strategy, but ultimately includes every interaction they have with your brand. If every touchpoint is aligned with your brand position, you have a powerful tool in your hands for long term growth.
Executing your positioning strategy involves getting all of these details right—providing the experience your customer has come to expect from their online shopping (fast site load times, streamlined checkout process, engaging content mixed with special deals, etcetera) while standing out with clear, unique messaging that supports your brand position.
Your e-commerce development company should have the FULL suite of expertise
Beyond positioning strategy and execution, a successful e-commerce development company has the right mix of technology and marketing prowess, something that Innis Maggiore brings to the table in spades.
As a full-service ad agency, we have capabilities in every discipline required to bring your project to fruition. To start with, our dev shop is the largest in northeast Ohio and has been developing software and web products for over 25 years. They have the experience and technical know-how to manage every component on the backend, from initial scope and technical planning to final deployment and quality assurance testing.
Because our developers operate within a context of positioning strategy and marketing execution, they develop your project with an eye towards how it will serve the needs of your customers. They treat your e-commerce platform as the means to an end that it is by crafting the best possible user experience.
Our developers are backed by teams of project managers, account leads, digital media specialists, copywriters and designers, all who operate within the framework of positioning to deliver a final product that meets your goals, serves the needs of your customers and adds to your bottom line.
Treating e-commerce development comprehensively and holistically like this ensures the best possible final deliverable. Consider the knowledge and skill sets required to effectively build a successful e-commerce platform:
Branding/positioning/marketing strategy
UX design and information architecture
Content creation (from product descriptions and sales copy to interactive elements, such as video)
Web/software development, responsive design and mobile app development
Digital advertising, social media, search/voice search, integrated omnichannel marketing and more


Beyond these functions, shoppers demand increasing amounts of service from their preferred platforms. The basics include greater personalization, visual appeal and the need to be everywhere with valuable content. As shopping trends evolve and customers increasingly look to online spaces to meet all their purchasing needs, they expect digital buying experiences that resemble that of in-person shopping. Examples include the use of "digital salespeople" to walk a prospect through the buying process to virtual and augmented reality tools that allow the shopper to view the product as if it were there in front of them.
These trends are demanding, requiring an e-commerce development company that can guide you through the process of designing an experience that works for your customers.
Choose an e-commerce development company that can take your project from initial strategy to final execution
From setting the right strategy to keeping up with the latest trends in technology to implementing best practices in e-commerce marketing, Innis Maggiore can be your one-stop-shop for building an e-commerce platform that gets results and adds to your bottom line. Get in touch today to find out how we can help you with your project.
Contact Us