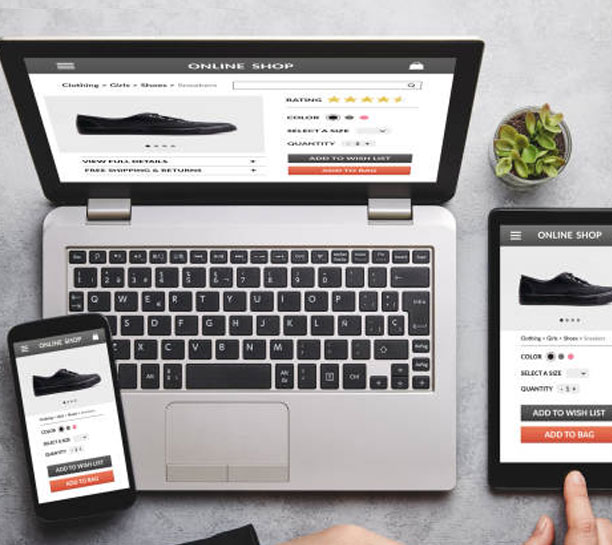 Unlock your companies full potential with quality e-commerce development.
E-commerce has been steadily growing as a percentage of all retail for years, but the global pandemic triggered an explosion in growth like never before. In the U.S., the share of e-commerce in total retail only increased from 9.6% to 11.8% between the first quarter of 2018 and the first quarter of 2020. But between the first and second quarters of 2020, that number jumped up to 16.1%. With over 25 years of web, including as an e-commerce development company, Innis Maggiore keeps up with and responds to trends before they become common to the rest of the industry, putting us in good stead to help you get ahead of this growth.
Many experts predict this new prevalence of e-commerce is a permanent change. Those businesses who failed to pivot to utilizing e-commerce suffered the most; going forward, making this transition is paramount to survival.
But it's not as simple as building an e-commerce platform and waiting for the traffic to come. The increase in demand for convenient online shopping is rivaled by stiff competition from digital sellers. Major e-commerce players like Amazon, Walmart and Target dominate the landscape, while a plethora of smaller sites scramble for a place in the market. Successfully competing in the e-commerce space requires standing out from the competition — something that Innis Maggiore specializes in.
As America's #1 Positioning Ad Agency, Innis Maggiore is a full-service ad agency that specializes in positioning. Positioning is the activity of identifying and communicating your brand's difference in the marketplace. Your brand position is the one idea you stand for in the minds of your ideal prospects. Everyone who engages with your business in some way will come away with a perception of your brand anyway, so why not be deliberate about determining what that perception should be?
Establishing your brand position gives your prospects a reason to choose you over your competition. Once they become aware of you, your difference in the market and the solution you offer (the "awareness" phase of the customer journey), your brand moves to the top of a short list of options in their minds. When they enter the "problem-solution" phases of the journey, where they are actively looking for a solution to their challenge, you are first in their mind.
All of this sounds great, but how is it relevant to an e-commerce platform for your business?