Event Marketing Agency
Promote Your Difference … Face-to-Face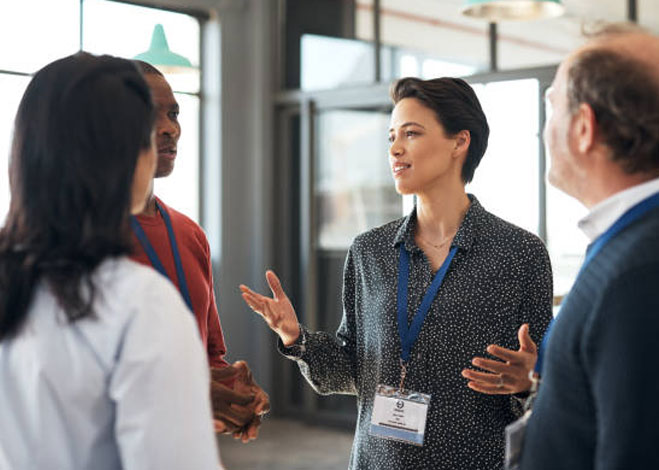 Event marketing is one of the most successful marketing tactics.
Everywhere we look, we see promotional events. Conventions, conferences, and meet-ups - especially post-COVID - are commonplace. From CES (Consumers Electronic Show) and MWC (Mobile World Congress) to regional Reuters events (e.g., Hydrogen North America) or small niche conferences such as NACE (National Association of County Engineers), trade shows and similar events can have a powerful impact on your bottom line. Event marketing tends to be one of the most successful and most talked about marketing tactics. Its ability to promote the latest news, product launch, and other "big things" is real, and doing it face-to-face with influencers and decision makers is powerful. Given this impact, it's imperative to partner with an experienced event marketing agency who also happens to be the nation's leading positioning ad agency.
At Innis Maggiore, we understand that while other companies might offer products and services similar to yours, there's no substitute for a good experience. Event marketing can provide a fun, informative, and interactive experience to consumers that can help you stand out from the pack while also instigating buzz around your company.
We work closely with our clients to determine your goals and objectives behind potential events, then we formulate the best event and the best strategy to spread the word about said event that aligns with your goals. Hosting an event for the sake of hosting an event typically leads to something passionless, but we can help you participate in and plan events that dramatize your difference in the marketplace, while making "the happening" valuable and entertaining for attendees. A truly differentiated event marketing agency is the only way to ensure you host a truly differentiated experience, whether it's your own event or you're participating in a trade show, conference, or webinar.
Spreading the word is half the work in event marketing
No matter how exciting, engaging, or well planned your promotion may be at an event, it's all for nothing if nobody shows up.
Event marketing requires direct marketing, PR, promotion, or other marketing tactics, so generating buzz around your event is debatably more important than hosting the event itself. While we do work to build hype leading into your event, we also utilize the more streamlined methods, such as direct marketing, paid media, and public relations efforts, both traditional and digital.
As the nation's leading positioning ad agency, we develop your communications around your event based on the position of your company. No two companies are the same, so customized tactics are required for your events that fit your position, your company and your style. Even if you have a well planned and well thought-out event and you effectively spread the word, if it doesn't align with your customer base, then it's not going to have nearly as big of an impact as it could, and frankly, should. Hence, if half of the work in event marketing is getting the word out about your event, then the other half is planning the right event for your company, your customers, and your position.
Fitting the right event with your customer base
Innis Maggiore delights in working very closely with its clients, as knowing how you function almost as well as you do helps us in several fields of marketing and advertising.
Knowing your intentions and goals goes a long way in event marketing, but knowing your customer base inside and out, along with other benefits, helps us pair up events and methods so that they blend seamlessly with your company and are inviting to your customers and followers.
We have handled events of all kinds, including grand openings, groundbreaking ceremonies, product launches, anniversary parties, ribbon cuttings, remotes, virtual events, and trade shows. We can build events around the milestones that define your company. Incorporating the customer into celebrations of growth within your company helps to establish you as a progressive and expansive company, but it also encourages customers to interact with your company and see what makes you different. And you can be assured that every event we concept will promote your brand difference.
An event with passion is the key
Customers can see right through disingenuous charades that companies try to prop up.
Trying to artificially build hype around your company through any means can spurn potential clients, but a poorly planned or passionless, meaningless event that requires customers' time, energy, and sometimes money will turn them and their peers off to you entirely. Just like any good product or service, having passion behind your event is a requirement. Know what it is that you want to accomplish, and we will do everything in our power to do it.
Plan a memorable event with meaning
If you're ready to give customers an experience they won't forget, reach out to Innis Maggiore, an event marketing agency who can help you create a differentiated experience.
Contact Us