Logo design agency: make the right impression
Simple images can evoke an entire inventory of impressions about a brand.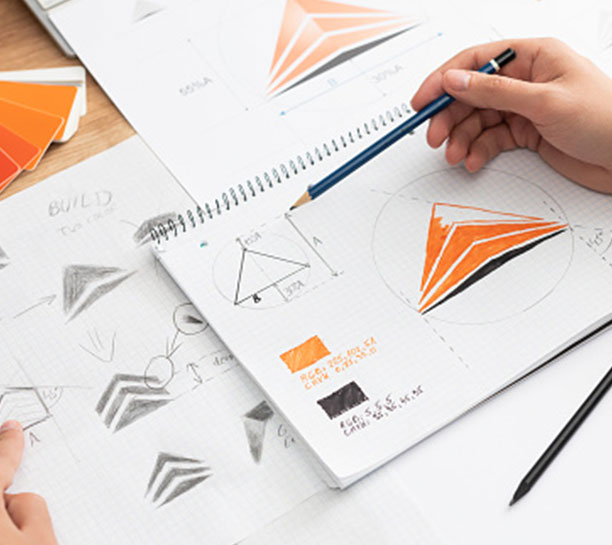 Companies who understand their positions communicate more effectively with their audiences through logo design.
One of the first steps in marketing your company effectively is to create a logo. With the simple flash of one image, a viewer will eventually connect your logo to your product or service to make a buying decision. Creating the right logo with a balance of engagement and practicality, you can develop significant brand recall if your marketing is executed with the right positioning strategy. Getting the logo right can be easier when you hire a logo design agency who is also America's #1 positioning ad agency.
Just think of some of the most well-known logos today. When you see the golden arches, you don't need typeface to tell you're passing a McDonalds. As the person in front of you swipes their card, you know instantly by the red and orange interlocking circles that it's a MasterCard. Or while you're at the gym, you see the Nike swoosh fastened to shoes and gym shorts alike.
In 2022, Zippia conducted a number of statistics concerning logos to demonstrate the power of imagery. One of the most outstanding statistics reported was that 94% of the world population recognizes the Coca-Cola logo. Beyond recognition, their statistics examined the influences of logos on consumers. They reported that consumers are more likely to trust a brand with a logo they know at a rate of 73%. On the other hand, 60% of viewers who believe a logo is "odd, ugly, or unappealing" will ignore the brand entirely.
These simple images evoke an entire inventory of impressions about the brands they represent, and with the help of an agency, your logo can provide the same reach.
How the power of positioning can unearth your identity
Corporate identity lies at the heart of any valuable logo. It must encompass everything your brand represents with just a glance. But making a logo without the help of a logo design agency can cause your brand to spiral into multiple different directions without any intentional focus. Before you know it, you'll find yourself lost in the thicket of varying messages with a brand identity crisis.
So how do you guarantee your logo will embody your corporate identity?
At Innis Maggiore, an experienced logo design agency, the answer lies in the power of positioning. Positioning highlights the aspect of your product that differentiates it from the competition. When you can understand the thing that sets you apart, you can effectively articulate your brand to your target audience. One of these articulations is the creation of a brand logo, whether it's your name or an image, that can start embedding your position into the minds of your prospects.
The power of a full-service agency
We'll deliver you a message with 100% of the focus on your position and corporate identity.
When it comes to logo designs and corporate identity, Innis Maggiore not only brings the power of positioning but also the power of a full-service agency.

When businesses decide to design logos, many will enlist the help of freelance artists. While there are countless talented freelance designers who can deliver fresh and fashionable logos, you may run the risk of having inconsistent messaging. When you hire freelance designers, oftentimes, they are building off of a different creative understanding than another freelance artist who has worked or will work on your company brand.
But with a full-service logo design agency like Innis Maggiore, you can rest assured that we'll deliver you one message with 100% of the focus on your position and corporate identity. The strength of a full-service agency is that everyone involved with your brand begins with the same understanding and works together, through each department and every project, to best amplify your position. Our skilled Creative team has years of experience with making differentiated ideas come to life, including designing a logo that is appealing, memorable, and relevant. Beyond creative, we can also make your logo versatile for any platform by working with our in-house specialists in Web Development, Digital and Media Marketing, and PR. That's the beauty of a full-service agency.
Limitlessness of Logos
The process of building logos begins with a logo design agency like Innis Maggiore uncovering your position. Once the position is established, the designing can commence — and the options are limitless.
One critical component of logo design is color. Logo colors communicate distinct impressions to viewers. For example, looking at all Fortune 500 companies, 40% are recorded as using blue in their logos, and in second place is black at 25%. It seems that color conveys one important segment of a brand's story, but the other portion is left entirely up to its structure, which comes in a variety of forms:
Lettermarks are popular for businesses who commonly use initials like P&G (Proctor & Gamble).
Wordmarks take advantage of a company's name, especially when it's distinct like Prada.
Pictorials involve using simple, but powerful, images as your brand representation, and can also come in more abstract forms. A few examples are Shell Gas or the Nike swoosh.
Mascots can be a unique way to showcase your brand by giving it a character identity like Cheeto's Chester the Cheetah.
Emblems can invoke a more professional persona for your school or business, examples include schools like Yale or film studios like Warner Brothers.
Combinations represent the most common style of logos and they are exactly as they sound — mixtures of these different logo styles. Some key examples include Taco Bell or PayPal.
Returning to the statistics regarding Fortune 500 companies, the Zippia findings reported that 61% of companies implement combination logos, 31% use wordmarks, 5% use lettermarks, and 2.4% use emblems.
Do these results mean that these logo designs are linked to higher profitability for companies? No, not necessarily. What it does mean, however, is that companies who understand their positions communicate more effectively with their audiences. It's not the logo itself, but the story behind that logo, found using the power of positioning, that can deliver you to the right target audience.
Stand out to consumers with a focused logo design
Looking to start the process of designing the perfect logo for your company? Discover the power of positioning with a logo design agency like Innis Maggiore.
Contact us today.
Contact Us