Loyalty Program Agency
Loyalty is Too Valuable to Leave to Chance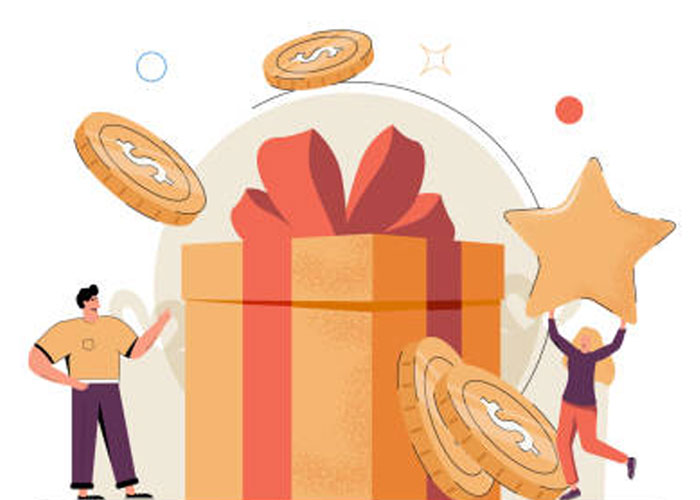 It costs 5 times more to acquire new customers, so increasing loyalty improves the bottom line.
Incentive programs motivate loyalty and loyalty is worth a lot. It costs 5 times more to acquire new customers, so increasing loyalty and improving retention can make a big difference to cutting costs and improving the bottom line. As a leading loyalty program agency, Innis Maggiore helps our clients make the most of their consumer, customer, and employee relationships. While loyalty programs are typically associated with consumer marketing (whether consumer products, retailers and restaurants, or travel companies), they can also bring value to customer relationships and employee retention.
No matter the relationship, it's easier and less expensive to keep it going than start a new one. For instance, a free coffee after buying five can motivate repeat purchases; free nights after so many stays at a given hotel chain can make the difference between booking one over another; awarding points on the basis of reordering replacement parts from the same manufacturer gives a good reason to stick with the same supplier time after time; and recognition programs show employees you notice their performance and loyalty to the company. A loyalty program agency like Innis Maggiore, who happens to be the nation's leading positioning ad agency, means we understand what creates a customer and also how to keep a customer.
Consumer give-and-take
B2C incentive programs play a role in the entirety of the consumer experience with brands
Incentive programs are evolving, so your loyalty program agency needs to do the same. Innis Maggiore stays ahead of what's happening through understanding consumer motivations and studying promotional trends. As America's #1 Positioning Ad Agency, we also ensure that every program be based on a client's brand position for consistency and messaging focus.
General categories of consumer incentive promos include loyalty programs (the most common by far), affiliate marketing (an update of commission selling in which brands compensate sales generated by influencers), and continuity programs that feature discounts on the next purchase.
Some of the most significant trends improving loyalty-type programs are loyalty partnerships, which join multiple brands to strengthen earning possibilities, such as Marriott Bonvoy + Uber or Starbuck Rewards + Delta Sky Miles; gamification, where brands enhance loyalty programs such as apps with a digital experience that is more involving and takes advantage of the connection between consumer and gaming (e.g., 80% of Millennial and Gen Z consumers play videogames each week); escalating rewards or tiered benefits that give more incentives the more someone purchases, such as Sephora's Beauty Insider program; personalization, known to make the experience with a brand more meaningful by using customer data to cater offers to specific customer behaviors; and flexibility, both in terms of earning rewards and redeeming them, with North Face serving as a perfect example of allowing the consumer to find more ways to generate points.
While marketing automation and data can help brands implement experience-based rewards through predictive analytics, sometimes showing that you care and offering a personal touch can be the best way to reach your customers — and leave the most lasting impression.
Pets mean a lot to their owners. And Chewy has come to mean a lot to those people. Think about this: you love your pet and one day, out of the blue, you get a surprise gift from the folks at Chewy. A beautifully rendered portrait of your animal friend with a card containing the perfect sentiment. Sometimes it's because of a special day, like the pet's birthday or gotcha day; other times it's in memorial to a beloved creature that has recently traveled over the rainbow bridge. As one recipient put it, "I just want to buy everything from them. They're a big company. I was shocked they did something so personal." Each week, Chewy sends 1,000 free paintings to select customers, and there's no way to buy one. This loving program combines loyalty with PR, as Chewy enthusiasts share their portraits all over social media to promote a company that cares about loyal customers and the customer experience.
You can use incentive promotions to help B2B, too
Opportunity exists to add a whole other level to your customer relationship, one that can have a lasting impact
If you sell anything that could become a repeat purchase or is subject to frequency, you may be helped by a loyalty sales promotion program in the same way consumer brands benefit. And Innis Maggiore is ready to let you take advantage of that opportunity as your loyalty program agency.
Maybe you sell tires to fleets, or paper to offices, cleaning supplies to restaurants, employee logo wear to retailers, drinking water to healthcare providers, replacement parts for municipal mass transit, or any of the many possibilities. Wouldn't an incentive give you the advantage or a competitive edge, particularly the kind that cement long-term relationships?
Business-to-business loyalty programs may not rival consumer incentive sales promotions, yet they remain an essential part of trade and customer marketing initiatives. Market research by the Incentive and Engagement Solution Providers identified the top reasons to participate as achieving greater results by motivating customers; promoting continued loyalty to a brand through recognition and reward; and building deeper relationships with your most important business drivers. There is an increasing use of integration with ERP, CRM, marketing automation, and data warehouse applications working together with incentive/loyalty data and tech.
60% of respondents cited the expanded incentives beyond mere purchases, such as earning extra points for sharing on social media, posting reviews, and completing surveys or training. Nearly half named prepaid cash cards or branded gift cards as the favored types of thank-yous.
Don't forget your most important resource
Workforce recognition and incentives enhance employer/employee relationships
As with customers, replacing employees costs much more than keeping them. Retention is a process that actually starts before the associate's first day on the job and never ends (that is until their employment does).
Innis Maggiore works with a variety of companies in a range of categories to attract and retain employees, with an emphasis on building a brand's culture, all in an effort to connect people to their organization and its goal and initiatives.
According to the Incentive Research Foundation, best practices for employee incentive programs center around a total award experience consisting of four essential components — the reward itself, the person who recognizes the recipient, the impact the award carries, and the professional benefits accrued through the award.
Employee motivation can be as complex as the most high-profile of consumer awards or ongoing B2B sales incentives, but they do have things in common. The target audiences respond favorably to incentives such as redeemable points, physical merchandise, events, and cards that carry value that's either closed-loop or open-loop (closed-loop cards are redeemable only at specific retailers/restaurants/etc. while open-loop cards are general in nature and can be cashed in wherever the recipient chooses).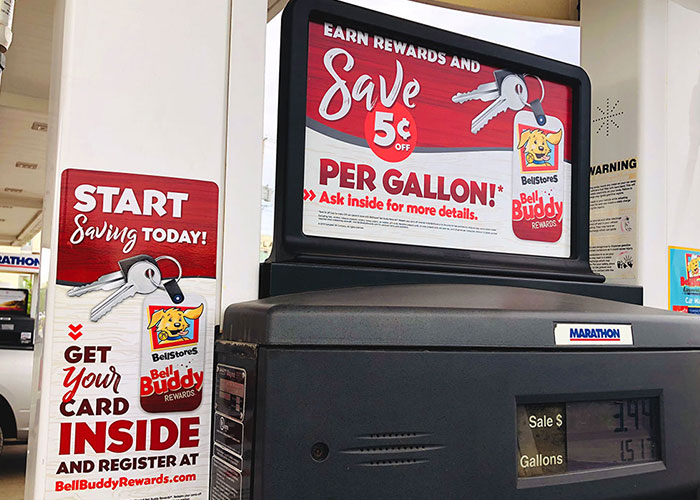 BellStores
A family-friendly convenience store asks, "Who's Your Buddy?" and rewards for the correct answer
BellStores, a chain of 75 convenience stores owned by Campbell Oil Company and an Innis Maggiore client since 2006, initially came to us seeking help with their plans for expansion. They already had a strong strategic approach, which was to concentrate on locations not typically served by convenient stores. Rather than heavily populated urban areas, already overwhelmed by national and regional chains, BellStores would target outlying areas and rural locations, in some cases to the extent of becoming the main local food retail resource for appreciative communities.
Innis Maggiore worked with BellStores to develop a new brand position that went against the c-store stereotype and make their outlets clean, well-lighted, easy to shop, and welcoming. These commitments helped us arrive at the new BellStores brand position of the family-friendly convenience store alternative and use the illustrated character Bell the Dog (based on an actual pet of the owner's family) to symbolize this position. We then developed a themeline that perfectly encapsulated the new position — "Keep the family on full®" — to refer both to the family target and the double meaning of "on full" about the gasoline pumps and the food/snacks inside.
Over the past several years, BellStores has been one of the fastest-growing convenience stores in Ohio by being different. Their differentiating attributes shine through in everything we create for them.
The culmination of this long-term relationship has been the launch of their Bell Buddy Rewards loyalty program, a major introduction designed to improve customer loyalty, increase repeat business, and extend the lifetime value of customers across its geographic range that covers the triangle between Akron, Columbus, and the Pennsylvania/West Virginia border.
After a naming process that resulted in Bell Buddy Rewards being chosen to identify the new program, Innis Maggiore collaborated with BellStores over a period of 24 months to promote it; get customers to sign up to become members and get the card in-store, download the app, or use a dedicated landing page to join.
We successfully met the creative strategy and goals for the program basics, providing name alternatives that were catchy, easy to remember, and clearly communicated the benefit; design a program look for the card and support materials that align with the client's new store look and feel — yet keep the end goal in mind by looking different enough and strong enough to stand alone as an incentive program.
This campaign has been the largest in the client's history, blitzing current customers and newbies with a multi-stage campaign for member acquisition. We started with the fundamental components of the program, from card/cardholder and app appearance, to a landing page with web modal to sign up plus an instructional employee handbook.
Messaging has been deployed across out-of-home and other traffic-building tactics such as radio, TV, billboards with extensions, digital and social marketing, tanker graphics, and Google Ads; gas pump mesh, pump toppers, window and door graphics, along with other exterior point-of-sale; internal support including floor graphics, shelf talker, cooler clings, pull-up banner, store standees, counter display, and "Who's your buddy?" store personnel t-shirts.
Since the launch, we've continued to garner new members through incentive promos that ratchet up the savings on core items like fountain drinks, coffee, and car washes. In just over 24 months the rewards program has enlisted over 84,000 members. Their usage rate, at 18% of in-store transactions, is higher than the industry average of 15%. These are the kind of results you should expect from a loyalty program agency!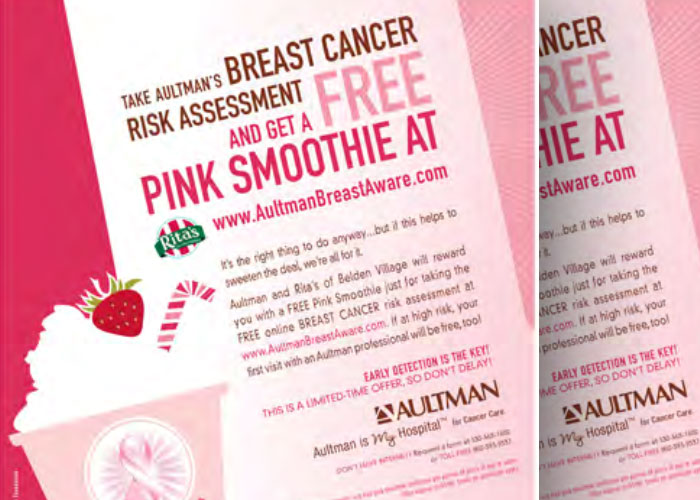 Aultman Health Foundation
Using online technology and a sweet treat to save lives
For 125 years, the Aultman health delivery system has owned the idea of "healthcare leadership" in its 5-county marketplace.
Aultman dedicates itself to leading our community to improved health. One example was what started as an internal campaign and subsequently became an initiative for the general public. A program called Aultman HeartAware used an interactive web-based risk assessment and patient referral system that is tightly coupled with Aultman's clinical process. People were encouraged to visit Aultman's website and take the free risk assessment. For those who met certain levels of risk, an offer was made to schedule a free in-person assessment with a clinician.
The first phase of the campaign was an internal one to Aultman's employees (including physicians, nurses, and other staff). Posters, stickers, signage, email, and a contest promotion were used to drive employees to take the assessment. It was a great way to gauge the heart health of employees and help those who may not have known their risk to develop heart disease. Employee response doubled the online provider's benchmark, which led to a wider rollout to the general public. That too was a major success. Of the 4,401 completed assessments, 1,712 were determined to be at risk — nearly 10% of whom provided their name or email for the next step. The most rewarding statistic was the evaluation that at least one life was saved through this process.
We then collaborated with Aultman to put together a series of similar programs for other health issues, most notably for Breast Cancer Awareness Month. That's where the sweet inducement came into play. Innis Maggiore recommended adding an incentive that essentially bribed the campaign target to schedule a mammogram. The inducement was a free pink smoothie at a local partner retailer, which was redeemed by nearly half of the respondents. Ideas like these are what you should come to expect from your loyalty program agency.
Midwest Industrial Supply
Sharing the journey with employees makes for an exciting adventure
Talk about specializing! Midwest is the leader in chemistries that control dust and stabilize soil, having pioneered the category nearly 50 years ago with products and programs for roads, runways, rail, mines, and industrial facilities. But the range of industries served is staggering — from iron and steel mills to precast concrete; from solar and wind farms to vineyards and agriculture; from oil and gas facilities to wetlands; from out-of-the-way runways to even more out-of-the-way indigenous village and community roads; and more.
Midwest is an industry expert, subspecializing to many discrete target markets. As you can imagine, a government purchasing agent for a municipality isn't interested in how Midwest strengthens and protects gravel runways, while a winemaker only wants to know how to keep invasive dust from ruining the crops.
The client accordingly needs market experts who can sell to and work with the range of industries and applications Midwest covers. Some live in remote areas or are quite distant from Midwest's Ohio headquarters in order to serve their customers and reach prospects. This makes it challenging to engender a team atmosphere or even a sense of belonging.
Fortunately, we're not afraid to roll around in the "dust" of an industry to learn about and build the tools that clients need to achieve success. We started by stabilizing the brand position throughout the organization and amongst all markets, followed by an internal team activation campaign — an event unto itself — featuring kits that dramatized the shared journey with materials and premiums having an Indiana Jones vibe called "Roadway to Adventure." The kit included a treasure map that took each team member through the positioning and implementation process in a fun and engaging manner; a passport to be stamped when each milestone was reached; a leather journal to make notes and track progress; and more.
The participation and engagement were strong enough that the client asked us to conceptualize, create, design, and implement a second year's program using a different theme, style, merchandise, and methodology. Incentives work internally. Activate a loyalty program agency like Innis Maggiore today!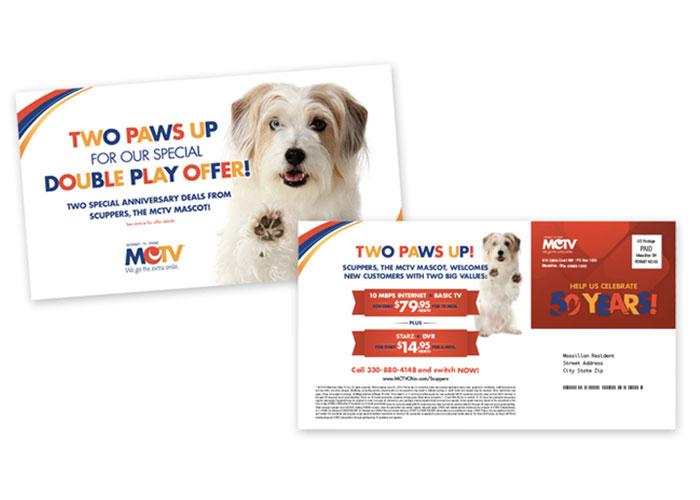 MCTV
This time, going to the dogs was a good thing
Massillon Cable puts high-tech products (Internet, TV, and phone) into area homes with the best customer service anybody could find; their holdover branding and inconsistent style didn't bring confidence about their products nor take advantage of their goodwill — until we worked together to rename the brand MCTV with the defining theme, "We go the extra smile" as the focus for a friendly and upbeat new look and marketing creative (from trucks and shirts to billboards, print, DM and TV).
Once the rebranding was complete, we moved onto customer acquisition programs that combine promotional pricing with incentive overlays. For one campaign, we used company mascot Scuppers the Dog to deliver offers such as a "Two Paws Up" sign-up incentive plus an online game in which visitors could spin an animated wheel to win prizes, MCTV merch, or escalating incentive offers. Beyond being a loyalty program agency, we also provide all the creative, web, and digital marketing needed to support these incentive programs.
You Have the Perfect Incentive to Contact Us
Simply put, you want it done right. Collaborate with loyalty program agency Innis Maggiore for your next incentive promo program — whether to motivate the purchase of a consumer product, to persuade a B2B customer to make the right choice, or even to make employees feel welcome and special.
Contact Us