Marketing Automation
Automate your lead generation process to improve conversions and ROI.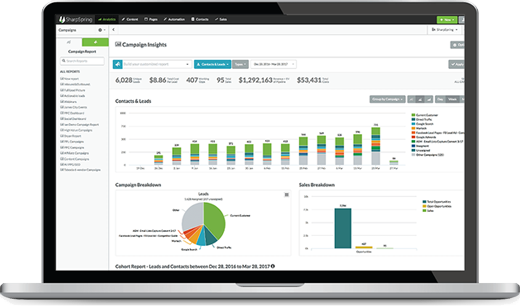 The Right Marketing Automation Agency Can Help You Get the Most Out of Your Marketing Automation Software. Innis Maggiore can help you maximize the value you get from your marketing automation software, whether you're new to automation or have been doing it for years.

Many companies purchase a marketing automation tool, recognizing the value of leveraging an automated process 24 hours a day to bring in and convert new leads. But without deep experience using these tools, they can be confusing, time consuming and frustrating to implement.

Working with a marketing automation agency can help you get the most out of your software, ensuring you don't leave any money sitting on the table. From technical implementation and integration with your current digital tools to training staff members and tracking the data, we can help you take full advantage of everything your tool has to offer – removing the stress and time requirements from your marketing team.
What to Look for in a Marketing Automation Agency
Choosing Innis Maggiore as your marketing automation agency has several advantages.
First, we have a breadth of experience across a range of industries, from building supplies, construction and industrial to medical and nonprofit. Whatever industry you're in, we've worked with someone similar. We understand your needs, including how to build out an automation process that gets the best results for you.

Second, we're a full service agency, which means our marketing automation services are backed by a full suite of expertise – from content marketing and SEO to UX and social media, our associates bring a wholistic approach to marketing that enhances the effect of your marketing automation.

Finally, and most importantly, Innis Maggiore tackles every marketing problem from the perspective of clearly communicating your brand's difference. How does it stand out from the competition? While marketing automation may seem like a technical effort on the backend, ensuring your unique messaging stands out at every touchpoint, including those that are automated, is crucial to getting prospects and customers to choose your brand, again and again.

In that sense, whom you choose as your marketing automation agency can have a pretty big impact on your bottom line. So why not choose Innis Maggiore?
Request a Quote
Fully Integrated Marketing Automation Service
Snare prospects and convert customers with a powerful circuit that delivers the right message to the right customer at the right time.

Email Marketing
After-the-click tracking
Dynamic content

Landing Pages
Dynamic content
Built-in tracking

Forms
Auto-complete
Progressive profiling

Social
Adjust lead scores
Kickoff automations

CRM
Robust lead scoring
Lead activity alerts (email/text)

Analytics & Testing
Comprehensive analytics
End-to-end ROI

Blogs
RSS emails
Content calendar

Visitor ID
Anonymous web visitors
Hot leads report
Maximize Your Marketing – With Marketing Automation
It's the salesperson that keeps on selling. The machine that keeps converting leads, even while you sleep. To put your marketing on autopilot, reach out to schedule a chat today.
Contact Us