Presentation Design Agency
When you need to wow the crowd, engage Innis Maggiore as your presentation design agency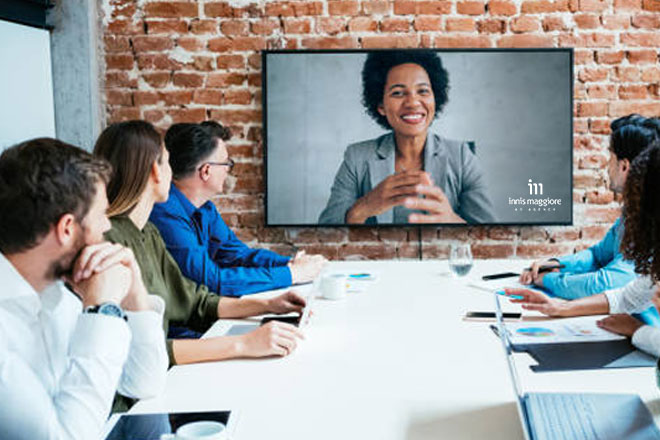 When the pressure's on, consider a presentation design agency to win them over!
Imagine you've been asked to be the keynote speaker at that major national industry convention in Las Vegas. Everyone who's anyone in your industry will be there. Or maybe you're participating in that important category-specific webinar and explaining the benefits of your product to your peers. The audience is a who's who within your product category. Perhaps you need to convince that final investor who can take you over the top that your company is worth the risk. And there are a dozen other investment opportunities they're analyzing. We've all faced similar scenarios. And we've all asked ourselves, "Am I really ready for this?" When the pressure's on, we need to be at our best when we're making marketing presentations and webinars. You need a presentation design agency like Innis Maggiore you can depend on.
Not only have we prepared for and executed presentations and webinars for ourselves, but we've also done so for hundreds of clients — from small locally owned businesses to Fortune 500 companies. No matter your size, the nation's leading agency in the practice of positioning certainly knows the importance of differentiating your brand or company in the minds of clients and prospects through marketing presentations and webinars.
From creating presentations to coordinating webinars, our associates will team with you to make sure your messaging strategy and your look is on the money. Whether it's a PowerPoint presentation, a Zoom meeting, or a live in-person affair, this leading presentation design agency has you covered.
Three Big Things of Presenting
When making an effective marketing presentation or webinar, you must accomplish three things:
effectively communicate your arguments and evidence
persuade your audience your arguments and evidence are true
be interesting and entertaining
You'll face time restrictions and nerves. You'll be up against others who are trying to outshine you. So, you'll need a secret weapon to help you accomplish your marketing presentation and webinar objectives. That secret weapon is Innis Maggiore, a powerhouse presentation design agency!
From Soup ... to Nuts
Innis Maggiore is the best presentation design agency to help you make a big impact.
From positioning strategy to graphic design to interactive content to presentation tips and training, our team of experts has the know-how and experience to help make you the star of the show.
---
A presentation design agency with a full array of PR services.
In addition to developing state-of-the-art marketing presentations and webinars, Innis Maggiore offers a complete complement of public relations services. Our arsenal includes buzz generation, event planning, presentations and webinars, investor relations, social media, community relations, crisis communications, reputation management, and much more. There's no better resource to assist you in relaying your messaging to your appropriate publics.
---
Make sure your presentations and webinars make an impact.
Innis Maggiore's experts can drive home the right message for you in a format that's extremely impactful. Let our presentation design agency help put the perfect presentation or webinar together for you. Make your customers, prospects, and peers notice you and feel your impact. Contact us today to get started on developing marketing presentations and webinars that help you communicate your arguments in an interesting, entertaining way.
Innis Maggiore Will Make You a Star
It's time to set the nerves of preparing for a presentation aside. A great presentation design agency like Innis Maggiore can calm your nerves, concept and design your presentation, and coach you up. Our goal is to ensure when you're finished with the presentation, you'll receive nothing but rave reviews.
Contact Us