TV Ad Agency: Making a Good First Impression
TV is one of the ultimate platforms for forging strong bonds with your audience.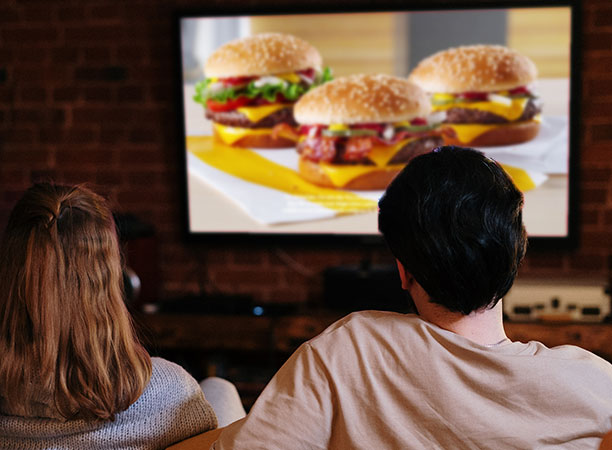 TV advertising gives viewers the first impression of your product, so it is critical to do it right.
Often when you think of advertising, one of the first images that comes to mind is the classic television commercial. You can see yourself, perched on your couch, when a commercial break begins, showing reels of familiar advertisements. Surely there are several whose catchy jingles still pop into your head on your way to work. You may find yourself laughing about their humorous punchlines or even be filled with heartbreak at the fleeting images of unwanted humane society pets. All of these aspects leave you with a distinct impression about that brand or topic. And the measure of their effectiveness might be the measure of a good TV ad agency.
Often, TV advertising gives viewers the first impression of your product, so it is critical to do it right. As a TV ad agency, Innis Maggiore has a long history of creating successful first impressions. The recipe for these successful impressions lies in our commitment to positioning strategy. By first understanding your position, the subsequent components of your TV advertising strategy fall into place.
How Innis Maggiore Can Help You Escape the Maze of TV Advertising
Innis Maggiore is America's #1 Positioning Ad Agency.
As America's #1 Positioning Ad Agency, Innis Maggiore constructs marketing strategies based upon your company's brand position. Brand positioning focuses on what differentiates you from your competitors and competitive ideas. It establishes your brand's identity using its strengths that competitors, by comparison, lack. Once established, we can craft a marketing campaign that accentuates this brand position.
Having served clients as a TV ad agency since 1974, Innis Maggiore understands the evolution of TV marketing, meaning our agency is well-versed and equipped to tackle marketing campaigns from the classic medium of linear TV through the intricacies of new-age streaming platforms. Remember that TV advertising will create a lasting first impression on a viewer. You can rest assured your first impression will effectively engage your audience with the direction of a compelling strategy from Innis Maggiore.
When we begin a TV advertising campaign, Innis Maggiore will not only help you determine your target audience, but also where your reach will be most successful. When analyzing your brand's reach, Innis Maggiore has the TV marketing strategy experience to discover what will best suit your brand's position. If your brand is local, a cable-based strategy focused on certain regions may be the best approach. If you're introducing a new product and you want to spread it to as much of the populace as possible, we can build a campaign fit for the geographical reaches of broadcast and even pair it with layers of CTV advertising for certain audiences. The combinations of television advertising are endless, but with an experienced TV ad agency like Innis Maggiore, you can navigate to the best position for your brand.
Traditional TV vs Modern Television Marketing
TV spots come in a variety of forms, leaving a variety of ways to develop consumer bonds.
When you consider branding, TV is one of the ultimate platforms for forging strong bonds with your audience. And now especially, TV spots come in a variety of forms, leaving a variety of ways to develop these consumer bonds.

The living room image described above is the most traditional form of television consumption known as linear television. Linear TV relates to a viewer consuming broadcast content according to fixed-time schedules created by networks. As examples, think of cable or DVR. However, television has progressed from its traditional form and morphed into new modern understandings such as Connected TV and Over-the-Top TV (OTT).
---
Connected TV
Connected TV relates to any device that has the capability to connect to the internet to watch content. Examples include sticks like Roku or Firesticks, gaming consoles, or streaming boxes.
---
Over-the-Top (OTT) TV
Over-the-Top (OTT) TV pertains to content streamed straight from the internet through video-on-demand (VOD) services. When considering OTTs, there are two different types: ad-free and ad-paid viewing. In ad-free, a viewer pays for a subscription and receives unlimited access to VODs without the presence of ads. Ad-paid viewing relates to VOD subscriptions that supplement financial support with ads for the viewer. The main providers for OTTs consist of Netflix, Hulu, Disney+, Peacock, Amazon Prime, and a plethora of other providers.
What suits your market strategy best?
TV Advertising has advanced its scope and massively expanded its complexity. One important notion to remember is that there is no TV platform objectively better than another. Linear TV is not obsolete and still serves a huge portion of the population. Likewise, CTV and OTTs can offer much more pointed data, but introduce an infinite amount of confusing combinations with which to display your advertisement. Both aspects of TV advertising have benefits and weaknesses that can either amplify your campaign or trample it.
CTV & OTT Advantages and Weaknesses
Advantages
Hits the audience who has "cut the cord" and moved entirely to streaming.

VOD feature identifies specific demographics and grants access to advertiser at exactly the right moment.

Viewers have a higher awareness due to personalized viewing selections as well as unskippable ads.

Ability to cross-match a users' accounts or track their internet activity using clear data.

Continually program a viewer across devices and platforms through his digital footprint.
Weaknesses
Unlinkable aspects of the date between consumer preferences and internet links.

Profile sharing on streaming services has splintered data, creating mystery viewers who are not tracked.

Varying advertising formats including whether ads are skippable or not and even different technologies can negatively affect your brand's messaging.

Cannot connect to audiences who value linear TV broadcasting.
Linear TV Advantages and Weaknesses
Advantages
Despite the growth in streaming, linear TV still represents a large faction of viewers who see it as a trusted source of information and entertainment.

Can apply newer data technology to create more effective media campaigns for certain audiences.
Weaknesses
Can never be entirely certain that the desired viewer is reached due to screen sharing.
Effectiveness can be dampened by older policies and mediums of modern technology.
Data is still less certain than using modern platforms like CTV or OTT who have the capability to link up to internet.
Steadily declining number market of cable subscribers.
The Marketing Shift: The Rise of Streaming
As VODs have become just another piece of everyday life, many people have begun to terminate their TV provider subscriptions, relying solely on CTV or other streaming services. As of 2021, 44% of adults reported that they've never had a subscription to cable or satellite TV. Adults who fall under the 18-29 year old bracket make up a total of 61% of this 44%. A quick evaluation of any statistical batch concerning the topic shows the same general trend of decreased subscriptions to linear television and a steady upward trend for modern television platforms.
How does advertising work on these platforms?
---
Linear TV
Linear TV advertising relies on advertisers purchasing certain slots at targeted times on specific channels. This method works in a similar fashion to a fishing net. Since audiences are beholden to fixed schedules, advertisers cast a wide net through the linear TV set in order to snag the target audience. The Gross Rating Point (GRP) metric attempts to configure what portion of the audience tuning into the program is part of this target audience. To cast the best net available, as a TV ad agency, Innis Maggiore determines what selection of channels and what specific time slots on these channels provide the greatest reach to your business's target audience.
It's also important to note that linear TV involves two separate forms: broadcast and cable. Broadcast TV has a far all-encompassing geographical reach. In essence, it casts the largest broad net, reaching a wider audience. Cable, on the other hand, offers narrower geographical zones and can even provide more minute details about its viewers, allowing for a more targeted audience.


---
Connected TV and Over-the-Top TV
The key takeaway from CTV and OTT advertising is that it reaches viewers who do not use cable and instead use VODs as their sources of entertainment. CTV and OTT advertising can occur before, during, or after a program. The level of a viewer's personal selection with VODs guarantees a high level of awareness and a certainty that your ad is reaching the target audience. Alongside a viewer's intentionality, depending on the streaming service, it may be that a viewer cannot skip or fast forward through advertisements, heightening engagement even more.
Like linear TV, CTV can satisfy geographical targets, however, CTV can reach a depth linear TV cannot. Advertising with CTV allows for the use of multiple layers where you can introduce your product. So not only can you target specific areas, but specific individuals. Since they work on VODs, CTV ads follow the viewer, not the program. Where broadcast and cable run no matter how many individuals are tuning in, CTV advertisements can only be played when a targeted individual is streaming. With this level of intentionality, an advertiser can place ads in whichever layers of CTV they feel would be most effective for the campaign.
But how do you determine where to place ads? One of the ways that TV ad agencies create marketing campaigns is by measuring different metrics such as cost-per-completed views, clicks, conversions, direct responses, and completion rates. Since these modern forms of TV rely on the internet, it is much easier to track explicit data and directly target your audience with precision rather than casting a large net. Along with precise metrics, CTV and OTT advertising employs probabilities by analyzing specific viewers' digital footprints across devices or their activity on certain streaming profiles. These footprints signal a variety of indicators about a viewer's lifestyle that can create highly efficient and effective TV advertising strategies.
Leverage a leading TV ad agency to get results today
As a trusted TV ad agency, Innis Maggiore has the solution to navigating this labyrinth of TV advertising and determining what space works best for your product. Give us a call or contact us online.
Contact Us