Hit the target with the help of a web ad agency
Use web advertising to reach your audience.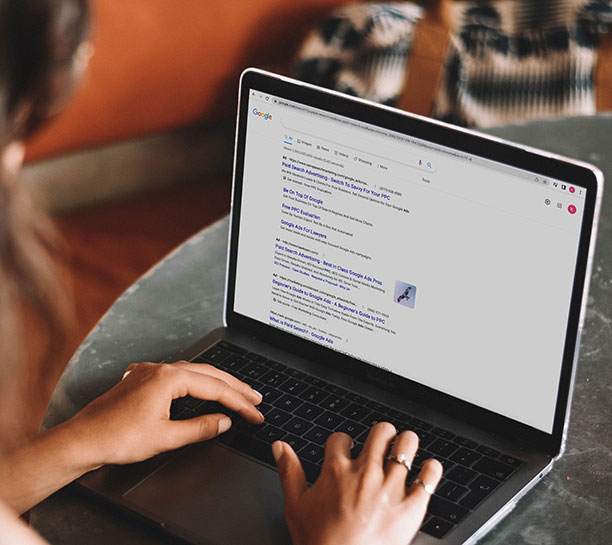 Paid search ads rely on intent-based searches from viewers, which lead to high engagement and conversion rates.
In advertising, when it comes to information, there's nothing quite as robust as web advertising. A web ad agency analyzes information collected from the internet to reach the right audiences for your ads, a practice known as targeting. Targeting has always played a role in advertising from placing print ads in certain publications to choosing radio time slots to reach specific demographics. Both of these actions represent audience targeting, but web advertising takes it to a whole new level.
With the internet, web ad agencies are able to track new metrics using digital footprints. Before, you would create an ad strategy based on limited data. Now, with the internet, we can observe not just a viewer's decision to purchase a product but also whether they clicked on an advertisement, how long they lingered on a website, and even on what device an ad reached a viewer. With all of this information, web advertising can reveal more qualities and needs about potential clients than ever before.
Though web advertising has a tremendous amount of advantages that make it an asset, it can be complicated to navigate. When you begin a web advertising campaign, there are numerous styles and approaches you can take, and making just one error can inadvertently deplete your entire budget. So how can you implement a secure and effective campaign? The answer lies with the assistance of a web ad agency.
Innis Maggiore: Lighting the way with positioning
As a web ad agency, Innis Maggiore has the expertise to catalyze your campaign.
The right web ad strategy begins with uncovering your brand's position and where better to find it than at America's #1 positioning ad agency. When we uncover your position, we discover that key idea that differentiates you from the competition. If you can understand your position, you can communicate the value of your product to the audience. Innis Maggiore can then form a web advertising strategy that fits that position from the style of the ads, to their locations on the web, all the way down to their frequency. Positioning is the beacon that can light your way through the complexities of web advertising in order to reach a successful and consistent web ad campaign.
Styles and statistics
In 2021, Statista reported that there was around 189.3 billion dollars in total revenue as a result of web advertising in the United States. Of that total revenue, 41.4% came from search ads, 30% derived itself from display ads, 20.9% came from digital videos, and 7.8% appeared from other sources. Each style of web advertising shows a significant portion of 2021's total revenue. With that in mind, it seems that web advertising is a very promising choice for individuals looking to reach their target audiences.
Mobilize your web campaign
All of these web advertising styles are proven to be effective strategies.
Besides trackability, web advertising is also extremely versatile. Web ad agencies like Innis Maggiore can help you embrace this versatility and select the perfect style to complement your position.
---
Display Advertising
Perhaps the most common form of web advertising is display advertising. Display advertising includes the banners, videos, side ads, and pop-ups you come across as you traverse different web pages. The key with display ads is their high frequency and methodical use of space, getting them in the sights of viewers.
---
Paid Search Ads
Another style of web advertising is paid search ads. These ads are displayed on major search engines like Google or Bing and appear at the top of search results. Paid search ads rely on intent-based searches from viewers, which lead to high engagement and conversion rates.
---
Sponsored Ads
Sponsored ads work in a similar manner to paid search. By paying social media platforms like Facebook and Instagram, you can display advertisements in the style of a social media post to boost awareness of your brand. They rely on targeting individuals with similar interests, making their appearance in people's feeds entirely natural and easy for viewers to engage.
Reach your audience with a web ad agency
With the guiding light of positioning, Innis Maggiore is the web ad agency that can help you navigate the complexities of web advertising and deliver results.
Give us a call or contact us online.
Contact Us