What Can a Web Strategy Agency Do For You?
It might seem easy … find a web development shop and start designing a website.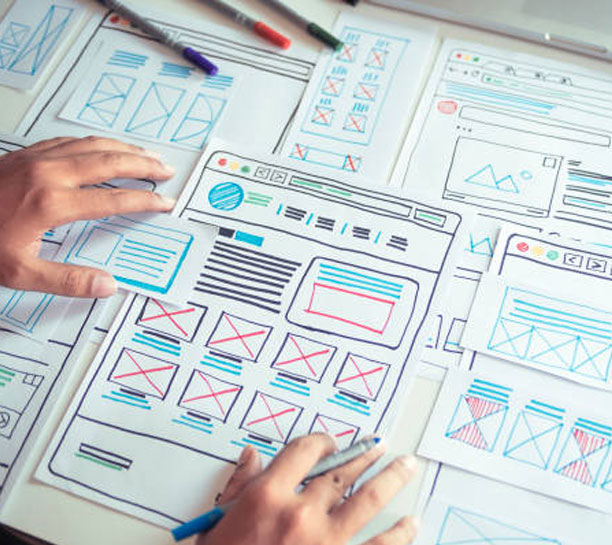 When you have experience in website development like Innis Maggiore, you find it takes a small village to deploy a website.
Or perhaps you're a DIYer and you decide Wix or SquareSpace or WordPress is the way to go. What most companies miss, however, is that a website project may be the single largest enterprise-wide effort it can undertake. Why? Because a website is the digital face of a company, the "virtual brand," and to properly gain content and fairly represent each aspect of the business, almost every department will have to get involved. It's why many businesses decide to partner with a web strategy agency. And many continue with the relationship to have the web strategy agency also do all the design, programming, and deployment.
When you have experience in website development like Innis Maggiore, you find it takes a small village to deploy a website: information architects, SEO specialists, copywriters, web graphic designers, digital marketers, video production teams, social media associates, developers, dev ops, and more.
It's with this understanding that you can begin to comprehend the nature of a web project. And it becomes much easier to realize you need a good web strategy agency. One who can gather the goals and objectives from your company and properly translate them into a web strategy. One who can work with the C-suite, middle management, production staff, operations, IT, HR, and accounting to marry the aspirations from each into a cohesive and effective website. And one who can make it seem effortless, all while calming the stormy seas of your project anxiety.
Web strategy is marketing strategy
The advantage you get with Innis Maggiore is that we're a web shop, but we're also more than a web shop.
As the nation's leading positioning ad agency, we marry what we believe is the top business strategy — positioning — to your web strategy. Our team of strategists ensures when you redeploy your website that it will be deployed with the best dramatization of your brand difference.

Your site may be basic brochure-ware, or it could be the ultimate direct-to-consumer engine. Regardless, your next customer is 99% likely to check out your web presence — in the form of your website, your social media, your online reviews, or any number of other web properties. It's not enough to think single-channel. A great web strategy means you've considered all the touches your brand may make in the digital ecosystem.
Breaking it down
Before you get overwhelmed with the considerations that go into a successful web strategy, it's important to know that we walk alongside you throughout the process.
To begin, here are some key items we start with to make a web strategy successful:
Clearly defined goals: A good web strategy will have clear, specific goals that align with your business objectives. This could include increasing website traffic, generating leads, improving engagement, or boosting online sales.


Thorough understanding of your audience: A successful web strategy requires a thorough understanding of your target audience, including their needs, preferences, and behaviors. This can help you create a user-centric website that delivers a positive user experience (UX). Because Innis Maggiore is all about positioning, "Customer" is one of the 4-C filters we use when we first engage.


Proper information architecture: Just like you wouldn't build a building without a blueprint, you should never build a website without wireframes or a prototype. While they're not much to look at, a good prototype fleshes out the navigation, the page hierarchy, the required content, and so much more. Plus, this simple step allows you to click around your "site" without investing in thousands of dollars in design and programming only to realize it's not what you thought. Our information architects do rapid prototyping so we can validate it with you, our client, and any other stakeholders or customers with whom you'd like to collaborate.


Comprehensive content plan: This item is almost always overlooked. While it seems obvious, a comprehensive content plan that includes a variety of content types, such as blog posts, videos, infographics, and social media posts is critical to map out PRIOR to beginning the design or programming of a web property.


Complete Search Engine Optimization (SEO): SEO is an essential element of a web strategy. By optimizing your website for search engines, you can improve your visibility and attract more traffic. Innis Maggiore builds this into every web project. It is a nonnegotiable because sculpting a website or other property for SEO is actually the best way to build a website. We wouldn't and can't do it any other way.


Effective design approach: An effective design might mean user-friendly in most spaces, but we prefer to refer to it as an effective design because it's critical to properly dramatize your brand difference. A user-friendly design means a user can get around your site easily. But an effective design means a user-friendly design plus the proper execution of your brand in digital format. Of course the website should be easy to navigate, visually appealing, and optimized for mobile devices, but it has to go beyond that. Your web presence is the most immediate and accessible tool in your arsenal of brand assets. Innis Maggiore ensures we're dramatizing your position effectively rather than slapping graphics into a website.


Exhaustive interactive and integration schedule: We want your web presence to be more than brochure-ware. Innis Maggiore's goal is to not only dramatize your brand difference in word, picture, and sound, but also in functionality. If your position is "the easiest to use in the marketplace," then your online properties should be just as easy to use. In fact, they should help create a frictionless experience for your customers and prospects. To that end, we take the approach that there are web tips and tricks we can employ that provide a better UX and therefore, a better brand experience.
Moving beyond web strategy to digital marketing
Web strategy and digital strategy are related concepts, but they have different focuses and scopes.
Web strategy focuses specifically on the online presence of a business or organization, including its website and other online assets. The primary goal of web strategy is to create an engaging website that effectively communicates the organization's message and drives business goals such as generating leads, increasing sales, or building brand awareness.
Digital strategy, on the other hand, encompasses a broader range of digital channels and tactics, including social marketing, email marketing, marketing automation, mobile apps, and digital advertising. It involves creating an integrated plan that leverages these different channels to achieve specific business objectives, such as increasing customer engagement, driving website traffic, or improving customer retention.

Innis Maggiore offers both. While you may start with a web strategy, remember that it's only the beginning. A comprehensive digital strategy extends your marketing efforts by reaching beyond the "walls" of your own web properties and leverages other platforms to drive interested eyes to your brand.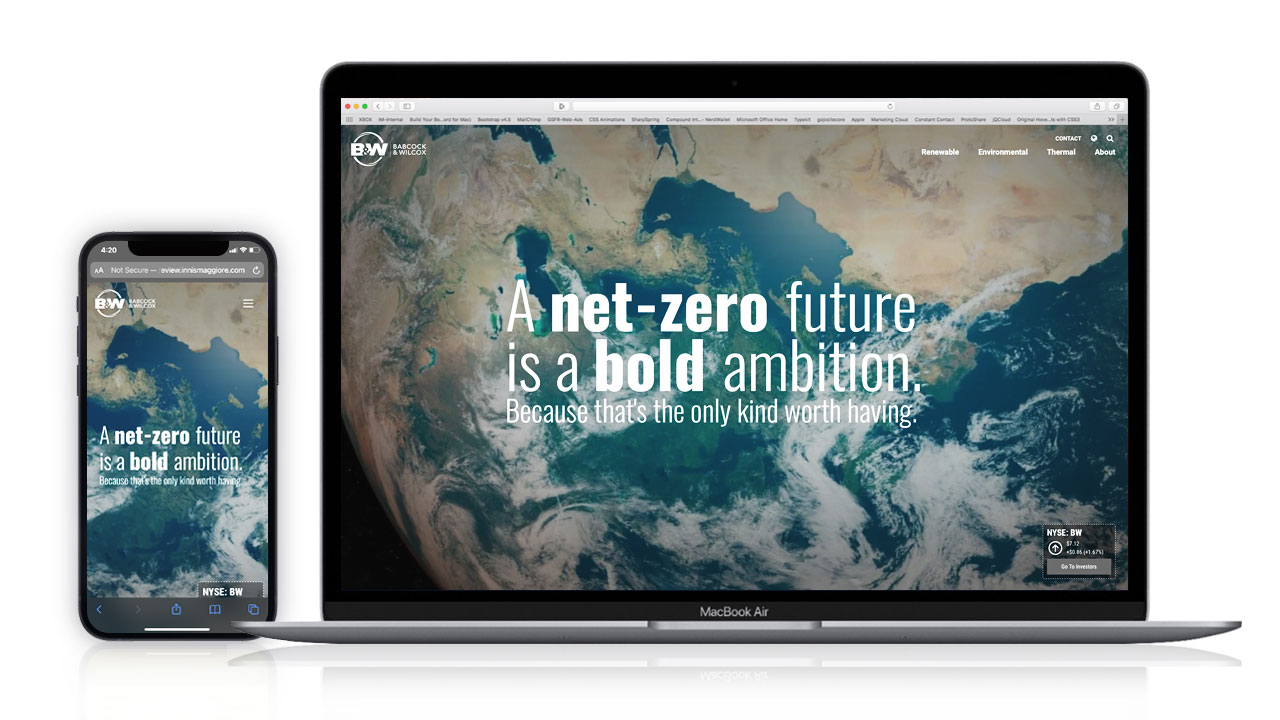 Babcock & Wilcox
Global company with locations in 27 countries
Babcock & Wilcox is the leader in advanced decarbonization technologies for cleaner energy production in electric power generation, emissions, waste treatment, and environmental engineering. They CO2llaborate 2 Decarbonize, for a net-zero future that stands as bold ambition — because that's the only kind worth having.
Innis Maggiore created its award-winning corporate website, as well as a microsite devoted to decarbonization, focusing on the beauty of the planet we seek to preserve, while explaining technical advancements in a clear, straightforward manner. As a bonus, users may not see the same hero video on the home page each visit since the page loads different videos randomly.
global company of more than 155 years
renewable, environmental, and thermal clean power production divisions

dedicated to transforming our world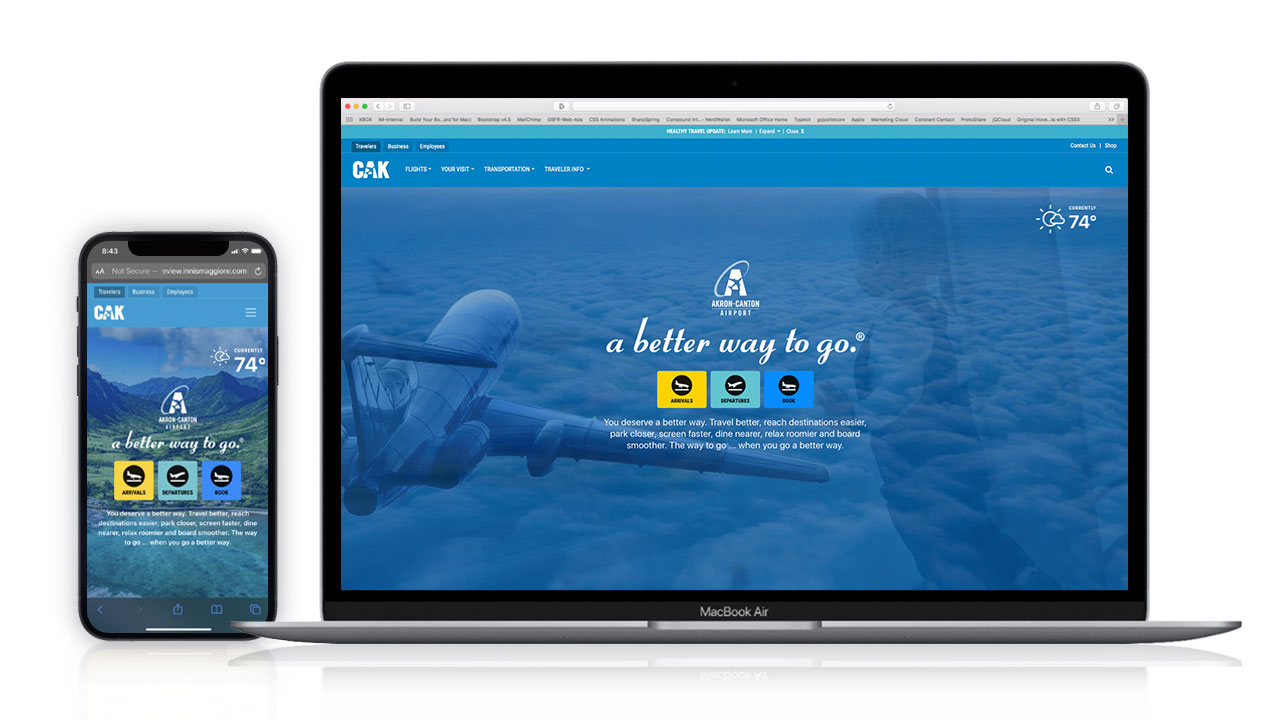 Akron-Canton Airport
Named Northeast Ohio's preferred airport
Akron-Canton Airport is a better way to go® made even better with extensive redesigned and updated facilities for the best travel experience possible. CAK takes pride in offering a relaxing customer experience and affordable fares to popular vacation destinations, both in the US and abroad.
Innis Maggiore created a sleek, elegant, and functional web experience that uses a combination of native content with third-party widgets to help the traveler find everything they need to in order to plan, buy, and track with ease. Users save time instead of wasting it getting to arrivals, departures, and booking flights since these CTAs are conveniently and prominently available in the hero panel.
features 4 airlines, 18 nonstop flights, over 150 one-stop flights, and nearly 100 international destinations
a regional airport with amenities and convenience greater than the competing larger market airports
named Northeast Ohio's preferred airport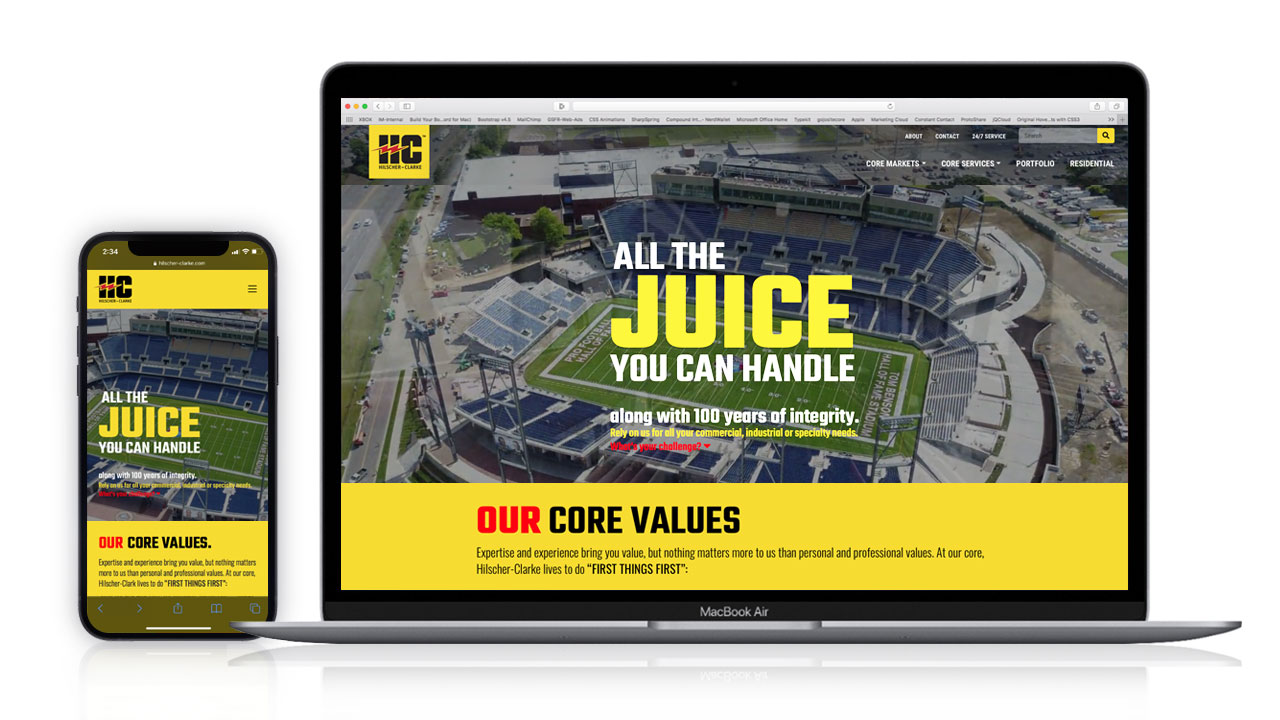 Hilscher-Clarke
Electrical contractors who do "FIRST THINGS FIRST"
For more than 100 years, individuals and businesses across Ohio have trusted Hilscher-Clarke's electrical engineering contractors to deliver electrical construction, engineering, and testing of the highest workmanship. This regional leader in electrical engineering and contracting services does the right thing in the right way the first time, based on their core values of Faith, Integrity, Respect, Selfless, and Team.
Innis Maggiore enabled a powerful first impression through an assured visual and messaging style that makes the client's significant projects the star of the website. It's bright and bold, provocative and strong. Dare we say it? It's electric!
serves commercial, industrial, specialty, and residential customers across Ohio, Pennsylvania, Indiana, and West Virginia
expertise and experience bring their customers value, guided by their core belief that Hilscher-Clarke lives to do "FIRST THINGS FIRST"
for more than a century has provided electrical engineering, automation, testing, data, voice, and video services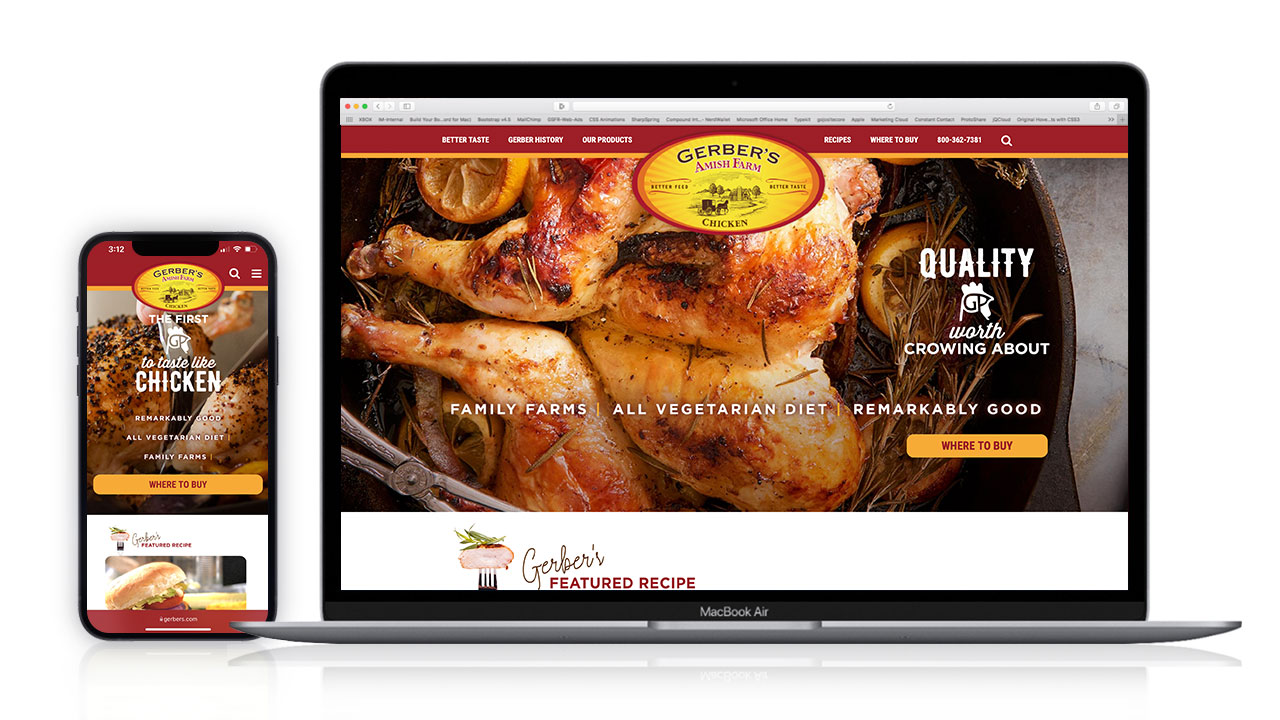 Gerber's Amish Farm Chicken
Family owned and operated in the heart of Amish country
Gerber Poultry had its origin in 1952 when Dwight and Melva Gerber began processing chickens that were grown on their family farm. They delivered these fresh chickens to customers' homes in their local community. This humble beginning has evolved into a growing family business that now has modern processes. The Gerber family is very proud of the quality reputation their chicken has earned over the years, which today is sold using the rebranding created by Innis Maggiore — Gerber's Amish Farm Chicken®.
America's #1 Positioning Ad Agency repositioned the company by concentrating on their Amish heritage, then brought to life with this engaging, exciting presentation that features parallax scrolling and the tongue-in-beak claim as "The first chicken that tastes like chicken." The mouthwatering imagery throughout the website tempts you to take their product home.
family owned and operated in the heart of Amish country
better feed means better taste, the natural way
farm-to-table, both in retail grocers and the area's finest restaurants
Contact Us
To learn more about how to develop an effective web strategy (or an even broader digital strategy), contact Innis Maggiore today.
Contact Us