Marketing Agency for Financial Services
An ad agency for financial services must push beyond the traditional
Positioning is the solid foundation every financial services company needs.
Advertising agencies can't play it safe and stick with stodgy advertising in the same old media. Marketing a professional service is more challenging than marketing a product. Products have tangibility. You can pick them up and look at their ingredients. They're displayed in a handy manner — side-by-side in the same section of the store. Services lack obvious tangibility. It's not the building or buildings in which they do business that matter so much. The people are what matter, but what's the tangible difference between a group photo of architects or accountants or financial advisers or engineers or lawyers or advertising professionals standing together with their arms folded versus another? Besides, professional service firms sell knowledge and expertise, something that is not observable or material in nature. Innis Maggiore stands out from the typical marketing agency for financial services, with decades of experience differentiating our banking, credit union, broker, and advisor clients by doing the unexpected — yet doing so based on a solid foundation of brand positioning.
While the financial and banking industries may seem slow moving, your marketing cannot. Yes, FinServ and FinTech are highly regulated, but they are also highly competitive. Yes, the cost per customer acquisition is high, but the cost of settling for what you have is greater. And yes, garnering and keeping loyalty with a younger and digital-savvy audience is increasingly challenging, but sticking to what's worked in the past can mean being left behind in the future.
What makes Innis Maggiore a better marketing agency for financial services?
We understand that it's essential to build a connection with customers, members, and clients. Edelman research points out that an authentic voice and meaningful connections have helped increase trust in financial services from 44% in 2012 to 52% in 2021, a recovery from the drastic drop due to the global banking crisis.
We employ strategies based on the customer journey and its natural lifestyle milestones. We market with authenticity by encouraging our financial service clients to not take themselves too seriously, while continuing to take their business seriously. Often, Innis Maggiore has created a brand personality and creative style one might associate more with consumer products. And that's on purpose — and part of the secret weapon to dramatize a brand position in ways that can be unexpected.
The category of financial services has several subcategories, which include banks, credit unions, personal wealth advisors, and business consultants such as accountants. Innis Maggiore has extensive experience across these categories — from traditional banking institutions like FirstMerit Bank, Bank of America, First National Bank, and Bank One; to credit unions such as CSE Federal Credit Union and Stark Federal Credit Union; to online lenders Tebo Financial Services and business accounting firm Apple Growth Partners; to personal financial advisors Beese Fulmer Private Wealth Management, McGervey Financial Wealth Management, and Szarka Financial.
The days are long gone when a marketing agency specializing in financial services could get away with being the most aggressive advertiser and watch market share mount. Financial services, particularly banks, have always been near the top in media spending of all types of businesses (retail and automotive are usually the highest). But being the biggest spender no longer automatically translates to sales.
Customer-centric strategies drive smart marketing endeavors that are focused on connections with consumers, utilizing compelling storytelling, timely and meaningful content, and creating an "insights engine" among other factors. As a leading ad agency for finance companies, Innis Maggiore engages consumers throughout their paths to make a decision/choice, from awareness to consideration to conversion.
You can bank on brand positioning.
Whether a fintech or a brick-and-mortar operation, an advisor to high wealth investors or lender to a risky credit audience, you need a marketing agency for financial services that begins with brand positioning to end up with marketing that works.
As America's #1 Positioning Ad Agency, Innis Maggiore continues to put positioning strategy first and then base all marketing on a brand's differentiation. Innis Maggiore is the only full-service agency with decades of experience as a financial services advertising agency that helps firms establish their brand position as a core part of an overall marketing strategy.
It only makes sense. Why waste money funding tactic after tactic with random message after random message when your consumer product marketing can focus on one brand message to cut through the tremendous amount of marketing clutter that exists today? Look at any ad or watch any TV spot or listen to any radio spot for a financial advisor. They look and sound the same. Banks all say they see you as a person instead of a number, but the first thing they ask for is for your account number. What else is left but a strong brand position to make financial services marketing stronger, more effective, and more efficient?
In advertising financial services, sameness is a disease.
Only brand positioning makes that possible, because brand positioning is made to create clear, distinct differences between this product and that product, this service vs. that service. Differentiation creates the differences that help people make decisions, and Innis Maggiore is all about differentiation as delineated by your brand position.
The less differentiation within a financial services category, the more money it takes to market that firm. Innis Maggiore believes in using brand positioning to focus all your marketing efforts and limit your marketing spending, while other marketing agencies for financial services look like they're perfectly willing to waste your money.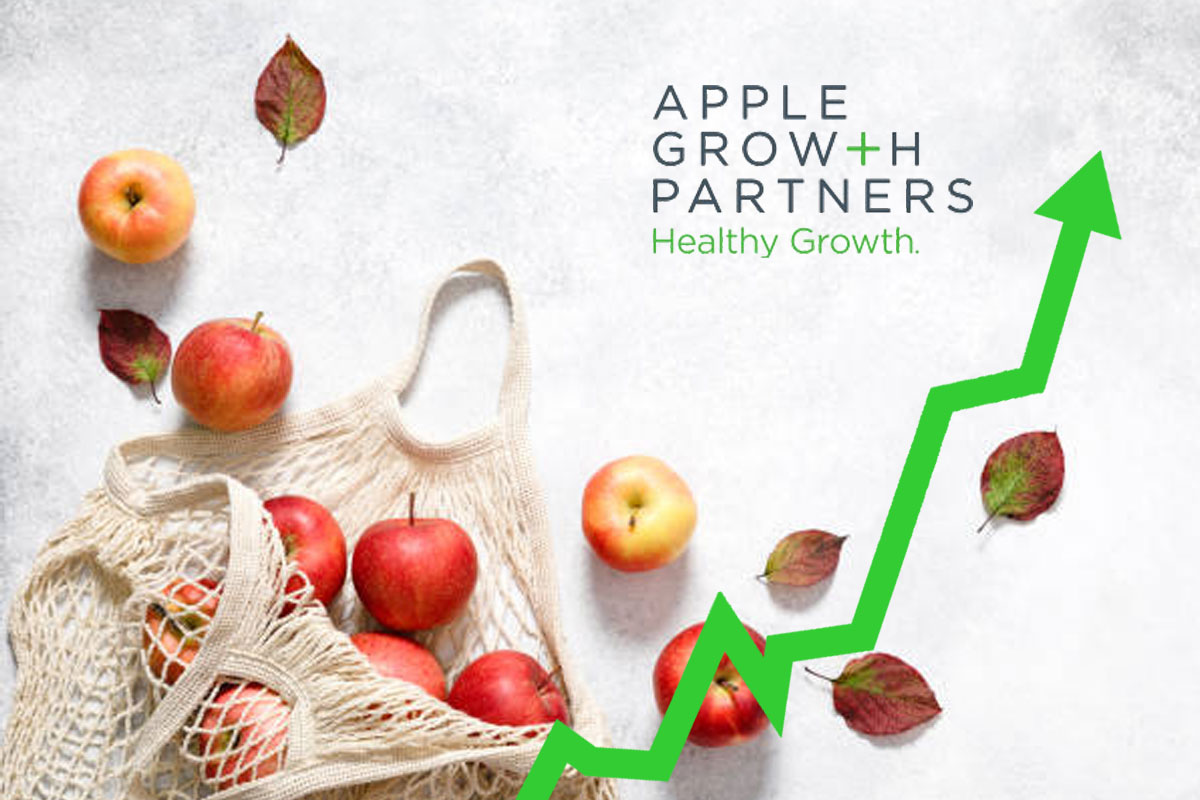 Apple Growth Partners
Healthy growth in financial services marketing comes from a strong brand personality
One example of making a client stand out in an extraordinary way was a certified public accounting firm Moore, Stevens, Apple which was under legal requirement to change its name. Through Innis Maggiore's proprietary Appreciative Discovery® process, we worked with the client to discover the company's position and recommend a new name, Apple Growth Partners, to reflect their expertise in growth strategies for privately held businesses.
We created a new logo and tagline, "Apple growth is healthy growth℠;" augmented by regional business publication advertising and radio campaign on the area's leading news station to generate awareness.
Radio provided the perfect platform to target the right people with an unusual campaign. We say unusual because the client partner was open to making good-natured fun of stereotypes about accountants through our "Invisible Heroes" persona and "brand voice" created by actor René Auberjonois.
The self-deprecating concept was that accountants don't exactly look the superhero type and are best kept invisible. The campaign ran for three years — and according to the client generated recognition with prospects years after it left the airwaves of Northeast Ohio.
The most gratifying part of this introduction was when the client informed us that the first new client won through our radio-to-web process paid for the whole radio production budget.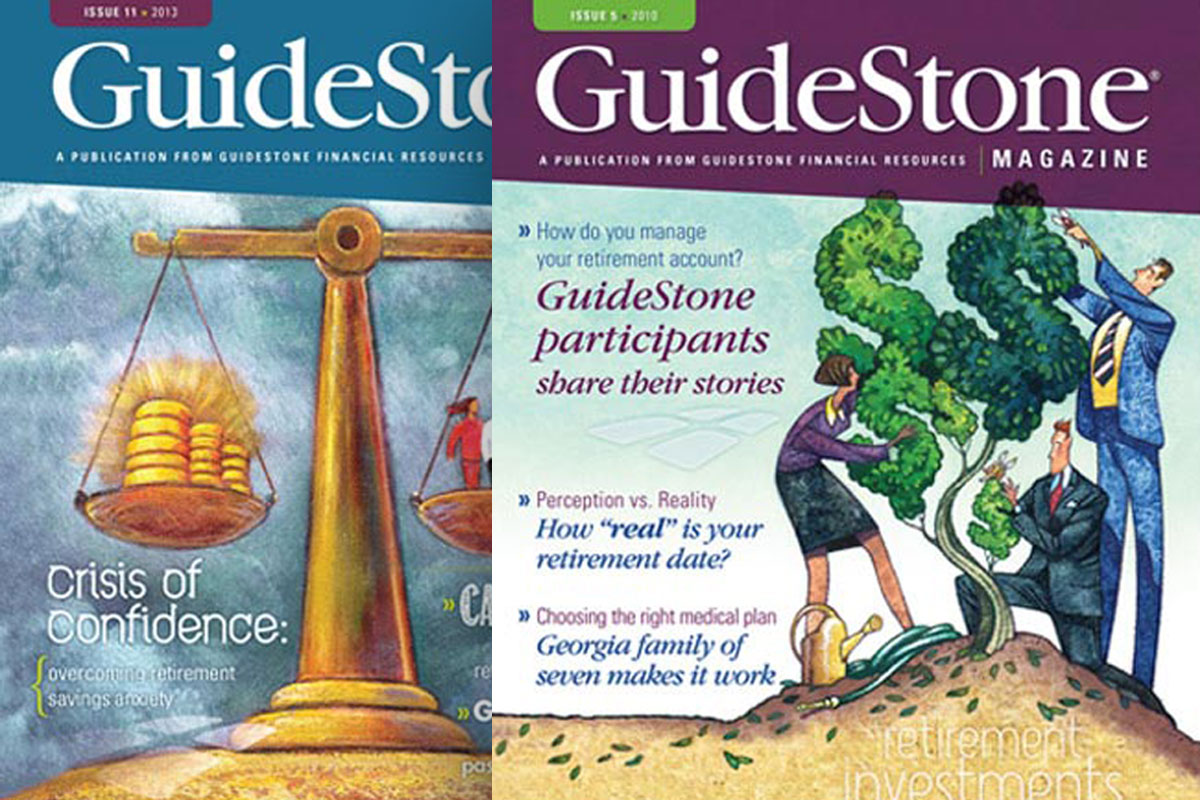 GuideStone Financial Resources
Doing well should include doing right for others
Guidestone Financial Resources is a leader in retirement and insurance plans specifically designed and offered to churches and related faith-based agencies. Their brand position is represented by the Innis Maggiore-created tagline, "Do well. Do right." One of the first accomplishments of our relationship was to dramatize this position of balancing a need for a family's economic security with a dedication to values-based investing. As a Southern Baptist agency, financial performance and biblical values-based investing are on equal footing, and therein resulted in their position of "performance + values," also expressed as "performance guided by values."
Innis Maggiore produced print, direct mail, event signage, collateral, digital marketing, videos, a quarterly magazine, websites, and much more, dedicated to their multiple divisions (retirement plans, insurance plans, property and casualty insurance, investments, and even their own charity: Mission:Dignity).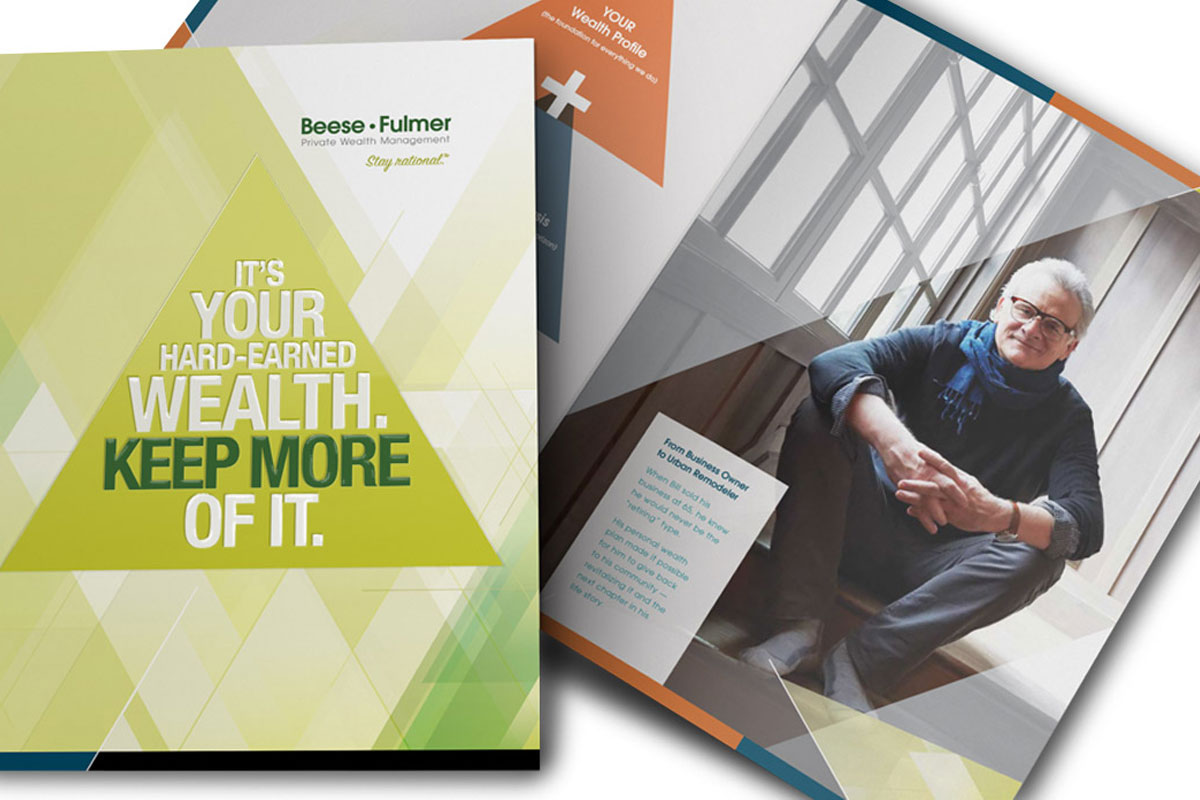 Beese Fulmer Private Wealth Management
Financial service marketing the rational way
People with high value investable assets don't entrust their money to discretionary financial planners easily. Trust is not a transactional commodity. It has to be earned.
Through our Appreciative Discovery®, we learned that Beese Fulmer believes that deliberate, purposeful investment planning, (i.e., time in the market versus timing the market), beats impulsive, haphazard reactions to the latest blip.
We expressed this position as "The Rational Investors" with a new brand identity including a simplified (more digital-friendly) logo, a brightly optimistic color scheme, "Stay Rational" tagline and "The Rules of the Rational™" — five simple common-sense axioms too often ignored by typical investment brokers.
Rational ratcheted success for the firm. Since working with Innis Maggiore, Beese Fulmer has doubled assets under management to become the dominant private wealth management firm in the greater Canton, Stark County market, #11 in Northeast Ohio and #55 on the 2021 CNBC Financial Advisor 100 list, while their website received a Gold Winner award in the 17th Annual Service Industry Advertising Awards.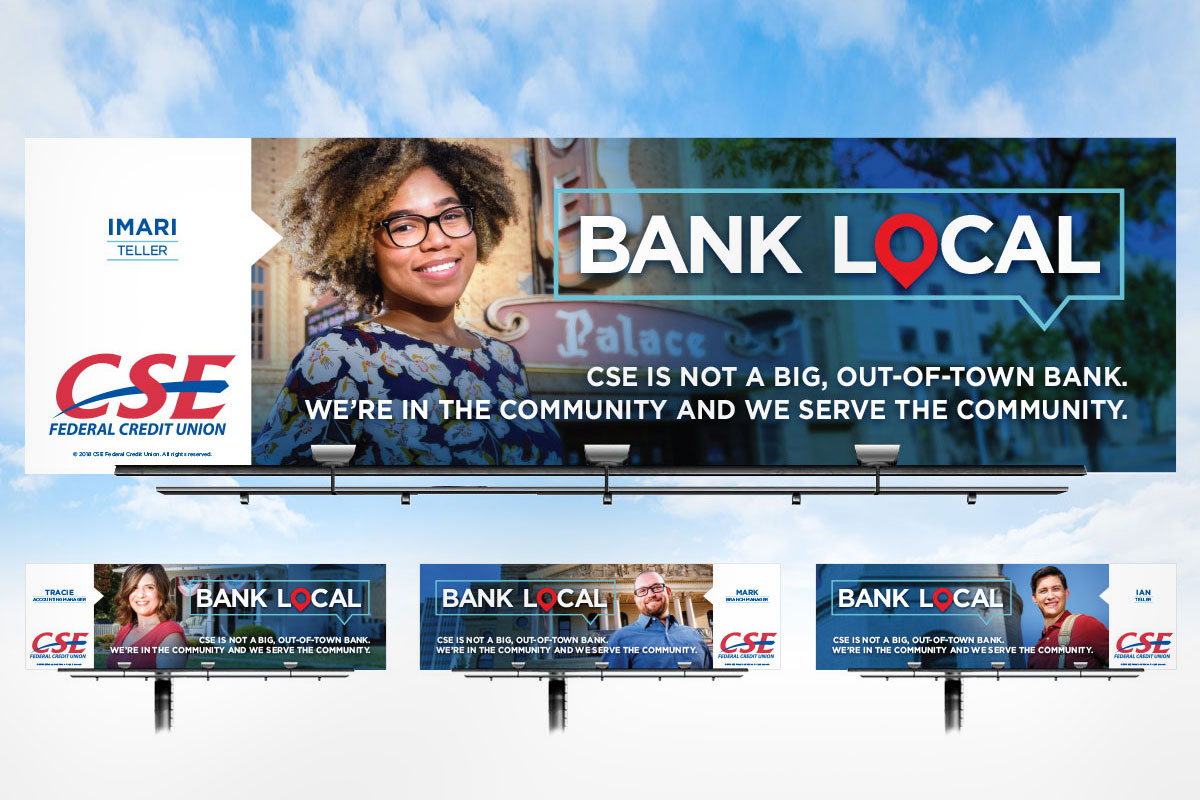 CSE Federal Credit Union
Positioning a client against an entire category
Usually, positioning differentiates one brand against other brands in the same business. This car's safer, that delivery's faster, this pizza tastes better. However, there are instances when it's more advisable to pit a brand against an entire category.
This is what made the most sense for CSE Federal Credit Union. We used our Appreciative Discovery® facilitated session to determine that CSE shouldn't waste their time differentiating against other credit unions in their market. They were already the leader in the area, and most consumer choices came down to a decision between a traditional bank or a credit union.
Further, bank consolidation and mergers have given people fewer choices for their banking needs. We worked with the client to create an identity as the banking alternative, using the theme "Bank Local" to distinguish CSE as being in the community and serving the community, as compared to the big, bad out-of-town banks. Our outdoor and print campaign featured real CSE staff pictured in front of recognizable local spots to symbolize this and help make "Bank Local" both a call-to-action and a community cause.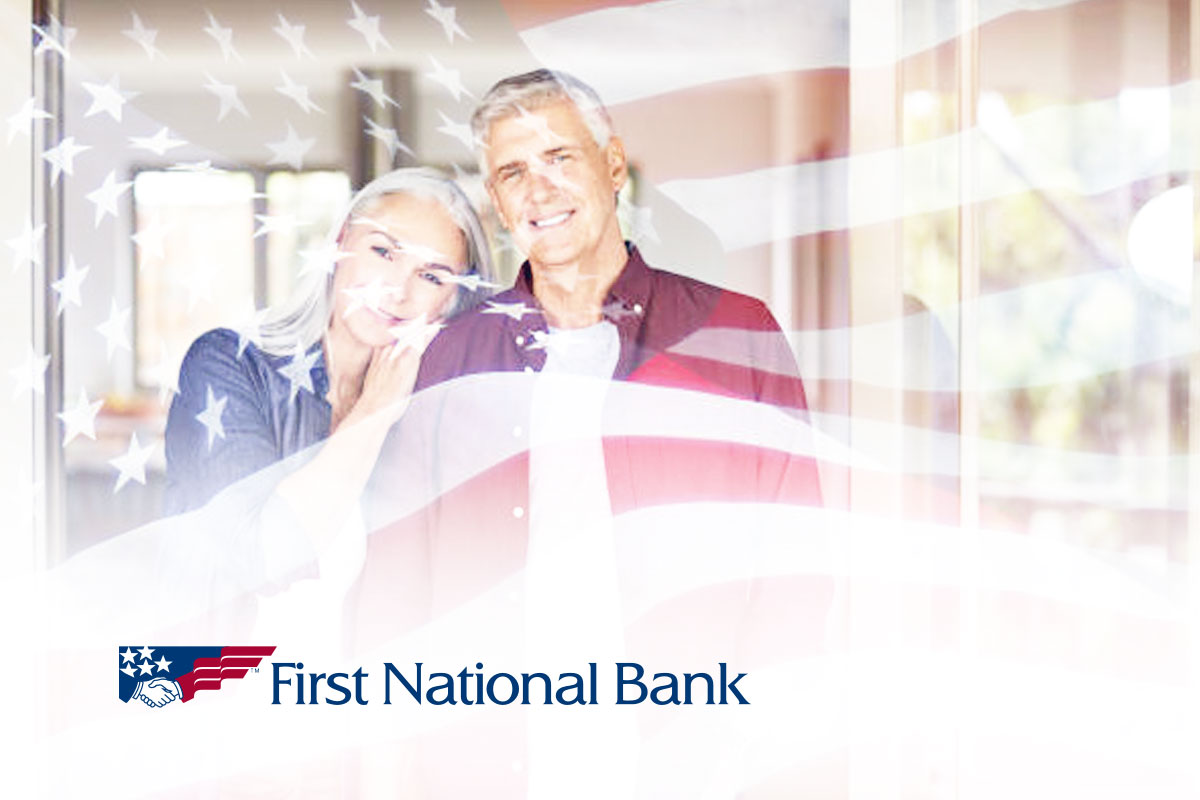 First National Bank
Get a new image with an irreverent approach to attract younger customers
By their own admission, the folks at First National Bank were dormant with customers on the older end of the senior circuit, making their situation less than competitive.
An Appreciative Discovery® session helped us determine that this smaller group of community banks had an advantage over the huge banks in making decisions independently and being less dependent on fees as a revenue stream. We recommended positioning the bank around a "less fees" idea using a graphic inviting people to "SWITCH TO LESS FEES."
Print ads used irreverent images, such as a guy in a fishbowl scrutinized by a hungry cat ("Ever feel like your bank has you right where it wants you?"), a woman in a mouse trap ("Ever feel like bait to your bank?"), and a guy stuck on a huge slice of pizza ("Ever feel like your bank's meal ticket?")
Radio spots updated the nursery rhyme "Fee fi fo fum" as "Fees high … so dumb!" in rock, country, and hip hop styles. Together we witnessed new account openings encouraging the client to continue our irreverent style to pound home the "Switch to Less Fees" message.
Contact Us
Get proven financial services advertising that works. Whether you are looking for a rebrand, a website rebuild, a marketing campaign for a launch of a new service, or help with driving more traffic to your current site, Innis Maggiore brings decades of experience as a leading financial services advertising agency working with the banking and advisors industries to the table. For real results from your marketing efforts, reach out to us today.
Contact Us