May 3, 2017
Aultman Hospital and Innis Maggiore Earn National Cancer Advertising Recognition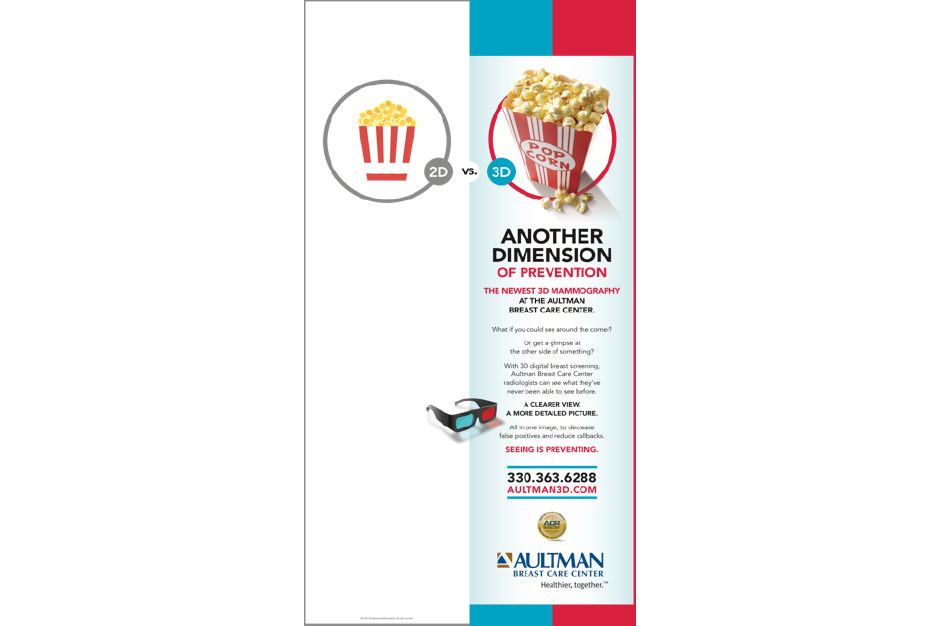 CANTON, Ohio (May 3, 2017) — Aultman Hospital and Innis Maggiore, the nation's leading positioning ad agency, teamed up to win top honors in the national Cancer Awareness Advertising Awards competition.
Aultman Breast Care Center's newspaper advertisement for its 3D mammography capabilities and the advantages they provide to patients was awarded the highest accolade – the Gold Award – in the category for hospitals with more than 500 beds in the national Cancer Awareness Advertising Awards. It is a competition operated by trade journal Marketing Healthcare Today. In addition, Aultman's overall 3D mammography campaign "Another Dimension of Prevention" was awarded the Silver.
Designed in bright colors and bold graphics, the Aultman 3D mammography newspaper ad promotes the visual clarity and detail the technology provides and the advantages it delivers. "Seeing is preventing" is the tagline that informs readers what they expect from 3D mammography at the Aultman Breast Care Center.
"We are very proud of the recognition our advertising and marketing efforts have gained recently, as it is confirmation of the value of effective communication with our patients and our community, as well as a salute to the dedicated professionals who work to make capabilities like 3D mammography available," said Aultman Hospital Director of Marketing and Corporate Communications Missi Steepleton. "As with the clarity that 3D mammography provides in the effort to succeed in early detection of cancer, clear and concise advertising delivers significant advantages. It promotes the very real life-saving benefits and serves to elevate awareness of this great capability among those who will benefit from it directly."
Innis Maggiore Senior Account Supervisor Jeff McMahan said the 3D mammography newspaper ad and campaign awards are additional examples of sound strategy and creative execution based on positioning.
"We approached the Aultman Breast Care Center's 3D mammography campaign with the same rock-solid foundation we use for all of our agency's work – sharply focusing on the areas that truly differentiate Aultman Breast Care Center most meaningfully compared to the competition," McMahan said. "The judges recognized what Aultman and Stark County already know – that 3D mammography as used at Aultman Breast Care Center is a life-saver. As the tagline says, 'Seeing is believing'."
Innis Maggiore associates who worked on the Aultman Breast Care Center campaign included Senior Account Supervisor Jeff McMahan, Senior Art Director Cheryl Henderson, Executive Creative Director Scott Edwards and Principal Creative Services Jeff Monter.
Innis Maggiore Group is the nation's leading positioning ad agency, building strong brand positions for companies in competitive markets. The full-service integrated agency had 2016 capitalized billings of more than $23 million. Key clients include: Aultman Hospital, Baird Brothers Fine Hardwoods, Bank of America, BellStores, DRB Systems, FSBO.com, GOJO Industries (Purell), The Goodyear Tire & Rubber Company, KFC/Kendall House, Kimble Companies, MCTV, Marathon Petroleum Corporation, Mid's Sicilian Pasta Sauce, Nickles Bakery, Republic Steel, SmithFoods and Stark Community Foundation. The company maintains a website at www.innismaggiore.com.