Jun 18, 2019
Innis Maggiore Only Full-Service Agency in Ohio to Achieve SharpSpring's Gold Certification Partner Status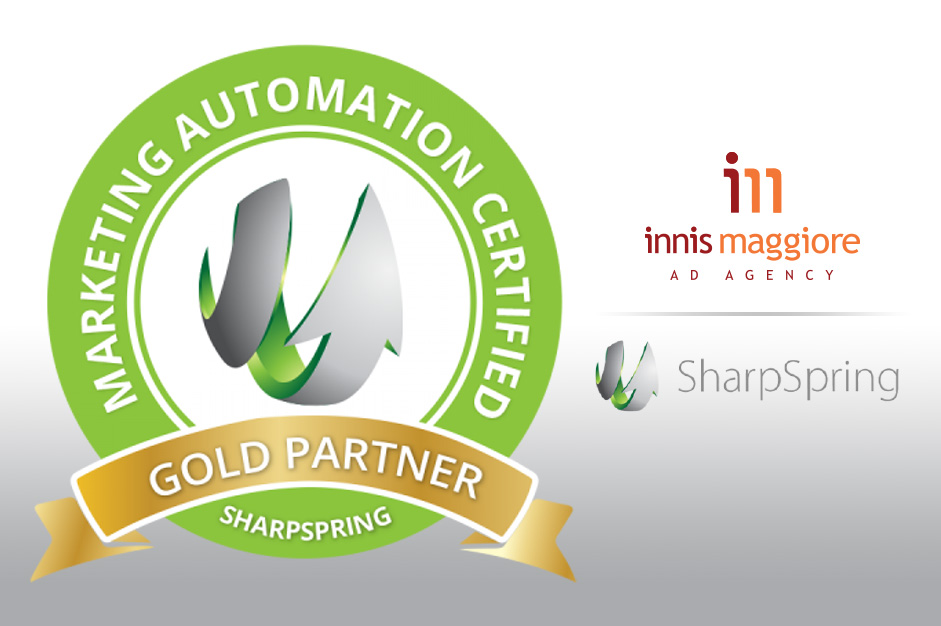 CANTON, Ohio (June 18, 2019) — Innis Maggiore, the nation's leading positioning ad agency, today announced it obtained Gold-Level Certification in SharpSpring's partner certification program. SharpSpring, Inc. (NASDAQ: SHSP), a global provider of cloud-based marketing automation, CRM, social/content marketing and email platform, provides its solution through agency partners. Innis Maggiore is the only Gold Certified full-service agency in Ohio.
"When we decided to offer our clients a marketing automation solution several years ago, SharpSpring easily rose to the top," said Mark Vandegrift, chief operating officer of Innis Maggiore. "Not only is SharpSpring one-twentieth the cost of platforms like Salesforce and HubSpot, it has the most robust and extensive offering on the market. SharpSpring easily scales to our client base of single proprietors up to Fortune 500 companies. Clients absolutely love the price, its ease of use and all-in-one functionality."
SharpSpring was named a top-rated marketing automation platform in 2019 by TrustRadius, a trusted review site for business technology.
"Agencies that are leaders in marketing automation are typically leaders in digital marketing," said Rick Carlson, CEO of SharpSpring. "When partners go the extra mile to obtain this level of certification, we know they truly understand the value of marketing automation and that they're committed to driving the highest results for their clients."

Innis Maggiore met all of the requirements within the gold tier of the certification program, demonstrating an exceptional level of expertise in marketing automation and the SharpSpring platform. With this certification, the agency adds to its considerable list of certifications and software offerings designed to drive qualified leads, increase conversions and optimize the return on investment of its clients' marketing campaigns.
About Innis Maggiore
Innis Maggiore Group is recognized as America's No. 1 positioning ad agency, building strong brand positions for companies in competitive markets. The full-service integrated agency had 2018 capitalized billings of $24 million. Key clients include: Aultman Hospital, AultCare, Baird Brothers Fine Hardwoods, BellStores, Dutchman Hospitality, Encino Energy, FSBO.com, GOJO Industries (Purell), Gerber's Amish Farm Chicken, The Goodyear Tire & Rubber Company, GuideStone Financial Resources, KFC/Kendall House, Kobre & Kim, MID'S Sicilian Pasta Sauce, Nilodor, SmithFoods and Stark Community Foundation.

About SharpSpring, Inc.
SharpSpring, Inc. (NASDAQ: SHSP) is a rapidly growing, highly-rated global provider of affordable marketing automation delivered via a cloud-based Software-as-a Service (SaaS) platform. Thousands of businesses around the world rely on SharpSpring to generate leads, improve conversions to sales, and drive higher returns on marketing investments. Known for its innovation, open architecture and free customer support, SharpSpring offers flexible monthly contracts at a fraction of the price of competitors making it an easy choice for growing businesses and digital marketing agencies.