Mar 28, 2019
Innis Maggiore wins Cancer Awareness Advertising Award for its Aultman Cancer Center work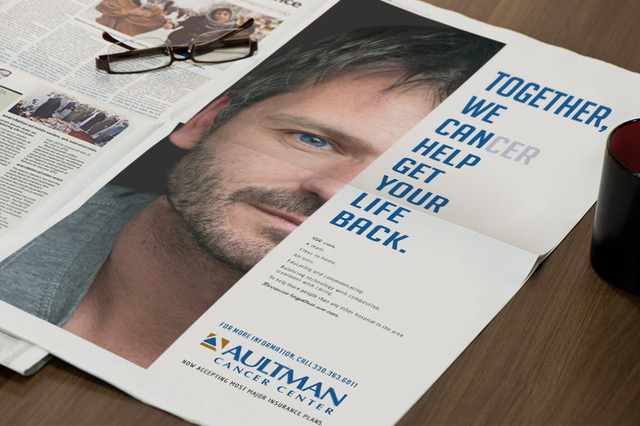 CANTON, Ohio (Mar. 28, 2019) — Innis Maggiore, the nation's leading positioning ad agency, today announced it earned a 2018 Cancer Awareness Advertising Award. The campaign was created for Aultman Cancer Center, Stark County's leading provider for cancer diagnosis, treatment and support.
The campaign, which includes newspaper ads, billboards, and digital and web components, positions Aultman as the leader in cancer care in the communities in which it operates. A line from the campaign reads:
"Close to Home – All here, balancing technology with compassion, treatment with caring. To help more people beat cancer than any other hospital in the area."
Emily Mays created the concept and handled design work for the campaign, Scott Edwards wrote the copy and provided creative direction, Ashley Johnson served as project manager, and Jeff McMahan served as the account lead. Mays is an art director, Edwards is executive creative director, Johnson is a project manager and McMahan is an account supervisor at the agency.
"We're extremely proud to support Aultman as it continues to move forward in its mission of leading our community to improved health," said Innis Maggiore President and CEO Dick Maggiore. "Cancer care is a vital part of that important mission. This award represents far more than simply great advertising. It's an extension of the wonderful work Aultman is doing to increase awareness and make a tremendous impact on the health and wellness of our community."
The Cancer Awareness Advertising Awards (CAA Awards) is an annual contest allowing entries that were created, printed and/or distributed the previous year to be scored, judged and recognized on a national level for excellence in cancer awareness marketing and advertising. The CAA Awards is the nation's most elite competition dedicated solely to the promotion of all cancer-related products and/or services.
Innis Maggiore Group is recognized as America's No. 1 positioning ad agency, building strong brand positions for companies in competitive markets. The full-service integrated agency had 2018 capitalized billings of $24 million. Key clients include: Aultman Hospital, AultCare, Baird Brothers Fine Hardwoods, BellStores, Dutchman Hospitality, Encino Energy, FSBO.com, GOJO Industries (Purell), Gerber's Amish Farm Chicken, The Goodyear Tire & Rubber Company, GuideStone Financial Resources, KFC/Kendall House, Kobre & Kim, MID'S Sicilian Pasta Sauce, Nilodor, SmithFoods and Stark Community Foundation.