Nov 29, 2022
Healthcare Marketing Agency Innis Maggiore Earns Award for AultCare Website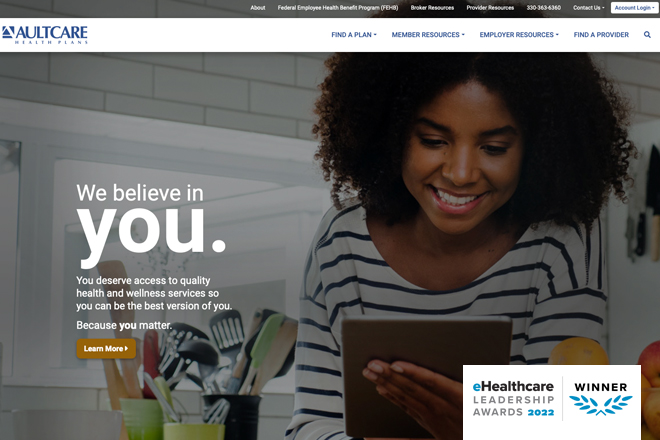 Healthcare marketing agency Innis Maggiore earned an eHealthcare Leadership Award for the website it developed for AultCare Health Plans.
CANTON, Ohio (Nov. 29, 2022) — Innis Maggiore, the nation's leading positioning ad agency, today announced it earned a silver eHealthcare Leadership award for the website it developed for AultCare Health Plans. The award, earned in the "Best Web Design for HMO, PPO, or Other Insurer" category, is a demonstration of the longstanding expertise of the healthcare marketing agency in advertising and website development.
"We're honored to partner with AultCare, a leader providing much-needed access to healthcare and wellness services within our communities," said healthcare marketing agency Innis Maggiore's Chief Operating Officer Mark Vandegrift. "And we're proud to help AultCare dramatize its leadership position through its website and other media."
The website's copy highlights AultCare's commitment to the communities it serves: "We believe in you. You deserve access to quality health and wellness services so you can be the best version of you. Because you matter."
The eHealthcare Leadership Awards program, coordinated by Plain-English Health Care, recognizes the very best websites, digital communications, healthcare marketing, and business improvement initiatives of a wide range of healthcare organizations. Plain-English Health Care serves marketers, strategists, communicators, digital specialists, planners, C-suite executives, and business development professionals at hospitals, health systems, physician groups, and other healthcare organizations. The organization explores, examines, and celebrates the most impactful, cutting-edge initiatives at healthcare organizations to make its members more informed and their organizations more successful.
AultCare is part of the Aultman Health System. For 36 years, AultCare has provided quality healthcare at an affordable cost to the communities it serves. Using innovative plan designs, superior customer service, and a high-quality network, AultCare strives to satisfy enrollees and clients and remains committed to providing affordable health insurance.
About Innis Maggiore
Innis Maggiore Group is recognized as America's leading positioning ad agency, building strong brand positions for companies in competitive markets. It is a top healthcare marketing agency in northeast Ohio – a national leading medical corridor. The full-service integrated agency had 2021 capitalized billings of more than $25 million. Some of its key clients include Advanced Power, Aultman Health System, AultCare Health Plans, Babcock & Wilcox, Baird Brothers Fine Hardwoods, BellStores, Center for Health Affairs, Encino Energy, FSBO.com, GOJO Industries (Purell), KFC/Kendall House, Kobre & Kim, MID'S True Sicilian Pasta Sauce, Midwest Industrial Supply, Stark Area Regional Transit Authority (SARTA), SmithFoods, and Young Trucks.