Jan 18, 2022
Innis Maggiore Hires Two Associates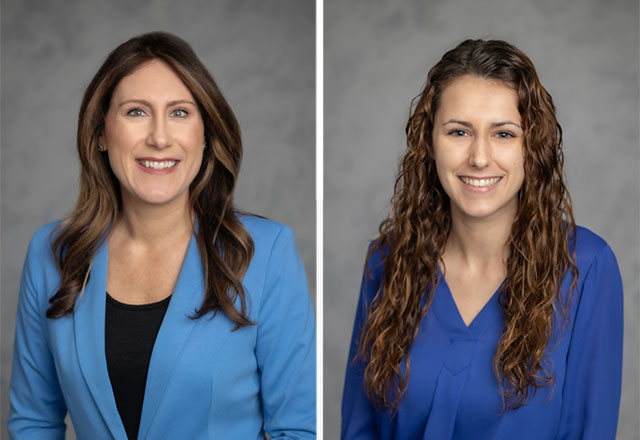 (Left) Jenna Griebel, Wadsworth (Right) Cassidy Ippolito, Alliance
CANTON, Ohio (Jan. 18, 2022) — Innis Maggiore, the nation's leading positioning ad agency, today announced the addition of two new associates. Jenna Griebel has joined the agency as an account executive in the Client Services department and Cassidy Ippolito has joined the firm as a digital marketing specialist in the Digital Marketing and Media Services department.
"In an industry where the average length of an agency-client relationship is about three years, Innis Maggiore's is well over 10 years — two are over four decades," said Dick Maggiore, the agency's president and CEO. "We attribute the longevity of our relationships with clients to a variety of factors, two of which are developing extraordinary client partnerships and continually enhancing our capabilities in areas such as digital service offerings. We are delighted to welcome Jenna and Cassidy to our team," he added.
Griebel has more than 14 years of marketing experience building strong, trusted relationships with clients ranging from small and medium-size companies to Fortune 500 brands. Her expertise includes creating and executing customized sales growth programs, developing marketing strategies, project planning and program management. Griebel comes to Innis Maggiore from ST&P Marketing Communications where she was an account manager serving as liaison between clients and account teams. Prior to that she was an account manager with First Communications. A resident of Wadsworth, Griebel earned a Bachelor of Science in business administration from John Carroll University.
In her role as a digital marketing specialist, Ippolito assists with media plans, research, paid search and analytics reporting. Most recently, Ippolito was an e-commerce and marketing associate with Knight Sound & Lighting where she planned and maintained strategic content calendars for social media, developed e-mail marketing content strategies and produced email campaigns. Ippolito is a resident of Alliance and earned a bachelor's degree in business administration with a focus in integrated marketing communications and marketing management from the University of Akron.
About Innis Maggiore
Innis Maggiore Group is recognized as America's leading positioning ad agency, building strong brand positions for companies in competitive markets. The full-service integrated agency had 2021 capitalized billings of over $25 million. Some of its key clients include: Aultman Hospital, AultCare, Babcock & Wilcox, Baird Brothers Fine Hardwoods, BellStores, Center for Health Affairs, Encino Energy, FSBO.com, GOJO Industries (Purell), The Goodyear Tire & Rubber Company, KFC/Kendall House, Kobre & Kim, MID'S True Sicilian Pasta Sauce, Midwest Industrial Supply, Stark Area Regional Transit Authority (SARTA), SmithFoods and Young Trucks.
###