Jul 13, 2022
Innis Maggiore is a 2022 Silver Telly Award winner for its Aultman TV spot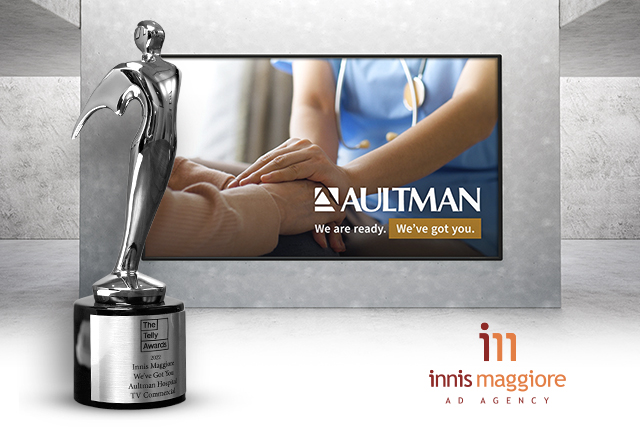 Innis Maggiore's 2022 Telly Award is its second Silver and 29th overall.
CANTON, Ohio (July 13, 2022) – Innis Maggiore, the nation's leading positioning ad agency, today announced it is a 2022 Silver Telly Award winner for a TV commercial it produced for the Aultman Health System, a healthcare provider dedicated to leading its communities to improved health.

Placing under the Local TV General-Hospital category, the 30-second commercial, titled "We've Got You" emphasizes Aultman's position as the healthcare leader most dedicated to the patient and community. The spot points out that, "With nearly 130 years in your back yard, Aultman knows you and knows your community better than anyone. We're your neighbors, your friends, your family, and we want you to be the healthiest you can be."

The concept for the "We've Got You" commercial was the outcome of a collaboration of Justin Allen, creative director of web, Scott Edwards, executive creative director, Lee-Ann DeMeo, creative director, Ashley Johnson, senior project manager, Jeff McMahan, senior account supervisor, and the Aultman Marketing Team.

"From treating ailments to helping individuals build a healthy lifestyle, Aultman illustrates what it means to support patients not just as a service provider, but as an active member of its community," said McMahan. "Aultman has been an Innis Maggiore client for more than 25 years, so it's all the more exciting to earn it alongside one of our longest-enduring partners."

This is Innis Maggiore's 29th Telly Award overall and its second Silver, with recent gold and bronze awards on behalf of Smith's Dairy.

Founded in 1979, the Telly Awards celebrate excellence in video and television advertising across the United States. Telly award winners are chosen from more than 12,000 entries that span from all 50 states as well as five continents. The awards represent the best work from a variety of advertising agencies, television stations, production companies, and publishers. Judging is conducted through the Telly Awards Judging Council, which is comprised of more than 200 experienced members of the industry who have proven their abilities by receiving their own Telly Awards.

Innis Maggiore Group is recognized as America's leading positioning ad agency, building strong brand positions for companies in competitive markets. The full-service integrated agency had 2021 capitalized billings of more than $25 million. Some of its key clients include: Aultman Hospital, AultCare, Babcock & Wilcox, Baird Brothers Fine Hardwoods, BellStores, Center for Health Affairs, Encino Energy, FSBO.com, GOJO Industries (Purell), KFC/Kendall House, Kobre & Kim, MID'S True Sicilian Pasta Sauce, Midwest Industrial Supply, Stark Area Regional Transit Authority (SARTA), SmithFoods, and Young Trucks.