Mar 29, 2022
Positioning Ad Agency Team Promotions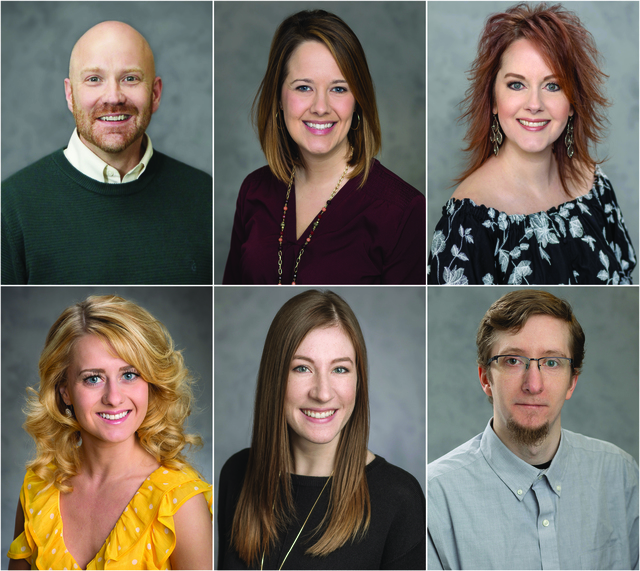 (Top left to right) Rich Grisak, Veronica Smith, Cheryl Henderson (Bottom left to right) Emily Mays, Alicia Jordan, Jeremy Smith
CANTON, Ohio (March 29, 2022) — Innis Maggiore, the nation's leading positioning ad agency, today announced the promotions of Cheryl Henderson to creative director, Alicia Jordan to art and video director, Emily Mays to associate creative director, Rich Grisak to senior media analyst, Veronica Smith to senior media strategist, and Jeremy Smith to senior web developer. The promotion of each of these associates is in recognition of their advanced professional development and their exceptional ability to delight clients and help grow their business.
Cheryl Henderson joined Innis Maggiore in 2003. A resident of North Canton, she holds a Bachelor of Science degree in education from Kent State University where she was valedictorian of her graduation class. Scott Edwards, executive creative director at Innis Maggiore said, "Cheryl possesses a unique and infectious enthusiasm that she brings to any project, which coupled with her creative talent in any medium or subject, makes her perfect to serve as creative director."
Alicia Jordan, an award-winning designer and illustrator, joined Innis Maggiore as an art director in 2018. Jordan's promotion to art and video director is the result of her relentless curiosity about video editing technology and how to best leverage it to create compelling content that brings a client's story to life. "Alicia's title perfectly denotes her versatility," said Edwards. "She is an idea person, who can translate those ideas into designs, illustrations, animations, and video. In a short amount of time, she has become accomplished in TV and video projects to the extent that people naturally think of her when they come up."
Prior to becoming associate creative director, Emily Mays held the position of senior art director. She is known for her award-winning creative concepts and the ability to conquer difficult assignments. Mays joined Innis Maggiore in 2012 as a graphic designer. "In addition to her sense of creativity and wondrous design, Emily has tremendous initiative and displays great leadership skills," said Edwards. "She takes it upon herself to mentor interns and is often the first person to volunteer to help."
Rich Grisak, senior media analyst, has more than a decade of experience designing, implementing, and analyzing comprehensive digital marketing campaigns. He joined Innis Maggiore in 2018 as a digital marketing analyst. "Rich is a problem-solver with a knack for critical thinking. His 'superpower' is analyzing large amounts of data and bringing the story to life with that data," said Rose Browning, director of media at Innis Maggiore. "Rich is the go-to guy for many people within the agency; he listens to clients' needs and communicates effectively across the board to deliver the desired results."
Veronica Smith joined Innis Maggiore in 2018 as a digital marketing strategist. Smith's promotion to senior media strategist reflects the great insight and ideas she brings to new and existing campaigns and projects. "Veronica is always up for a challenge and shows so much determination when learning new things," says Browning. "Her ability to bring a fresh and creative perspective in any situation makes Veronica a valuable asset to the agency and our clients."
Jeremy Smith is a resident of Barberton. He earned his Associate of Science degree in computer science from National Institute of Technology. Smith was a web developer specializing in .NET and now becomes senior web developer in recognition of his versatility. "Jeremy's breadth and depth of knowledge are key contributions to the success of the agency's web projects. He has the ability to quickly and thoroughly understand any challenge that he encounters, and always delivers a comprehensive solution," said Joe Chenevey, director of technology at Innis Maggiore.
About Innis Maggiore
Innis Maggiore Group is recognized as America's leading positioning ad agency, building strong brand positions for companies in competitive markets. The full-service integrated agency had 2021 capitalized billings of over $25 million. Some of its key clients include: Aultman Hospital, AultCare, Babcock & Wilcox, Baird Brothers Fine Hardwoods, BellStores, Center for Health Affairs, Encino Energy, FSBO.com, GOJO Industries (Purell), The Goodyear Tire & Rubber Company, KFC/Kendall House, Kobre & Kim, MID'S True Sicilian Pasta Sauce, Midwest Industrial Supply, Stark Area Regional Transit Authority (SARTA), SmithFoods, and Young Trucks.