Aug 2, 2022
Two students awarded Innis Maggiore Endowed Scholarship for Communications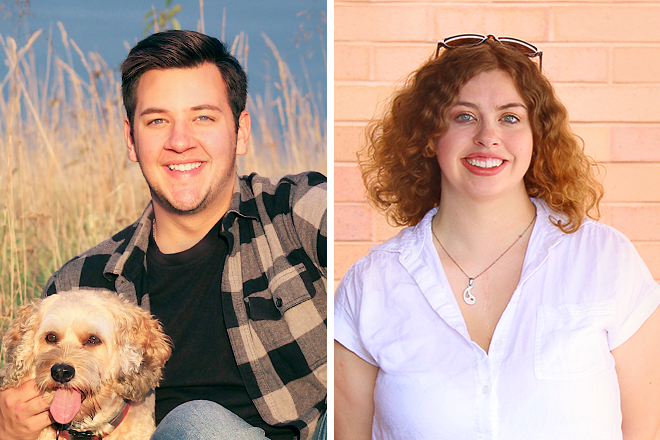 (Left) Nathan Trussel of Massillon and (right) Alyssa Baker of Canton are the recipients of the 2022 Innis Maggiore Endowed Scholarship for Communications.
CANTON, Ohio (Aug. 2, 2022) — Innis Maggiore, the nation's leading positioning ad agency, today announced two Kent State University at Stark students were awarded the Innis Maggiore Endowed Scholarship for Communications for 2022.

Alyssa Baker and Nathan Trussel will receive $1,750 each to put toward furthering their marketing and communications education.

Baker, a Canton resident, is a senior majoring in communications with a minor in technical writing. She believes her studies in applied communications, which involve elements of graphic design, broaden her horizon for multiple career possibilities. Baker's decision to attend Kent State at Stark allows her to continue enjoying the local community she loves while gaining versatile skills to prepare for a career in human resources or marketing.

"[The Innis Maggiore] scholarship makes me feel like pushing myself further," said Baker. "I currently have to pay for my college education out of pocket every semester, so … I am grateful. I cannot thank you enough and I hope you continue to help students like me."

Massillon native Trussel is a sophomore majoring in marketing. As the first person in his family to attend college, Nathan sees his degree as a vital investment to beginning his career and feeling financially secure after school. This summer, he's been navigating entrepreneurship by starting his own greeting card company — the perfect intersection of art, communication, and business.

"This semester has been the hardest I've ever dealt with … while also maintaining a job and maintaining good grades," said Trussel. "[This] scholarship is going to help me get so much further in my education. Words cannot express my gratitude."

To receive the Innis Maggiore Endowed Scholarship for Communications, a student must attend Kent State University at Stark and major in communications, marketing, public relations, journalism, or advertising. Recipients must reside in Stark County and demonstrate financial need.

"Innis Maggiore has always maintained the goal of strengthening the Stark County community," said President and CEO Dick Maggiore. "The Innis Maggiore Endowed Scholarship for Communications is one of the ways we've been able to pursue that goal. This scholarship helps reduce families' financial burdens so students can take full advantage of their education. We believe that as the level of education attainment rises in our community, so does its quality of life. An investment in our youth is an investment in our community's growth."

Innis Maggiore Group is recognized as America's leading positioning ad agency, building strong brand positions for companies in competitive markets. The full-service integrated agency had 2021 capitalized billings of more than $25 million. Some of its key clients include: Aultman Hospital, AultCare, Babcock & Wilcox, Baird Brothers Fine Hardwoods, BellStores, Center for Health Affairs, Encino Energy, FSBO.com, GOJO Industries (Purell), KFC/Kendall House, Kobre & Kim, MID'S True Sicilian Pasta Sauce, Midwest Industrial Supply, Stark Area Regional Transit Authority (SARTA), SmithFoods, and Young Trucks.