Jul 27, 2023
Ad agency adds interns Collins and Weisgarber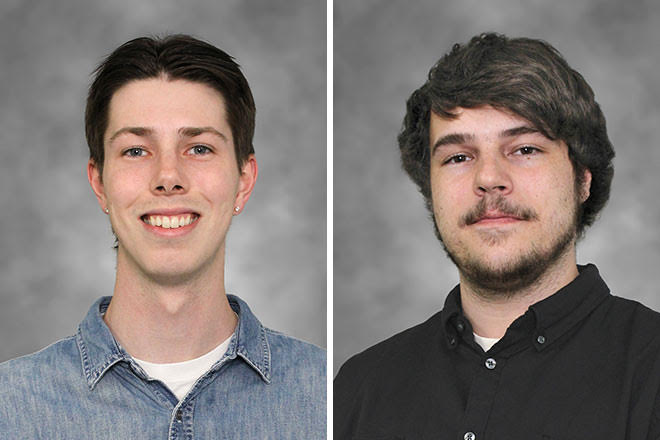 Innis Maggiore's ad agency interns, (left) Michael Collins and (right) Josh Weisgarber.
CANTON, Ohio (July 27, 2023) — Innis Maggiore, the nation's leading positioning ad agency, today announced that Michael Collins and Josh Weisgarber are its new summer ad agency interns.
Collins, a copywriting intern, reports to Scott Edwards, executive creative director. Specializing in creative writing, Collins will focus on client web and event copy as well as internal content geared toward educating prospects about the agency's resources. Collins competed as a cross-country track and field athlete at Malone University, where he received a bachelor's degree in English and creative writing.
Weisgarber joins the agency as a graphic design intern under the guidance of Alicia Jordan, art and video director. In addition to crafting inventive client concepts, Weisgarber will be creating internal materials for social media, enhancing the agency's project portfolio, and designing art for the office. He attended the University of Akron, where he graduated magna cum laude with a bachelor's degree in graphic design.
Innis Maggiore's internship program provides young individuals with opportunities to gain hands-on experience through collaboration with agency team members on ongoing internal and client projects.
"We provide our ad agency interns access to projects that enable them to apply their communications knowledge and give them opportunities to sharpen their abilities," said Innis Maggiore President Mark Vandegrift. "Our interns learn the foundational building blocks all the way through to departmental collaboration to see their work in the marketplace. The experience offered from our internship program empowers young professionals to feel emboldened to enter this competitive industry with confidence."
For those interested in the Innis Maggiore internship program, the agency offers positions on a Spring, Summer, and Fall basis. Interns are paid and can choose between working part or full-time with a commitment to 20 hours per week. Resumes are always accepted for work in the digital marketing, web development, graphic/communication design, project management, and copywriting departments. See our careers page to learn more.
About Innis Maggiore
Innis Maggiore Group is recognized as America's leading positioning ad agency, building strong brand positions for companies around the world. The full-service integrated agency had 2022 capitalized billings of more than $27 million. Some of its key clients include Advanced Power, Aultman Health System, AultCare Health Plans, Babcock & Wilcox, Baird Brothers Fine Hardwoods, BellStores, The Center for Health Affairs, Encino Energy, FSBO.com, GOJO Industries (Purell), Hall of Fame Resort and Entertainment, Harris Battery, KFC/Kendall House, Kobre & Kim, Lewis Services, MID'S True Sicilian Pasta Sauce, Midwest Industrial Supply, Pipeline Packaging/Hazmatpac, SimiTree, SmithFoods, Stark Area Regional Transit Authority (SARTA), Sunless Inc., Vern Dale Water Experts, and Young Trucks.