Jan 31, 2023
Ad Agency Innis Maggiore Welcomes Moses, Zimcosky as Interns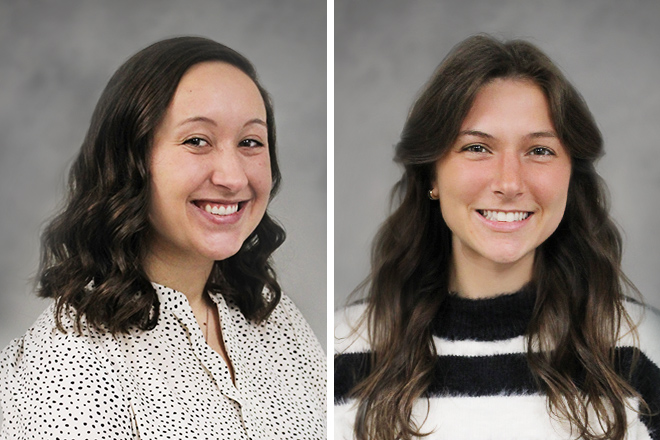 (Left) Lauren Moses and (right) Zoe Zimcosky are Innis Maggiore's latest interns.
CANTON, Ohio (Jan. 31, 2023) — Innis Maggiore, the nation's leading positioning ad agency, today announced the addition of two interns, Lauren Moses and Zoe Zimcosky.

Moses, a senior at Walsh University pursuing a degree in marketing and studying data analytics, will intern in the media department and report to Janice Becker, the agency's media director. A student-athlete (track and field), Moses achieved academic all-conference honors and regularly appears on the Dean's list. She's also a member of Sigma Beta Delta, honoring those in the top 20 percent of the DeVille School of Business. Moses tutors in her spare time.

Zimcosky, a senior at Kent State University pursuing a degree in communications with a minor in marketing, will intern as a project manager and report to Ashley Johnson, senior project manager. Zimcosky, who will be exposed to all aspects of the agency's business, has studied many sides of communication, from copywriting and design to consumer behavior and promotion management.

Innis Maggiore provides interns with different avenues, ranging from website technologies to direct marketing, to explore the wide world of communications.

According to Innis Maggiore's Chief Operating Officer Mark Vandegrift, the agency's internship program provides an excellent opportunity for young people to encounter multiple aspects of the marketing and ad agency business.

"Our interns have the opportunity to jump right in, roll up their sleeves, and get directly involved on our team to help differentiate our clients," said Vandegrift. "By providing mentorship and hands-on experience for young professionals, we're taking a leadership role in strengthening our community. We're excited to see what Lauren and Zoe can contribute to the agency and our clients."

Innis Maggiore Group is recognized as America's leading positioning ad agency, building strong brand positions for companies in competitive markets. The full-service integrated agency had 2022 capitalized billings of more than $27 million. Some of its key clients include: Aultman Hospital, AultCare, Babcock & Wilcox, Baird Brothers Fine Hardwoods, BellStores, The Center for Health Affairs, Encino Energy, FSBO.com, GOJO Industries (Purell), KFC/Kendall House, Kobre & Kim, MID'S True Sicilian Pasta Sauce, Midwest Industrial Supply, Stark Area Regional Transit Authority (SARTA), SmithFoods, and Young Trucks.