Oct 2, 2023
Award-winning web design agency Innis Maggiore earns four honors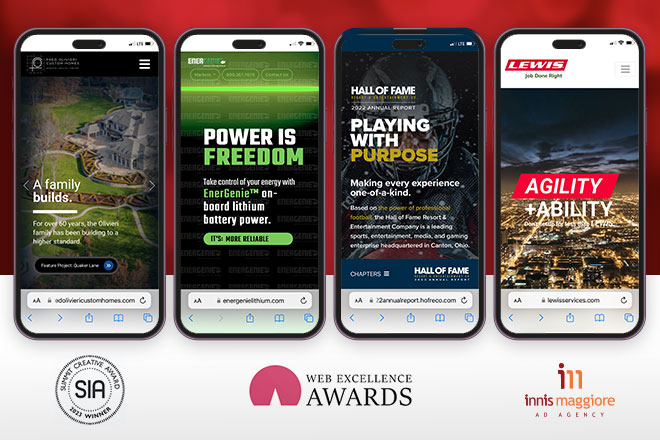 Innis Maggiore earned a gold Summit Creative Award and three Web Excellence Awards.
CANTON, Ohio (Oct. 2, 2023) — Innis Maggiore, the nation's leading positioning ad agency, today announced it's a four-time award-winning web design agency for its work for EnerGenie, Fred Olivieri Construction Co., Hall of Fame Resort & Entertainment Co., and Lewis Services.
The agency earned a gold Summit Creative Award in the product/service category for the Fred Olivieri Custom Homes website.
Innis Maggiore also added three more Web Excellence Awards to its trophy case. EnerGenie was awarded in the energy category. The agency also received an accolade in the sports category for work on the Hall of Fame Resort & Entertainment Co. 2022 report, and the Lewis Services site took home an award in the corporate and B2B category.
"Awards are an excellent barometer of our performance in the industry," said President Mark Vandegrift. "If we're evolving and adapting our practices, we're ensuring our clients receive premier services that reach their audiences. Receiving the gold Summit Creative Award and the Web Excellence awards lets us know we're on track as an award-winning web design agency, giving clients work that wins in the mind of the prospect."
Innis Maggiore has received more than 250 awards in the communications industry, many of which have earned its reputation as an award-winning web design agency.
The Summit International Awards identify exceptional accomplishments in marketing communications and creative pursuits across the communications industry. One of the organization's three distinct awards programs, the Summit Creative Awards measures the creative brilliance and ingenuity of agencies on a level playing field irrespective of resources or agency size to determine an award winning web design agency.
Formed by digital advertising professionals, the Web Academy of Digital Arts and Media (WEADAM) defines an award-winning web design agency as one that works to uphold technical and creative standards in the industry with emphasis on science, marketing, and graphic design. WEADAM started the Web Excellence Awards to promote excellence on the web by distinguishing websites, web marketing projects, videos, mobile sites/apps, and social media campaigns. The Web Excellence Awards judge more than 950 entries across 37 countries through a diverse selection of professionals using thorough criteria.
About Innis Maggiore
Innis Maggiore Group is recognized as America's leading positioning ad agency, building strong brand positions for companies around the world. The full-service integrated agency had 2022 capitalized billings of more than $27 million. Some of its key clients include Advanced Power, Aultman Health Systems, AultCare Health Plans, Babcock & Wilcox, Baird Brothers Fine Hardwoods, BellStores, The Center for Health Affairs, Encino Energy, FSBO.com, GOJO Industries (Purell), Hall of Fame Resort and Entertainment, Harris Battery, KFC/Kendall House, Kobre & Kim, Lewis Services, MID'S True Sicilian Pasta Sauce, Midwest Industrial Supply, Pipeline Packaging/Hazmatpac, SimiTree, SmithFoods, Stark Area Regional Transit Authority (SARTA), Sunless Inc., Vern Dale Water Experts, and Young Trucks.