Sep 5, 2023
Innis Maggiore selected as Hill & Smith's brand strategy agency of record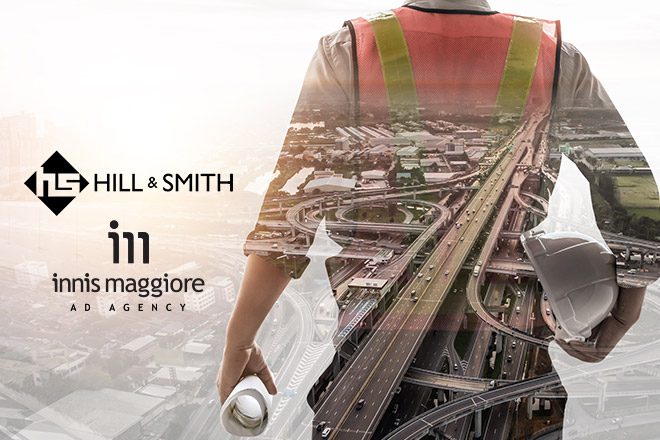 Innis Maggiore is Hill & Smith's new brand strategy agency of record.
CANTON, Ohio (Sept. 5, 2023) – Innis Maggiore, the nation's leading positioning ad agency, today announced it has been named agency of record by Hill & Smith, a leading innovator in work zone and roadside hazard safety. The brand strategy agency is executing a positioning strategy and marketing plan for its new client.
In 2022, Hill & Smith named Rose Mary Clyburn as its president and chief executive officer. While the work zone company was experiencing success, the leadership change symbolized a new era of growth. Recognizing it was the perfect time for market expansion, Hill & Smith began its search for a brand strategy agency to take it to the next level.
Hills & Smith's marketing manager, Eric Smith, worked with Innis Maggiore on a previous project, which ultimately led the company to reach out.
"When the decision was made to revisit our position and brand architecture, I knew exactly who to call," said Smith. "We all felt that Innis Maggiore's emphasis on positioning and brand differentiation was something that could really help us accomplish our goals. Our initial involvement with the agency has proven that to be the case. We're excited to partner with them on the execution since they have all the primary marketing disciplines in-house. Their ability to execute on a position is unequaled."
Innis Maggiore conducted an Appreciative Discovery® session with the Hill & Smith team after reviewing the company's aspirations and values, the competitive landscape, industry trends, and much more.
"We love sharing the power of positioning with our clients, especially those who are eager to set a new growth trajectory," said Mark Vandegrift, president of the brand strategy agency. "Some people only think of consumer markets when it comes to brand differentiation, but positioning truly is a business strategy for every industry. It's been amazing to help Hill & Smith unleash the full potential of its difference in the work zone safety industry."
About Hill & Smith
Formed in 2008, Hill & Smith Inc.'s global headquarters are in the United Kingdom, with its North American headquarters in Columbus, Ohio. The company manufactures intelligent American-made highway safety systems. In 2018, Hill & Smith Inc. acquired Work Area Protection, one of the largest and best-known manufacturers of temporary traffic control devices. Hill & Smith's growing portfolio of premier innovative safety brand includes Zoneguard®, Smart Cushion®, ZoneBloc®, Smart Work Zone Systems, and Work Zone Safety products.
About Innis Maggiore
Innis Maggiore Group is recognized as America's leading positioning ad agency, building strong brand positions for companies around the world. The full-service integrated agency had 2022 capitalized billings of more than $27 million. Some of its key clients include Advanced Power, Aultman Health Systems, AultCare Health Plans, Babcock & Wilcox, Baird Brothers Fine Hardwoods, BellStores, The Center for Health Affairs, Encino Energy, FSBO.com, GOJO Industries (Purell), Hall of Fame Resort and Entertainment, Harris Battery, KFC/Kendall House, Kobre & Kim, Lewis Services, MID'S True Sicilian Pasta Sauce, Midwest Industrial Supply, Pipeline Packaging/Hazmatpac, SimiTree, SmithFoods, Stark Area Regional Transit Authority (SARTA), Sunless Inc., Vern Dale Water Experts, and Young Trucks.