Sep 19, 2023
Innis Maggiore awards three scholarships for communication majors at Kent State University at Stark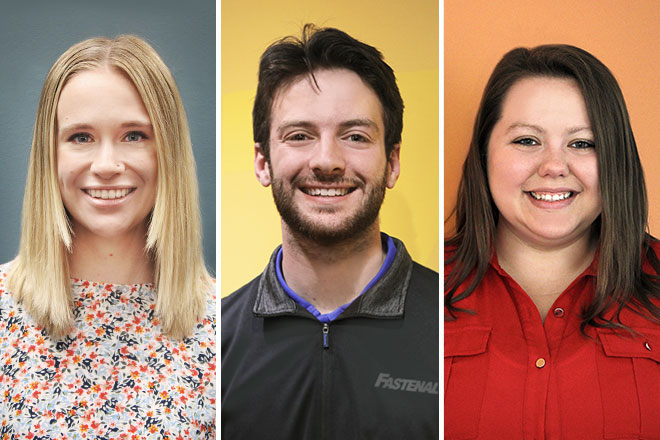 CANTON, Ohio (Sept. 19, 2023) — Innis Maggiore, the nation's leading positioning ad agency, announced three new scholarships for communication majors were awarded to Kent State University at Stark students.
Sarah Boda, Josh Thomas, and Abbey Thompson each received an Innis Maggiore Endowed Scholarship for Communications for $1,750. A Canton native, Boda is a senior majoring in marketing. She views her education, which includes a recent study abroad in South Korea, as a way to become a more well-rounded individual. The Innis Maggiore Endowed Scholarship allows her to keep expanding her thinking and experiences through her studies. This fall, Boda joined the agency as a digital marketing intern where she puts her studies into practice.
Thomas, a Canton resident, is a senior majoring in marketing. Thomas commended Kent State Stark for its emphasis on student success with its plethora of available resources and helpful professors. He takes full advantage of those resources as a first-generation college student, with the help of scholarships.
Thompson is a senior majoring in applied communications and is a resident of Canton. An adventurer at heart, she enjoys environments where she can constantly learn and grow through new people and experiences. In a world that's constantly communicating, Thompson believes her degree will feed this sense of adventure and adaptability.
"We've always been an active leader in our local community and industry," said chairman and CEO Dick Maggiore. "Providing scholarships for communications majors through the Innis Maggiore Endowed Scholarship is the culmination of that endeavor. By reducing financial burden, we help students feel ready to continue their careers in Stark County."
The Innis Maggiore Endowed Scholarship for Communications supports local college students pursuing careers in marketing and communications. Applicants are eligible on an annual basis. Students must attend Kent State University at Stark, reside in Stark County, major in communications, marketing, public relations, journalism, or advertising, and demonstrate financial need.
About Innis Maggiore
Innis Maggiore Group is recognized as America's leading positioning ad agency, building strong brand positions for companies around the world. The full-service integrated agency had 2022 capitalized billings of more than $27 million. Some of its key clients include Advanced Power, Aultman Health Systems, AultCare Health Plans, Babcock & Wilcox, Baird Brothers Fine Hardwoods, BellStores, The Center for Health Affairs, Encino Energy, FSBO.com, GOJO Industries (Purell), Hall of Fame Resort and Entertainment, Harris Battery, KFC/Kendall House, Kobre & Kim, Lewis Services, MID'S True Sicilian Pasta Sauce, Midwest Industrial Supply, Pipeline Packaging/Hazmatpac, SimiTree, SmithFoods, Stark Area Regional Transit Authority (SARTA), Sunless Inc., Vern Dale Water Experts, and Young Trucks.