Feb 28, 2023
Innis Maggiore Earns Four Marketing Industry Awards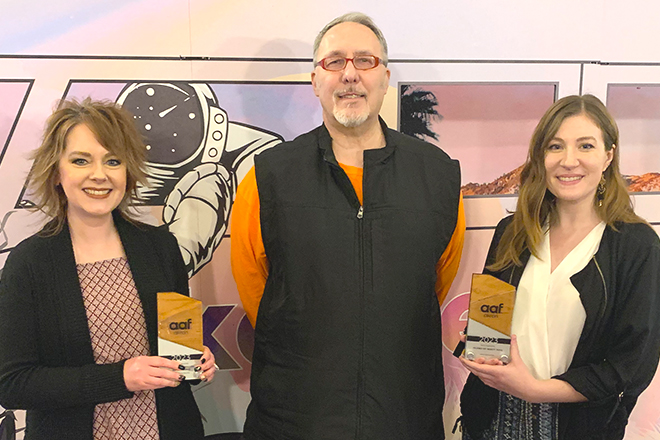 Cheryl Henderson, creative director, Scott Edwards, executive creative director, and Alicia Jordan, video and art director, display Innis Maggiore's 2023 ADDY awards.
CANTON, Ohio (Feb. 28, 2023) — Innis Maggiore, the nation's leading positioning ad agency, today announced it earned four marketing industry awards, two 2022 Summit Marketing Effectiveness Awards and two 2023 ADDY awards from the American Advertising Federation's Akron chapter.

Innis Maggiore earned Platinum recognition in the 2022 Summit Marketing Effectiveness Awards competition in the Integrated Campaign, B2B category for its positioning and marketing work for Midwest Industrial Supply, Inc. The agency also earned Silver recognition in the same category for its development of Harris Battery's two new brands, EnerGenie and Harris Solaris.

Innis Maggiore earned a Silver ADDY in the Film, Video & Sound/Branded Content & Entertainment category for the Reflections video produced for Babcock & Wilcox. The agency also earned Silver in the Agency Self-Promotion/Integrated Media Campaign category for its Island of Misfit Toys campaign.

"AAF Akron acknowledges some of the best advertising the area has to offer," said Scott Edwards, Innis Maggiore's executive creative director. "And the Summit Awards honors the effectiveness of marketing communications. Of course, that's what the work Innis Maggiore does is all about. So, we're extremely proud to be recognized for having made such an important impact for our clients and the agency."

The past quarter was successful for Innis Maggiore, as it earned more awards than in any like period in recent years. The agency has earned more than 200 communication industry awards in the past 10 years.

The American Advertising Federation's Akron Chapter honored 2023 American Advertising Awards winners last Friday at the Akron Civic Center. The advertising industry's largest and most representative competition, the ADDY Awards attract more than 25,000 entries every year in local AAF Ad Club competitions. The awards recognize the creative spirit of excellence in the art of advertising.

Over the past 28 years, the Summit International Award organization has established itself as one of the premier arbiters of creative and marketing excellence. The Summit Marketing Effectiveness Award competition is based on the premise that marketing communication aims to change, influence, or reinforce an audience's knowledge, attitudes, and beliefs.

Innis Maggiore Group is recognized as America's leading positioning ad agency, building strong brand positions for companies in competitive markets. The full-service integrated agency had 2022 capitalized billings of more than $27 million. Some of its key clients include Advanced Power, Aultman Health System, AultCare Health Plans, Babcock & Wilcox, Baird Brothers Fine Hardwoods, BellStores, The Center for Health Affairs, Encino Energy, FSBO.com, GOJO Industries (Purell), KFC/Kendall House, Kobre & Kim, MID'S True Sicilian Pasta Sauce, Midwest Industrial Supply, Stark Area Regional Transit Authority (SARTA), SmithFoods, and Young Trucks.