Jul 28, 2023
Skelly, Zimcosky, and Bryan kick off ad agency careers at Innis Maggiore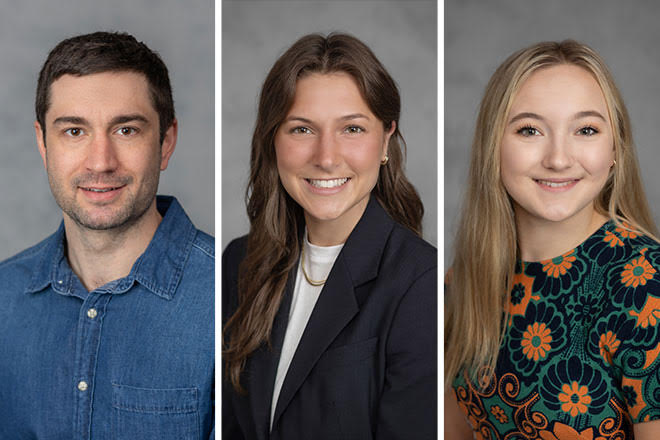 Left to right: Josh Skelly, Zoe Zimcosky, and Mercedes Bryan kick off their ad agency careers.
CANTON, Ohio (July 28, 2023) — Innis Maggiore, the nation's leading positioning ad agency, today announced it hired three new associates, Josh Skelly, Zoe Zimcosky, and Mercedes Bryan, who are kicking off their ad agency careers.
Skelly joins the agency as a web developer reporting to Jeremy Smith, director of web development. Skelly has an extensive background in manufacturing and enterprise resource planning (ERP) that naturally carried over to his expertise in PHP programming, which led him to investigate ad agency careers. A resident of Massillon, Skelly graduated from Stark State College, where he earned a degree in business administration and management as well as his developer certifications.
Zimcosky took on a full-time position after completing Innis Maggiore's spring internship program. As a project coordinator, she reports to Ashley Johnson, senior project manager. Zimcosky manages and monitors the progress of projects while gaining exposure to all aspects of the business, giving her a well-rounded perspective. Zimcosky graduated cum laude with a bachelor's degree in communication studies and a minor in marketing from Kent State University.
Bryan, also a former intern, rejoins the team as PR & content marketing manager, reporting to Jim Cyphert, director of public relations. For both clients and the agency, Bryan writes copy for social posts, websites, and client strategies, and handles content management and research. She graduated from Hillsdale College with a major in English and minor in economics.
"We're very excited to add Josh, Zoe, and Merce to the Innis Maggiore family," said Mark Vandegrift, president of Innis Maggiore. "The mix of fresh talent and our team of skilled advertising veterans keeps our agency at the forefront of a constantly evolving industry. These new additions will add to our wealth of creativity, keeping us proficient in the latest marketing approaches and grounding us in our identity as a positioning agency."
About Innis Maggiore
Innis Maggiore Group is recognized as America's leading positioning ad agency, building strong brand positions for companies around the world. The full-service integrated agency had 2022 capitalized billings of more than $27 million. Some of its key clients include Advanced Power, Aultman Health System, AultCare Health Plans, Babcock & Wilcox, Baird Brothers Fine Hardwoods, BellStores, The Center for Health Affairs, Encino Energy, FSBO.com, GOJO Industries (Purell), Hall of Fame Resort and Entertainment, Harris Battery, KFC/Kendall House, Kobre & Kim, Lewis Services, MID'S True Sicilian Pasta Sauce, Midwest Industrial Supply, Pipeline Packaging/Hazmatpac, SimiTree, SmithFoods, Stark Area Regional Transit Authority (SARTA), Sunless Inc., Vern Dale Water Experts, and Young Trucks.