Oct 31, 2023
The legendary Roy H. Williams — The Wizard of Ads — appears on Innis Maggiore's podcast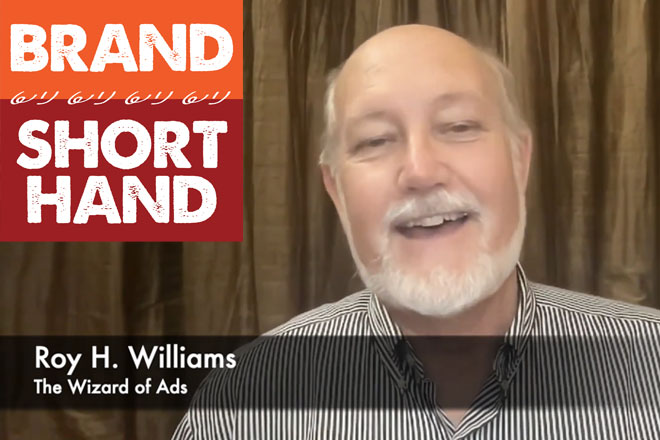 Roy H. Williams shared his views over three Brand Shorthand episodes.
CANTON, Ohio (Oct. 31, 2023) — The legendary Roy H. Williams, marketing consultant and best-selling author of The Wizard of Ads trilogy, was featured on three episodes of Innis Maggiore's Brand Shorthand, a podcast providing insight on marketing and positioning with tips, tricks, and brand chatter. The audio version of the podcast is available at brandshorthand.buzzsprout.com and the video version is available at youtube.com/innismaggiore.
Williams rose to advertising renown after writing The Wizard of Ads: Turning Words into Magic and Dreamers into Millionaires, his first book in the famous trilogy. Following his success, Williams started educating others through client consultations, Monday Morning Memos, Monday Morning Radio, and training programs like the Wizard Academy, which is a facility in Austin, Texas where "smart minds" are invited to gather to learn more about the communication arts.
Over three episodes, Williams discusses his perspective on the importance of sound in media, his views on audience targeting, and the inside scoop on today's ad data.
"It was such an enlightening and refreshing conversation," said Innis Maggiore President Mark Vandegrift. "He's so knowledgeable and has such a knack for the human mind. I was on the edge of my seat the whole time. Roy H. Williams really is The Wizard of Ads."
When it comes to his communication philosophy, Williams asserts that to "win the mind, you have to win the heart first." To him, humans are "not human beings having a temporary spiritual experience, we're spiritual beings having a temporary human experience" (a quote by Pierre Teilhard de Chardin).
"I'm a believer in human nature," said Williams. "You can always trust a person to do something for their own best interests. I take a more altruistic approach because I want my clients to trust me and to trust that I'm giving the best advice for their brand."
Williams added how his philosophy follows his own convictions about positioning strategy.
"The only three books anyone ever needs to read about marketing are Positioning: The Battle for Your Mind and The 22 Immutable Laws of Marketing by Al Ries and Jack Trout, and David Oglivy's Ogilvy On Advertising," he said. "I'm a firm believer and I recognize Innis Maggiore as America's #1 positioning ad agency."
While many claim to understand positioning, Innis Maggiore has been successfully applying the strategy with every client for almost 50 years. The agency's commitment to its principles has even been acknowledged by the father of positioning himself, Jack Trout, and now the Wizard of Ads, Roy H. Williams.
"We don't just espouse our commitment to positioning, we have support from respected members in the advertising industry confirming we're the real deal," added Vandegrift. "It was a delight to hear Roy H. Williams endorse Innis Maggiore as the nation's leading positioning ad agency."
Listen to some ad wisdom straight from the Wizard of Ads by tuning into any, or all three, of his featured Brand Shorthand episodes. For more, you can also check out the latest PositionistView, The Classic Roy Williams: Why Most Ads Don't Work, unlocking one of his most notable Monday Morning Memos.
About Innis Maggiore
Innis Maggiore Group is recognized as America's leading positioning ad agency, building strong brand positions for companies around the world. The full-service integrated agency had 2022 capitalized billings of more than $27 million. Some of its key clients include Advanced Power, Aultman Health Systems, AultCare Health Plans, Babcock & Wilcox, Baird Brothers Fine Hardwoods, BellStores, The Center for Health Affairs, Encino Energy, FSBO.com, GOJO Industries (Purell), Hall of Fame Resort and Entertainment, Harris Battery, KFC/Kendall House, Kobre & Kim, Lewis Services, MID'S True Sicilian Pasta Sauce, Midwest Industrial Supply, Pipeline Packaging/Hazmatpac, SimiTree, SmithFoods, Stark Area Regional Transit Authority (SARTA), Sunless Inc., Vern Dale Water Experts, and Young Trucks.