Sep 28, 2023
Two students begin fall marketing agency internships at Innis Maggiore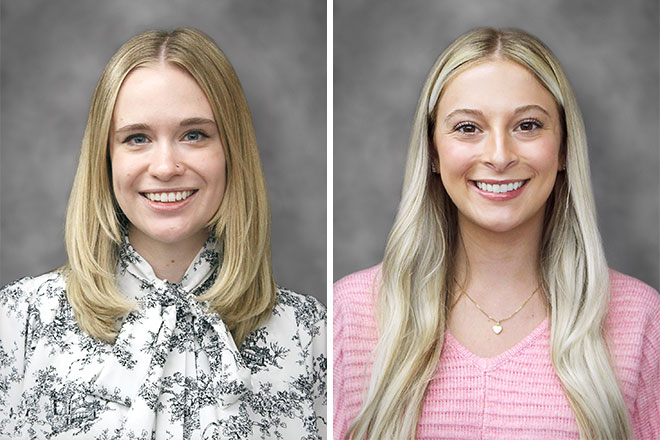 Sarah Boda (left) and Olivia Didonato (right) began marketing agency internships at Innis Maggiore.
CANTON, Ohio (Sept. 28, 2023) — Innis Maggiore today announced that Sarah Boda and Olivia Didonato have begun fall marketing agency internships at the nation's leading positioning ad agency.
Boda will report directly to Janice Becker, media director, as a digital media intern. She'll handle social listening, analytics reporting, and search engine optimization (SEO) for clients. Boda is a senior studying marketing at Kent State University at Stark and a member of Beta Gamma Sigma, an honor society open to just the top 10 percent of business students.
"My internship at Innis Maggiore gives me a chance to put my education into practice," said Boda. "I already feel more confident in my ability to apply knowledge in the office after just a few weeks."
Working as an account coordinator intern, Didonato will study the agency's Appreciative Discovery® process and witness how the agency collaborates on campaigns. As one of the marketing agency internships, she'll report to Tony Bell, executive director of client services. Didonato is a senior at the University of Mount Union studying marketing and is an active member of the Gamma Theta Chapter of Alpha Delta Pi.
"Marketing presents so many avenues and opportunities for growth," said Didonato. "The exposure I'll gain from this internship will enable me to visualize the right career path after graduation this December."
Innis Maggiore internships provide experience with real client work in many facets of communication, according to Mark Vandegrift, president of Innis Maggiore.
"Our interns end their time at Innis Maggiore feeling confident and ready to enter the industry," said Vandegrift. "Several have even found full-time employment here at the agency. We've watched many interns blossom under the guidance and collaboration of our team, and we're eager to witness the same growth with Sarah and Olivia."
Innis Maggiore's marketing agency internships run in spring, summer, and fall cycles. Internships can be part time or full time, depending on an applicant's school schedule. Interns may select areas of interest including digital marketing, web development, graphic design, project management, copywriting, and more. The agency's careers page has more details.
About Innis Maggiore
Innis Maggiore Group is recognized as America's leading positioning ad agency, building strong brand positions for companies around the world. The full-service integrated agency had 2022 capitalized billings of more than $27 million. Some of its key clients include Advanced Power, Aultman Health Systems, AultCare Health Plans, Babcock & Wilcox, Baird Brothers Fine Hardwoods, BellStores, The Center for Health Affairs, Encino Energy, FSBO.com, GOJO Industries (Purell), Goodwill Industries, Hall of Fame Resort and Entertainment, Harris Battery, KFC/Kendall House, Kobre & Kim, Lewis Services, MID'S True Sicilian Pasta Sauce, Midwest Industrial Supply, Pipeline Packaging/Hazmatpac, SimiTree, SmithFoods, Stark Area Regional Transit Authority (SARTA), Sunless Inc., Vern Dale Water Experts, and Young Trucks.