Jun 2, 2020
Innis Maggiore launches Stimulate Our Stark (SOS) initiative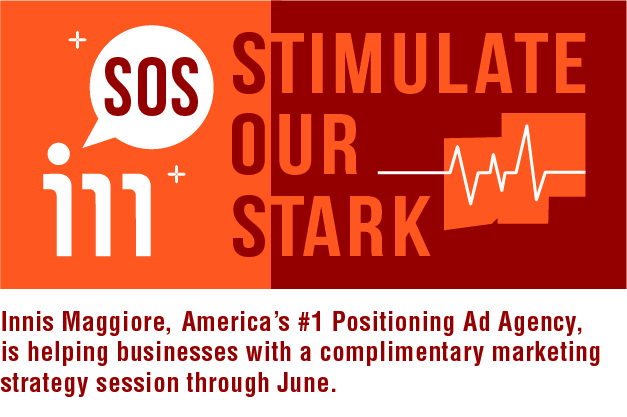 CANTON, Ohio (June 2, 2020) — Innis Maggiore, the nation's leading positioning ad agency, today announced it has launched its Stimulate Our Stark (SOS) initiative. Through SOS, the agency is helping local businesses by offering a complimentary one-hour strategy session to any company in Stark County through Tues., June 30.
"COVID-19 has shifted the landscape for many American businesses," said Innis Maggiore President and CEO Dick Maggiore. "None of us could have seen this coming. Adapting during this crisis is tough. We've had to learn to adjust to our new reality as well."
As Ohio begins to reopen, it's important for businesses to find a clear, strategic direction forward. Making important decisions right now can be overwhelming. An outside perspective can help.
"Whether businesses need to communicate with prospects or customers, strategize crisis plans, or talk with employees, we want to lend a hand," said Maggiore. "Complimentary one-hour strategy sessions are our way to help stimulate Stark County and get our local economy heading in the right direction."
For additional information about SOS, or to set up your complimentary one-hour session, email Dick Maggiore at dick.maggiore@innismaggiore.com or call 330-492-5500.
Innis Maggiore Group is recognized as America's No. 1 positioning ad agency, building strong brand positions for companies in competitive markets. The full-service integrated agency had 2019 capitalized billings of $27 million. Key clients include: Aultman Hospital, AultCare, Baird Brothers Fine Hardwoods, BellStores, Encino Energy, Extreme Trailers, FSBO.com, GOJO Industries (Purell), The Goodyear Tire & Rubber Company, GuideStone Financial Resources, KFC/Kendall House, Kobre & Kim, MID'S Sicilian Pasta Sauce, Midwest Industrial, Stark Area Regional Transit Authority (SARTA), Second Harvest Food Bank, SmithFoods, Stark Community Foundation and Young Trucks.