A picture is worth a thousand loyal customers every week.
We want to call out Chewy for a job well done and celebrate this positioning alignment. Pets mean a lot to their owners. And Chewy has come to mean a lot to those people. Think about this: you love your pet and one day, out of the blue, you get a surprise gift from the folks at Chewy. It's a beautifully rendered portrait of your animal friend with a card containing the perfect sentiment. Sometimes it's because of a special day, like the pet's birthday or gotcha day; other times it's in memorial to a beloved creature that has recently traveled over the rainbow bridge.
Talk about a personal touch and great positioning alignment. Reaching customers by showing they care about your pets is about as personal as it gets. Being known as the most caring pet supplier is a winning brand position. A competitor that can save customers a little money or get delivery a little faster isn't enough to beat Chewy. Being the most caring wins over price any day. It shows the power of aligning your operations with your position is a powerful — and authentic — business move.
Their personal touch is no cheapo, quick cash-in either. Chewy works with hundreds of artists around the country — and insists on accuracy or they reject paintings that don't look enough like the pets.
One artist, who paints between 20-50 pet portraits a week, told Daily Paws that he can spend over two hours on a single portrait. As one recipient put it, "I just want to buy everything from them. They're a big company. I was shocked they did something so personal." Each week, Chewy sends 1,000 free paintings to select customers, and there's no way to buy one. This loving program combines loyalty with public relations, as Chewy enthusiasts share their portraits all over social media to promote a company that cares about loyal customers and the customer experience.
There's more to Chewy's personal touch besides portraits.
Chewy wants customers as loyal as your most loyal four legger. They show they care in several ways meant to win customers for life and motivate vibrant social media responses. Fortune reported how flowers, paintings, and personal letters spur customer service stories that go viral.
Apartment Therapy described one powerful example. Losing a pet is hard (I know, having recently lost a pal named Mozart after over a decade together). A Chewy customer contacted the company to see if they could return an unopened bag of dog food. The answer was "no," but it was the most beautiful "no" you can imagine. Chewy "1) gave me a full refund, 2) told me to donate the food to the shelter, and 3) had flowers delivered today with the gift note signed by the person I talked to." Most caring pet company + acts of grace and compassion = positioning alignment.
The Chewy customer tweeted this wonderful customer service exchange, gaining 740,000 likes and 43,500 retweets. This sort of reaction is not uncommon.
Here's another example of Chewy's personal touch, as shared on social media by a grateful customer.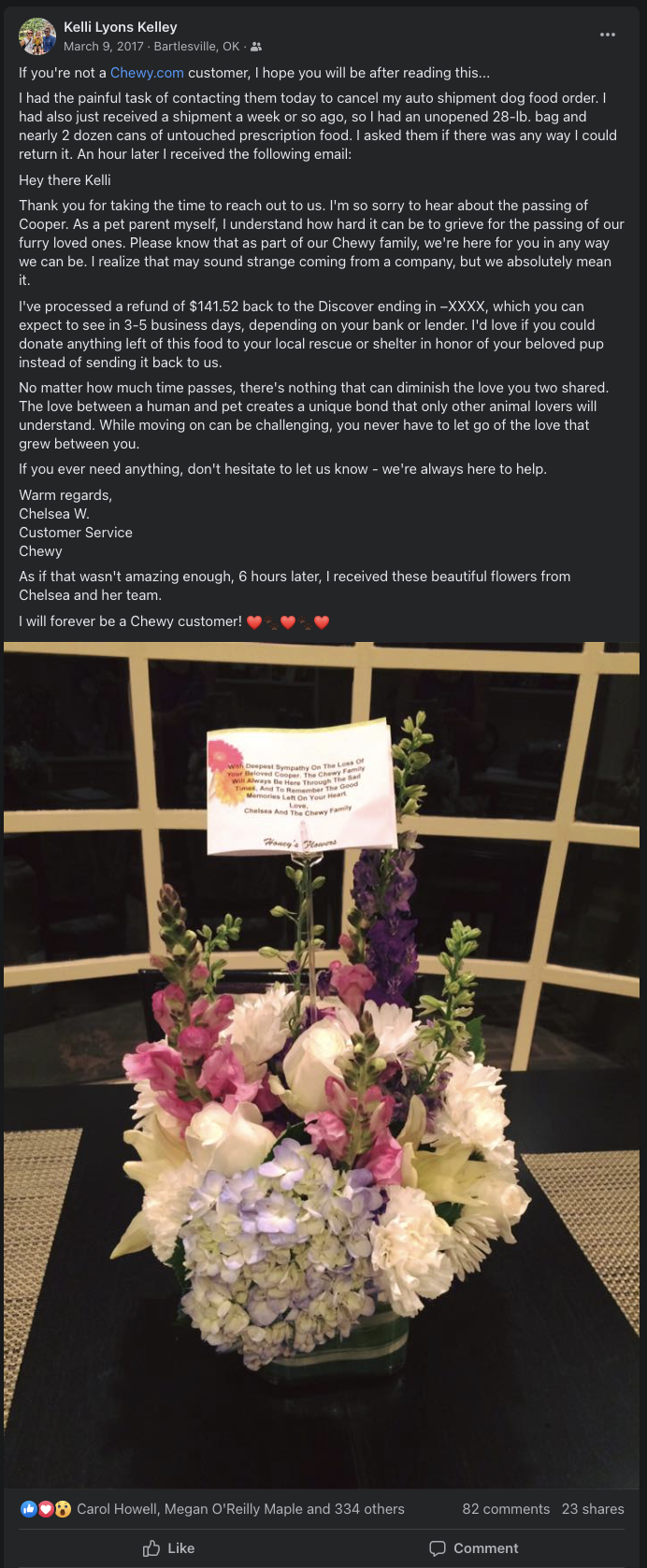 What's positioning alignment worth? Loyalty!
Chewy wouldn't be doing what they do in the way they're doing it if there wasn't sincerity behind it. But it's also good business. Very good business.
In a June 8, 2023 article, Forbes reported that Chewy net sales per customer grew almost 15% over last year to more than $500. Profits are up 20%, with 75% of sales coming from subscription deliveries. That means Chewy doesn't have to worry about opening stores any time soon and can keep growing through the current strategy — by getting tails wagging by doing the right thing.
As America's #1 Positioning Ad Agency — and a bunch of pet lovers — we can help you align your business with your position, which is as good as a scratch behind the ears. Though a belly rub wouldn't hurt either. If you need a little positioning alignment, contact us today.